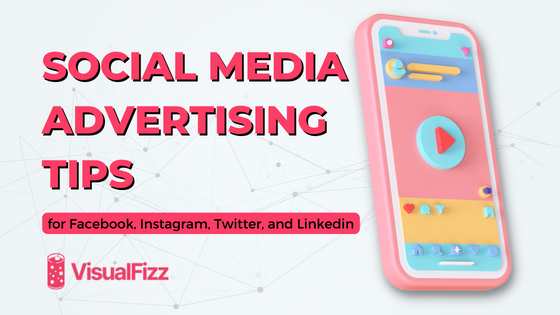 Categories for this post:
You've dipped your toe into the water of social media advertising, but you still feel like you're just treading water. With so many options it feels overwhelming, and paid social advertising can be sink or swim when it comes to a positive return on investment.
So, if this is you when it comes to social media advertising…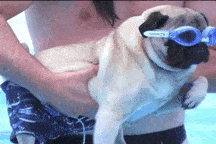 VisualFizz is gonna throw you a lifesaver with these social media advertising tactics to implement.
Let's dive in.
Facebook Advertising
5 Most Common Paid Facebook Goals
To begin, every campaign will need an objective that aligns with your business goals. When you first create an ad in Facebook's ad manager, you'll have to first choose your objective. The objective you choose will be based on your overall business goals and what you're hoping to get out of the social advertisement. All objectives can be (and are) classified into the following categories:
Awareness: Objectives that generate interest in your product or service.
Consideration: Objectives that get people to start thinking about your business and look for more information about it.
Conversions: Objectives that encourage people interested in your business to purchase or use your product or service.
The 5 most common objectives for Facebook ads are:
Driving clicks/traffic to your website
Generating Leads
Boosting Sales or Conversions
Growing Page Likes or Followers
Increasing brand awareness and reach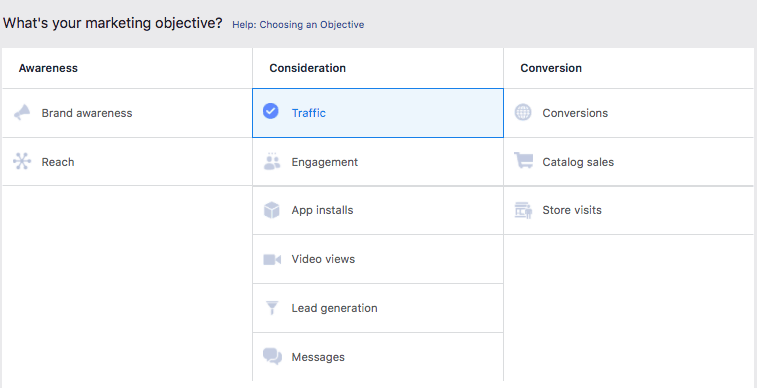 Understanding your goal type is key to how you will position your ad, who you will target, and the messaging you'll use in your social ads.
Powerful Facebook Audience Demographic Targeting Tips
The next step is to define your target audience. Facebook has a robust built-in tool for fine-tuning that audience through demographics. Do your research first: use analytics to zero in on your ideal base to ensure that you are thoughtfully selecting the right people at the right time without drowning in the details.
The Basics of Facebook Audience Targeting:
Location: state, region, city, zip code, etc.
Age: set a minimum and maximum target age range between 13-65+
Gender: men, woman or both
Audience Size – Narrow vs. Broad: Your advertising goals will be a factor in whether or not your approach is narrow (specific) or broad (general).
A Little More Specific:
Interests & Behavior: Define a more specific, narrow audience that is highly customized to your product or service by defining interests and behavior. There are lots of attributes to use from, so choose wisely.
Advanced Social Media Advertising Tactics
Once you've gotten the basics under your belt, you can get really specific my defining Custom Audiences. Customization allows you to use your own customer list (from your email marketing software or CRM database) to define a custom audience that is super-specific to your business.
Custom Audiences can be extremely powerful when choosing to whom you should advertise. You want to make the most of your budget, so you'll want to take advantage of these powerful target abilities. Some extremely narrow and specific targeting can include:
Recent Life Event: such as getting married, having a baby, graduating college, starting a new job, moving, etc
Household Composition: does the household have children, no children, pets, etc
Net worth/Net Income:
Interests and Behaviors
Job titles
Preference towards business pages that are similar to yours
Choosing and Using The Right Ad Type For Your Goals
With the recent changes to Facebook's newsfeed paid ads are more important than ever. Facebook Ads Manager and Power Editor make it relatively painless to create a TON of different ad types, some of which we've highlighted here.
Video Ads: With over  8 billion video views on Facebook per day, video ads are interactive and tell stories to boost brand awareness and engagement.
Image Ads: A picture is worth a 1,000 words! Posts with photos receive 39% more interaction.
Collections & Carousel Ads: Want more bang for your buck? Create a Collection showcasing several products within a theme, or Carousel Ads highlighting a series of photos or videos, each with a unique link – all in one ad.
Canvas: Create fullscreen mobile experiences for users to browse. With user-friendly templates, you can create beautiful, image-rich ads without a lot of hassle.
Offers create a sense of urgency with special discounts and promotions.
Bonus: On nearly all social channels and especially on Facebook, Video content performs better than other types of content, both in terms of engagement and impact on ROI. Test the waters with Facebook Live and other video creation types, and make sure add the subtext. 
Why A/B Testing Is Critical to Social Advertising
Different people respond to different things, so it makes sense that you'll want to run more than one version of a specific ad campaign so you can keep track of the results. A/B or Split Testing.
This allows you to experiment with different types of content and different audiences, and you can test the effectiveness of varying factors to inform your strategy.
Elements you'll want to test on in Facebook Ads include imagery, landing page, call to action, demographic targets, copy and headline variations, to name a few.
Here's how it works:
From Facebook Ads Manager, select Create a New Ad
On the next page, make sure you check the box to Create Split Test.
Define your variables to test on, including: creative, audience, delivery optimization, and placement and set the specific variables for Ad Set A and B respectively.
Facebook makes it pretty easy by prompting you through the following steps, and you can decide how to split the budget between the two ad sets.
Run your ad!
Review the results
Pro-Tip: limit the number of variables so you can specifically drill down the differences in between ad sets. Use the results to determine factors that increased the ad's effectiveness.
Instagram Advertising Tips
With over 700 million users Instagram is a go-to platform for social advertising. With a Business Page, you can set up visually appealing promotions targeting objectives like profile and website visits or to reach people near a specific address.
The quality and aesthetic of your Instagram content are key. Use professional photos that are perfectly sized, keep copy short and actionable, and pay close attention to details like color, typography and logo placement.
Hashtags: Still #Relevant, Still Not A Gimmick, Still Fundamentally important
Hashtags are not only extremely expected by your audience (which means they won't get turned off if you use them) but are also integral to reaching as many users on social media advertising channels like Instagram as possible. Including company-specific and trending hashtags can increase brand awareness and user engagements and is absolutely key to growing Instagram reach. In fact, Instagram rolled out a new feature recently that allows users to follow hashtags, which allows relevant content to more seamlessly appear in their feed.
Contrary to what many people think, using hashtags in your posts on Instagram and Twitter do not come off as spammy – if you use them right. On Twitter, you should use 2-3 hashtags throughout your post. On Instagram, it's recommended to use a bit more – 10-20 are great. Post your tags further down on your posts so that Instagram hides them, or post them as a comment to keep your posts neat and tidy.
Some basic hashtag rules apply:
Choose tags that are related to and describe your account, business, and customer base. Be creative, but also relevant!
Highly Used tags will get you reach, less popular but still popular tags will help you find a more niche audience
Use a mix of highly searched hashtags and niche ones for the best coverage
Do try out and use popular or community hashtags that are relevant to your industry
Reciprocate! Don't just expect users to engage with you if you do not engage also. Search one of your core hashtags and interact with other images that are tagged with similar hashtags. This will trigger the Instagram algorithm to help your posts get even more engagement.
Remember, hashtags are how social channels categorize their visual data. The use of them is fully expected by your audience, provided you aren't annoying or using them incorrectly. Don't miss out on the opportunities that proper tagging can offer.
Top Hashtags to use on Instagram
Stay on top of the most popular hashtags generally and in your industry to keep your hashtag game on point. To save you some time, here are a few top hashtags you'll want to consider.
General
#love
#photooftheday
#picoftheday
#nofilter
#inspiration
#motivationmonday
#transformationtuesday
#humpday
#throwbackthursday
#flashbackfriday
#socialsaturday
#sundayfunday
#weekendvibes
#love was also the most popular Instagram hashtag last year – and has been for some time, so this isn't exactly news.
To provide more relevant perspective on hashtag use, Instagram's also included the hashtags that are on the rise and saw the biggest increases in use throughout the year. They are:
#photography
#travelphotography
#memes
#summer2017
#naturephotography
#meme
#travel
#fitnessmotivation
#bts
#photographer
Of course, hashtag use needs to connect well with your audience and be relevant to your industry, and you'll need to build up your following and engagement around your core hashtags by engaging with others who use your tags.
Industry Specific Examples
Fashion Hashtags
#fashionfriday
#fashionista
#style
#instafashion
#ootd
Food/Restaurant Hashtags
#instafood
#yummy
#delicious
#foodporn
#foodforfoodies
Step up your hashtag game with tools like TagBlender, AllHashtag, and Websta. We also like this list of hashtags from Thrive Hive!
Curious about Snapchat too? Read more in Snapchat Vs. Instagram: The Fight for the Photo.
Twitter Advertising Tips
With 328 million monthly users, and a fast-paced, clipped style, it's hard to stand out in the noise. For $99/month, Twitter's Promote Mode automates tweet promotion for you to help grow your audience and followers. Sound steep? Automation saves precious time and can be invaluable for building followers for new brands.
Not keen on shelling out a monthly fee? You can always promote your own tweets in the standard CPC format with Twitter's Advertising features.
140 characters isn't a lot, so be precise and focus on creating urgency for sales and special offers. Be careful when using hashtags if your goal is website clicks – you want to draw users to your site, not the hashtag, and using too many will be seen as spammy. Keep it to 2-3 hashtags max.
LinkedIn Tips for Social Media Advertising
In the B2B space, LinkedIn Ads are vital for generating leads and growing your client base. Across the board, LinkedIn taps into a network of 500 million members that can grow your company's reputation and supplement your recruitment efforts.
On LinkedIn, you can build awareness for your company with Sponsored Content designed to forge relationships and share industry trends. Text Ads can be used to promote downloadable content like white papers and case studies, increase website traffic, or highlight your professional offerings, and Sponsored InMail can be invaluable for prospecting, lead generation, and recruitment.
By employing the tools available to you, you can keep your head above water when it comes to social media advertising. With a sound strategy based on objectives, you'll be a pro in no time!
TikTok Advertising Tips
TikTok is a social media channel that allows for the rapid creation and sharing of video content. TikTok is famed (infamous?) for a number of things, but the reach and content creation abilities of the channel are unlike any other social media channel of our time.
Businesses should utilize TikTok advertisements to reach younger audiences that prefer TikTok's set up and content types. While just about any brand can benefit from well-planned TikTok campaigns, local businesses, fashion, hospitality, and tech are all uniquely positioned to be impactful as heck through TikTok.
TikTok ads perform best when there is a subject or individual of focus. Experiment with creating a range of content, keeping in mind that what you create should always be topically related to what you offer.
Check Out VisualFizz's Social Media profiles whenever you need social media inspiration!
Ready to launch your Social Media Advertising Strategy? Contact VisualFizz today.
Publishing Date: