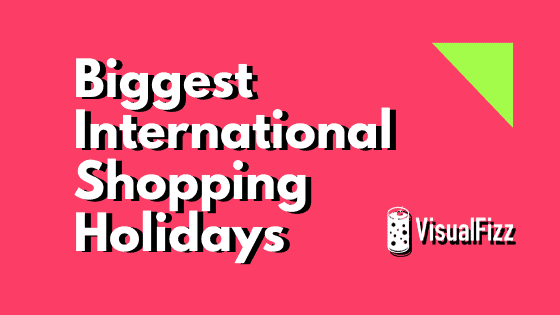 Categories for this post:
ECommerce sales across the globe have spanned 4.2 trillion US dollars, with more than two billion people using the internet to buy online goods. 
The convenience of the internet makes it easy for anyone to buy anything, from a video game to a brand new car, with just a few clicks. In addition, it's now become easier for consumers to use the internet to shop online during the world's most popular consumer holidays. 
What are the Biggest International Shopping Holidays of the Year?
Popular shopping holidays like Black Friday and Thanksgiving are well-known in the United States. People spend billions of dollars during these days, giving online retailers a chance to capitalize on the hype. 
The 8 Most Common International Holiday Shopping dates of the calendar year include: 
Black Friday
Cyber Monday
Diwali
Single's Day (Guanggun Jie)
Thanksgiving
Boxing Day
El Buen Fin
Chinese New Year
If your online store is operating on an international scale, it's important to keep in mind the most common shopping days of the calendar year, and optimize your ad strategy accordingly. That way, you can build effective holiday sales and marketing campaigns to reach wider audiences and increase your store's sales. 
Below, we'll describe what each holiday is in detail and explain why you should take advantage. 
1. Black Friday 
Black Friday is undoubtedly one of the most popular shopping holidays in the world. In recent years, consumers have spent more than $7 billion in online sales during the holiday. 
This amount has increased exponentially every year, and experts don't believe the trend will slow down any time soon:
Black Friday began in 1950 as a marketing ploy to kickstart the beginning of the Christmas season shopping spree, falling one day after Thanksgiving. 
Since 2003, Black Friday has become the busiest shopping day of the year in the United States. Characterized by long, aggressive in-store lines and low prices, this holiday has gained steam in countries across Europe, Asia, and South America. 
Online retailers shouldn't label Black Friday as a hype. Billions of dollars are spent on Black Friday, giving your store a chance to make a lot of money from this tradition. 
2. Cyber Monday
Cyber Monday is actually a very popular holiday in the United States, even if it falls right after Black Friday. 
The holiday, which debuted in 2005, is meant for consumers to shop online instead of in-store. Less chaos and streamlined purchases have made Cyber Monday a hit for many global companies. 
For example, Adobe found that consumers spent more than $840 million by the morning of Cyber Monday every year. 
Recent trends have even shown that sales from Cyber Monday are beginning to supersede Black Friday:
Cyber Monday offers a calmer and more convenient shopping experience compared to its sometimes violent and rowdy predecessor. 
Because of its name, it just may be better suited to give online retailers the perfect opportunity to take advantage. 
3. Diwali
Black Friday and Cyber Monday may be the biggest shopping days of the year to some, but Diwali is just as popular, if not more popular, for holiday shopping in many countries across the world. 
Celebrated in India, Fiji, Malaysia, Sri Lanka, Diwali is a Hindu light festival that celebrates light's triumph over darkness. The date changes every year, but this holiday usually falls between the months of October and November. 
In Nepal and India, Diwali is the biggest shopping holiday of the year, as consumers buy festive lights to place around their homes. Consumers also buy plenty of gifts for their friends and family, ranging from electronics to jewelry. An online study by an online retailer found that consumers spend RS 10,000 – RS 50,000 (roughly $150-780 USD) during this holiday. 
This means if your target audience celebrates Diwali, you should perform more research and model your sales and marketing campaigns after the holiday's core characteristics. 
4. Single's Day (Guanggun Jie)
Another obscure international holiday is China's Guanggun Jie, otherwise known as Single's Day. This shopping holiday was created during the 1990s to celebrate China's largest demographic: single young adults. 
In the late 2000s, Alibaba Group (the largest eCommerce retailer in China) transformed the cult following into a global holiday. 
The impact of Single's Day shouldn't be underestimated, especially since it regularly outperforms Black Friday every year in terms of sales. 
While Black Friday pulls in around $7 billion in US sales, Single's Day generates approximately $25 billion every year. 
5. Thanksgiving
Thanksgiving is a widely-popular family holiday in the United States and is the holiday that comes just before Black Friday. 
While millions of Americans spend this day with their families, many consumers find that store prices are lower compared to Black Friday and Cyber Monday. 
Believe it or not, but online sales have increased dramatically during Thanksgiving in recent years. This year, online sales soared to $5.1 billion during the day of Thanksgiving itself, which is stacking up well against Black Friday. 
6. Boxing Day
Boxing Day is a highly-popular shopping holiday popular in Britain and other ex-British countries throughout the world, such as Canada and Australia.
The purpose of this holiday is simple. Boxing Day is the end of the Christmas season shopping spree. Retailers wanting to get rid of their surplus goods offer low prices to get consumers in the door. 
For a long time, Boxing Day was exclusive only to certain European countries. Now, the prices during this holiday are very similar to Black Friday and Cyber Monday. 
7. El Buen Fin
El Buen Fin, which translates to "The Good Ending" is a Mexican shopping holiday that takes place on the weekend before the Mexican Revolution (Dia De La Revolución). 
This shopping holiday spans four days, as online retailers offer special deals and credit offers for a wide variety of products. In 2017, the holiday weekend generated more than $5 billion in sales. 
8. Chinese New Year

The Chinese New Year is one of the most popular holidays in the world, celebrated by approximately 1 billion people. 
This day marks the first day of the year according to the Chinese lunar calendar. Food, decorations, and gifts have turned this day into a commercial shopping holiday.
Although the Chinese New Year isn't as productive as Single's Day, billions of dollars in sales are still generated during the first few days of the festival. 
Ready to Grow Your Online Brand?
As you can see, there are many other international shopping holidays other than Black Friday and Cyber Monday. 
Crafting high-performance marketing campaigns on these holidays can help your online store attract more shoppers and generate millions of dollars in revenue. 
To learn more about how VisualFizz can support sales growth for your online store, get in touch with us today. 
Publishing Date: