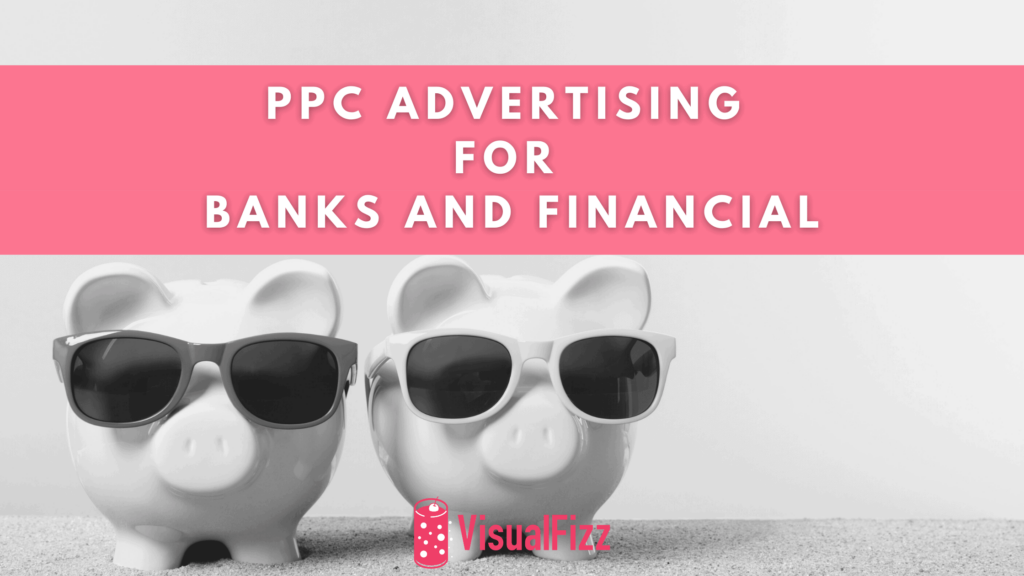 Categories for this post:
The finance industry is super competitive, which means brands need to make a much greater effort to stand out from the competition and successfully capture their audiences. 
While brands will indeed need to engage with audiences on social media and deliver personalized experiences, the majority of interactions in the banking and financial space begins with a Google search. There's no better way to get to the top of the Google SERPs than with PPC advertising, Google Ads on Google specifically.
As long as you have the right budget, pay-per-click (PPC) can be the ideal marketing tool you need to gain some much-needed traction, regardless of whether you're new in the industry or a more well-established bank or chain. 
Compared to other industries, PPC for banks and financial service providers can be a little more complex (to say the least). Despite all of us needing some kind of financial service at some point in our lives, it's not an industry that's incredibly exciting to the average consumer, which can make it difficult to market. Add this to the ever-present poor level of trust in financial services (57% according to Edelman), online marketing for banks can be a bumpy ride. 
Here's a few tips on how to use PPC more effectively to help market your bank/financial institution moving forward.
Financial Institutions Should Be Prepared to Pay More for Important Keywords
Since financial products are extremely competitive, the cost-per-click (CPC) for financial service keywords usually runs higher than your average industry keyword cost, meaning a strong budget will be necessary to make an impact. 
It's not uncommon for banks and financial service companies to pay a premium for their core keywords. Expect upwards of $10 per click for these terms. It's recommended to focus on long tail keywords in very niche offerings (think "mortgage lenders lakeview chicago" vs "mortgage lenders") and prioritizing a small list of keywords over larger lists. 
While a high recurring investment might be too steep for very small brands and startups, ensuring the ad account is as optimized as it can be can help offset the budget costs. To do this, you can see if manual bidding strategies work better than automatic ones, and only target a small set of keywords per campaign. 
Create Custom Landing Pages for Financial Ads and Forms
Want to make sure those pricey keywords are well worth the ad budget investment? New or improved landing pages optimized for search campaigns can help. Quality scores can be improved by ensuring that your keyword targets are strategically placed throughout the landing pages. Higher quality scores often lead to lower CPCs, which can help your budget go further. 
While building or optimizing landing pages can be a greater upfront cost, improving the UX of your conversion funnels (often referred to as Conversion Rate Optimization) can produce significant conversion rate improvements. 
Tips for Creating the Perfect Landing Page for PPC Campaigns: 
Make sure your target keywords are used in your ads and on your landing page(s), ideally in both the headers and in the body copy
Ensure a contact form on each page
Write clear content that conveys the value of the brand to the audience
Make sure your page loads fast af
A Tangent about Quality Scores
Quality scores – for those of us that have been familiar with them since their early beginnings (maybe like 2005? 2006?), quality scores and how they are calculated makes a lot more sense than it used to. Luckily for advertisers using today's Google Ads platform, Google takes care to break down these factors and give advertisers insights on how to improve their quality scores. Improving quality scores leads to lower CPCs. While these rules apply to everyone, we've tailored them specifically to the banking sector below. 
How Can Banking and Financial Advertisers Improve Their Quality Scores? 
Send traffic to specialized landing pages, rather than general pages or the home page
Make sure those landing pages are optimized for a very small group of keywords
Use the same keywords on your landing page as you do in your ads, this includes geo-targets when applicable
Ensure there is a contact form (with a honeypot to catch spam) on the landing page
Add multiple methods of contact for all users
Use Competitor Analysis to Position Yourself Effectively
When it comes to purchasing a financial services product, the sales cycle is longer than other products, meaning that you have to acknowledge and position yourself effectively against your competitors. What can you offer that they can't? What value do you bring to your audience that others don't? 
The best way to compete with other brands that are targeting the same keywords is to either improve the offering or increase the budget. By optimizing for Google's best practices and performing a series of ongoing tests to learn the best, most effective ways to utilize budget, we 'improve the offering', and obviously by increasing the budget, we outbid the competitor. 
However, there is an alternative. You can bid on your competitors brand terms. 
For example, we see below that "Lending Tree" bids on its own branded terms, but the competitor credible is bidding on the term "lending tree" as well. Many advertisers feel allowing advertisers to bid on other brands' is unethical on Google's part and can/does drive CPC costs up, but this strategy is utilized by many brands in many industries. 
While we can discuss the pros and cons of bidding on branded terms all day, this is an option for banks and financial services companies to try to gain additional market share and advantages over competitors. 
Be warned, competitor terms can be very costly, but this approach may be worth a test. 
Fully Utilize PPC Bells and Whistles: Extensions, Call Outs, Location, and more
Fully utilizing all the features that Google and Bing ads can offer is a straightforward way for banking and financial institutions to offer a stronger user experience for potential customers. For example, in the screenshot below we see a SERP (search engine results page) for "business loan provider chicago northside". 
We can see the various extensions that are utilized by the top advertiser compared to the less-optimized brands. HSBC, likely the highest bidder or the brand with the highest overall quality score and bid, displays a phone number, location extension (important for the added location in my search), and sitelink extensions. According to Adobe, customer experience (CX) is still the differentiating factor when it comes to financial services products.
Many banking institutions are constrained to some extent when it comes to factors like pricing structures and product offerings due to regulatory requirements, so the best way to differentiate is to offer ease of use, support, and value to the consumer at each stage.
How Long Does It Take PPC to Work?
The great thing about PPC is that it's instantaneous. The way it works is that the highest bid takes the top spot in the ads, so as long as your bid amount is high enough to get seen, then you'll likely see traffic generated from your ads straight away.
The Bottom Line on PPC For Banks and Financial Brands
Hopefully, by following the above tips and tricks you'll soon be seeing your financial institution dominate the world of PPC. However, we understand that sometimes things can become a little complex and you might need a helping hand. The team members at VisualFizz are experts in SEM and PPC campaigns and can help get your PPC efforts rolling in no time. Get in touch with us today!
Publishing Date: