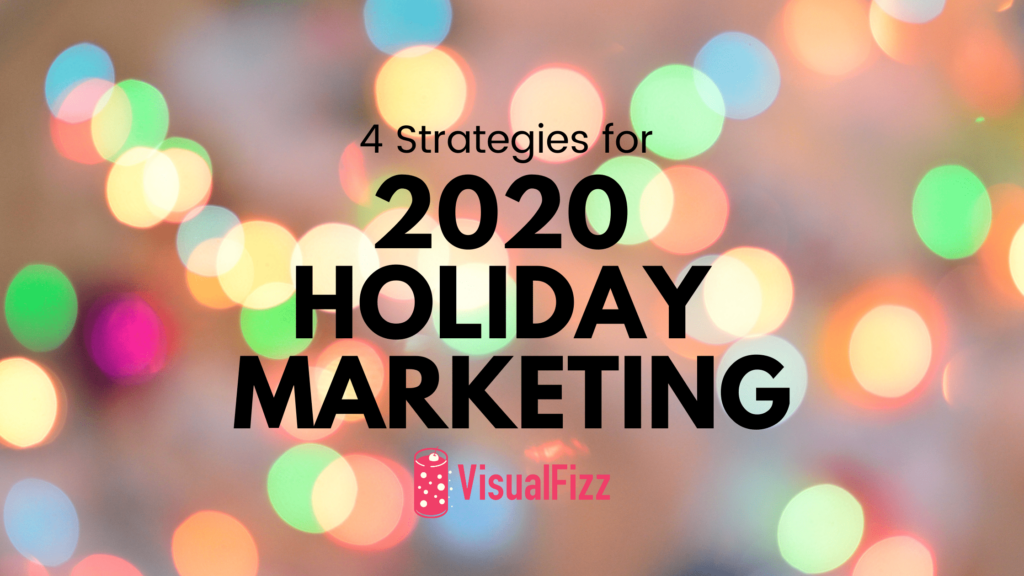 Categories for this post:
The holidays are upon us. Grab your tinsel, break out your best roasting pan, and get your fingers warmed up, because this year, it's beginning to look a lot like Christmas…is going to be a big one for digital marketing in 2020. As we approach the apex of the holiday purchasing season, data projections are encouraging that after a dip in last year's sales, there will be a serious uptick that should incentivize all retail businesses to do everything they can to get their share of the profits.
As stated in Forbes, "This will be the year when online shopping explodes… Online sales for retailers in popular gifting categories will get a boost this season, with health and beauty up 23%, consumer electronics rising 20%, fashion up 19% and home furnishings growing 16% by year's end… As online buyer behavior remains strong, we expect offline sales to decline by 6.6% in 2020."
But what does this mean for your business? When it comes to digital marketing, some techniques that work well throughout the year fall flat the moment the holiday season arrives. As a result, digital marketers are working harder than ever to develop innovative methods and means of engaging consumers who are being otherwise bombarded with offers, deals, and sales from all directions. In order to butter a consumer up and entice them to complete a purchase, digital advertisers have had to become increasingly more creative and implement inspired campaigns in order to stand out from the advertising crowd and draw in the targeted consumer demographic. This means appealing to your audience directly by understanding and succinctly answering the age-old question, "what's in it for me?" Here are a few fun and fresh ideas that we highly recommend exploring and adapting to your unique business during the 2020 holiday season. 
2020 Holiday Marketing Strategy #1: Have Some Fun
Gamification, or the implementation of various video-game elements in a non-game setting, "is a powerful tool to acquire, engage, and retain users. In fact, Gigya found that gamification boosts engagement by one third, with online commenting rising by 13%, social media sharing by 22%, and content discovery by 68%," according to clevertap.com. This phenomenon is backed by basic psychological research, in which mobile games clearly demonstrate the principle of positive reinforcement. In-game features like level-up, hourly, and consecutive daily bonuses have been proven to increase consumer retention and boost engagement, creating a perfect platform for in-app advertisements to be delivered to a captive and invested targeted audience. When it comes to holiday marketing within your mobile app, you can use gamification techniques in a variety of applications.
For example, e-Commerce retailer Woot's entire business model relies on the principle of positive reinforcement, as well as the basic concept of risk and reward. By offering a limited amount of highly sought-after products and brands at predetermined times, consumers are incentivized to repeatedly check back when new items drop and then "race" against other consumers to eagerly snap up the highly discounted product before others do. By "risking" the loss of a good deal, consumers are "rewarded" by "winning" the product. The result? Woot is able to exert a certain amount of control over consumer actions, and can positively reinforce consumer behavior to check back in regularly, for fear of the risk of missing a great reward. It's a win-win situation for consumers and retailers alike and is an excellent demonstration of the successful implementation of Gamification. This same principle can be applied to virtually any holiday special by promoting a sense of product scarcity and the opportunity to "win" savings or additional discounted or free products (like the many promotional deals that retailer Victoria's Secret is known for, for example.)

2020 Holiday Marketing Strategy #2: Target Each Holiday With Its Own Creative Campaign
As is with many things in life, the more specific you can be, the better your result. This is especially true with holiday advertising campaigns and marketing strategies, where Thanksgiving, Black Friday, Cyber Monday, Christmas, and New Years' advertising begins earlier and earlier and lasts until the last minute, almost creating a sense of fatigue amongst consumers struggling to make purchasing decisions. Overwhelmed by options, retailers that separate their holiday campaigns can more closely hone their message for different audiences who have different motivations- Black Friday shoppers are typically looking for good deals, whereas someone shopping a week before Christmas may be more motivated by fast and free delivery options, for example. Instead of doing an all-encompassing "holiday-themed" creative that runs from Thanksgiving to the New Year, consider creating individual campaigns for each holiday.

And speaking of creatives, be sure to have more than one per holiday campaign at the ready. As you increase your advertising reach through, for example, boosted targeted ads on social media platforms, it becomes more and more likely that at least some of your consumer base will be exposed to your marketing creatives more than once. By changing up your creatives and keeping them bright, colorful, and interactive, you will reduce the chance that a consumer will scroll past your ad without a second thought and improve your chances of their engagement with your ad. By employing a variety of creatives and investing the time in creating thought-provoking, well-planned digital campaigns, the returns will begin to roll in.

2020 Holiday Marketing Strategy #3: Incentives, Incentives, Incentives!
We briefly touched on this subject when we discussed gamification, but consumer rewards deserve their own section for further explanation and exploration. The possibilities for consumer incentive offers are only limited by your creativity, and during the holiday season, consumers want to receive gifts just as much if not more than they want to give them. Why not try out a Buy One, Get One option that would allow the purchaser to also receive a product for themselves? If purchasing the product as a gift, this allows the consumer to also try out the product as well, increasing the chance of a repeat purchase.

What about customer loyalty? Reward points are another incentive strategy that can really drive home holiday sales. For example, offering more reward points than usual that can only be redeemed after the holiday season can boost purchases in an otherwise notoriously slow Q1 sales period. Another option to encourage customer retention would be to offer something for free – not just a BOGO offer, but truly free to the consumer. This fosters a sense of customer appreciation and enforces the euphoric feeling of having snagged a good deal, and often to little or no cost to the retailer- even free shipping can increase customer engagement if a free product is not a good fit for your business. Also, don't forget discounted pricing! Like this Gap ad, holiday sales can be that much more engaging when a significant percentage discount is combined with a small freebie, increasing the likelihood of your targeted audience following through on their purchasing plans.

One final incentive suggestion would be to essentially take something away rather than add something extra. By promoting a holiday special as "Limited Time Only," or "Limited Product Remaining- Buy Soon!" you will be incentivizing consumers to make a snap decision regarding their purchase. By controlling the time available to redeem a reward or incentive, you can gently nudge a consumer towards a purchasing decision without inadvertently irritating them with multiple offers or unwanted marketing outreach efforts like emails and push notifications. Some retailers have taken this incentive one step further. When a cart is seemingly abandoned, some companies will offer additional discounts on the products left behind, or on similar products, but only if the purchase is completed within a set time limit. Again, this heightened sense of urgency- that the deal will only be valid if the consumer acts now can be an effective marketing strategy for the otherwise stress-out holiday shopper.

2020 Holiday Marketing Strategy #4: Early Ordering, Shipping Gifts to Loved Ones, Support Local Artists
In this modern digital age, the Season of Giving has seemingly also evolved into the Season of Buying. From November 1 until Christmas Day (and then some), shoppers are inundated with a deluge of messages inciting them to make purchase after purchase in the name of the holiday season. 
Though the 2020 holiday season sales are projected to surpass last year's numbers, you can always do more to increase your brand awareness throughout the holiday season. 
If you have a beloved store that you want to see open in 2021, then shop there now. Don't wait until the third week of December to make your holiday purchases. Early shopping is especially helpful to smaller online retailers, who are more likely to overwhelmed by increasing holiday orders. The extra time will help them fulfill orders and ensure packages arrive in time for the holidays.
If you can't afford to support small businesses with your wallet, you can still do it with your voice. Positive reviews are especially helpful to small businesses and are often repaid in kind. Consider leaving authentic reviews on your favorite stores Google, Yelp, or social media page.
It's also incredibly important that we support the local artists and Black-Owned Businesses who seldom get the recognition they deserve for the joy their products bring to our lives.
If you're more of a foodie, then now is the time to help restaurants struggling with COVID-related closures by purchasing gift cards that your loved ones (or you) can use at a later date. 
Try out some new marketing strategies this year, and make them fun! New creatives, gamification methods and free, free, freebies are all highly effective and often require no additional effort on the part of the retailer but can deliver exciting results to help your business start the new year off in the black. Don't hesitate to use the holiday season as an opportunity to experiment with marketing strategies you've never used before, either- with such varied audiences, you can afford to test out something exciting, different, and even unusual. Regardless of your industry, if you're not capitalizing on the holiday consumer market with some of these tricks, you're missing out!

Publishing Date: