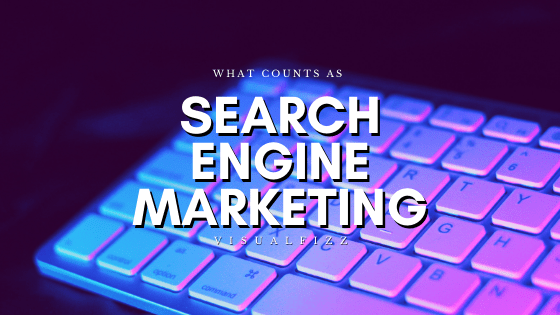 Categories for this post:
No matter what industry you're in, effective marketing is paramount to success these days. Search Engine Marketing plays a critical role in a brand's success. Let's take a closer look at what search engine marketing entails and why it's so important. 
What is Search Engine Marketing (SEM)?
Search Engine Marketing (SEM) is any marketing that takes place on or is created to be found on search engines. SEM incorporates both paid and organic techniques, allowing brands to strike a balance between both to get the best results. Learn more about VisualFizz's approach to SEM and PPC here. 
Why is SEM important?
In 2020, SEM is incredibly important because there's more people than ever using search engines to make buying decisions. According to Smart Insights, 81% of people search online prior to making purchases of any kind.
Even if you're a brick-and-mortar business, you should care about SEM because consumers will likely turn to a search engine to find you before they visit. For example, the search term "restaurants in Chicago" will pull up a bunch of local results for potential customers to browse as part of their initial research.
SEM is also a very cost-friendly way of doing digital marketing as advertisers only pay for impressions that result in someone actually clicking through to your website. Cost per Click (CPC) for example, is the amount that the advertiser (you) pays for each user that visits your site.
Is SEM the Same Thing as SEO?
Nope, but the two are related and often confused. Search engine optimization (SEO) is a form of search engine marketing (SEM), but SEO is a vast industry. That's like saying design is the same as branding – obviously the two work closely together and interweave to make up the fabric of a brand's success, but they are not, by definition, the same.
We'll cover the very basics below, but please visit the SEO section of our blog for full in-depth SEO content.
SEO strategies are  referred to as "organic" because you're not paying ad dollars to boost your rankings. There are many elements to SEO which will have an overall effect on how well your page will move up the SERPs.
There's on-page and off-page SEO, with the former pertaining to everything you do on your own site to help increase your visibility and the latter being the efforts that are being made off-site such as link building, social sharing, and signals.
Common on-page SEO strategies include:
Creation of well-researched content that includes long tail keywords
Creation of simple slugs that incorporate your main keyword
Optimization of meta description
Inclusion of ALT tags on images
Optimization for mobile devices
Integration of social sharing tools
Learn more about VisualFizz's approach to SEO.
Is Local SEO Important to SEM? 
Local SEO is not the same as SEM, but one can see the obvious importance between "Search Engine Marketing" and "Search Engine Optimization". In the example below, you'll see a few things: first, the 'knowledge graph' area of google, below that is the "local pack" (the local SEO gold), with the regular SERPs listed below both of those.
SEM and Local SEO can work together to help build up a brand's local presence. In fact, at VisualFizz we recommend using SEO and PPC together. Here's how this would look for a Chicago based VisualFizz client (606 Digital) that leverages both PPC and local SEO together:
Local SEO Factors are in Blue, SEM (ppc ads, in this case) are in Magenta. You can see how local SEO and SEM work together to tell both search engines and people that this brand is located in Chicago and has localized contact information. Neat, huh?
Is Pay Per Click (PPC) the same as SEM?
Not quite. Just like with SEO, PPC is a type of Search Engine Marketing, but is not synonymous with SEM. PPC is specifically pay-per-click ads, usually text or image based, that pull audiences to landing pages. SEM is brand's full marketing strategy as it applies to the web.
Whether you're an enterprise or eCommerce site, PPC can be very effective. Best of all, PPC is instant, meaning that you don't have to wait months to see results.
When someone searches a particular phrase that relates to your business, your ads show up at the very top of the search results. The amount you pay depends on the number of clicks your ad gets..
Active management of PPC results in the best performance. You'll continuously need to track metrics such as your click-through rate (CTR) to see where you perform best. You can then allocate a certain percentage of your ad budget to that particular phrase. 
It's important to remember that you shouldn't solely rely on PPC. It should be complemented with SEO, which will build your audience over time.
Learn more about VisualFizz's SEM services.
Other SEM Considerations
Put simply, Search Engine Marketing refers to all branding and marketing efforts that take place on search engines. SEM increases brand awareness, can generate more leads for new businesses compared to just doing SEO alone, and is fast and effective.
We predominantly referred to Google throughout this article, as it is obviously the go-to when it comes to search traffic. However, search engines such as Bing can have more competitive PPC costs than Google. Focusing solely on Google will be effective, so why leave money on the table by skipping a value source for your PPC campaign – especially when PPC ads on Bing can be cheaper than Google? 
Although Bing only accounts for 2.8% percent of traffic, that still equates to nearly 12 billion searches per month. That might not seem like a significant chunk of the field when compared to Google, but don't make the mistake of overlooking its importance in the grand scheme of things. You want to branch out wherever you can as long as it makes sense. And Bing most certainly gets used enough to justify PPC efforts. 
Also, Bing is a great platform for those marketing products to consumers in the 45-54 year age range. So if your target audience falls within that age bracket, Bing is an absolute must. 
Brands leave money on the table when they rely on word-of-mouth or revenue from other channels. SEM provides trackable ROI and allows your brand to make slow-and-steady improvements over time. If you don't already have an SEM strategy in place, we can help. VisualFizz can help you get started today.
Publishing Date: