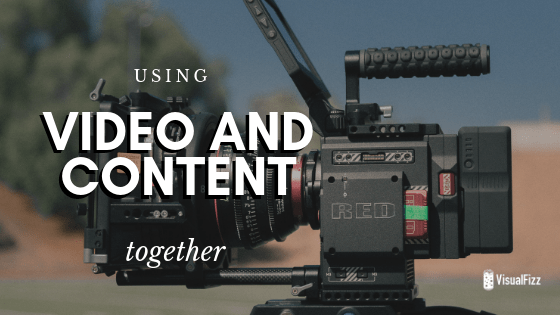 Categories for this post:
We all consume content in our own ways, and despite there being a general trend towards video and vlogging over the last few years, it's important to consider how publishing less written, text-based content and replacing this content with short videos will impact SEO rankings and SEO health. 
The swell in video branding is due in part to its increasing ease of access. It's now easier than ever to live stream and vlog at the click of a button thanks to smartphone technology with faster and faster connections. Content creators no longer need to have expensive equipment that's financially inaccessible to 90% of us. 
The rise in popularity of video consumption has left many gurus and experts in the field of content marketing believing that video is the future, the be all, end all, and that without it, you're sure to fall behind.
It isn't that cut and dry. 
Without written, long-form content, the SEO landscape begins to change. In a perfect world, brands and businesses would supplement their content strategies with video media creation, but IRL, budgets can be slim, and more often than not, content strategists are being replaced by videographers and media directors. While it makes sense that social media, commercials, physical ads, or even streaming ads are moving towards a video-heavy focus, brands that lack well-written, well-researched, and high-quality content on their domains can see a downturn in their web rankings in the long run. 
SEO Considerations for Video vs Written Content
It's no surprise that SEO remains an essential part of branding and sales strategies. SEO takes into consideration all forms of content and media hosted on a domain, and this does of course include Video as well. In fact, Google's ownership of YouTube means that if brands have branded video content, they still need to follow all the proper tagging and optimization protocol that other forms of media require for full visibility. 
SEO isn't about keyword stuffing on any channel (including YouTube), it's about creating a long term content strategy that serves users in a variety of ways. SEO is far more sophisticated than just cleaning up some meta titles, and it requires a solid strategy that takes into account things such as user experience, relevance and off-site SEO in order to be successful.
Video content makes a lot of sense when you need to demonstrate a process, show an example, or guide someone through a multi-step situation. Of course, search engines have taken notice that people often want to view videos when they are in the 'learning' stages of buying or communicating with brands. An example of this is the video knowledge graph that now appears near the top of the SERPs whenever a question is asked. 
You've probably noticed the number of video results that now come up when you ask Google a simple question or "how to" based query. While, in a perfect world, Google would just choose the video that best answers the question and not choose the ones that don't, chances are high that the videos appearing at the top have been optimized to do so.

Now we know what you're thinking. How can we say "Video Isn't King" if Video tends to show up before other landing pages on the SERPs? Just like all rectangles are squares but not all squares are rectangles, all video content is 'content', but not all content includes video. When we say that it's advisable to deliver a mix of media, we don't mean delivering only video. 
In the examples above, most video content is supplemented with written content as well, whether it's from a correlating landing page or from a video transcript. The takeaway here is that video and content marketing go together like margaritas and tacos – they need each other to reach their full potential.
Knowing and Adapting to Your Video Content Audience
Video content can be costly, and what's worse than a costly marketing campaign? A costly one that doesn't work. A piece of content might take a few hundred dollars at most to produce, while a completely produced and edited branded video will be considerably more costly. That's not going to be too useful if your audience simply doesn't relate well to video content. Keep production costs in mind, and understanding what resonates with your audience is a key component of video branding strategy. Reach out to your users and get their opinion on what they'd like to see from you – don't just assume because 80% of people are watching video that your users will love it. In fact, it's been proven that an individual's personal preferences play a big part into how they prefer to consume media.

Reading and watching a video aren't only just two different ways to gather information from the web; these processes utilize two very different parts of the brain. 
Consumer intent also plays a considerable roll in how users prefer to 'digest' their media. ClickTale's Customer Experience Psychologist Liraz Margalit was featured in this Entrepreneur article and explains that users who are in a "just browsing" phase (as in, they have no real goal) are more likely to enjoy watching video content, whereas users that have a 'defined objective' (as in, they know exactly what they're looking for) are more likely to prefer text-based content that can immediately give them what they need at a fast glance. 
This certainly speaks to including other media into your content strategy as well. Perhaps your competitors don't really use podcasts, they only focus on video campaigns. You testing the waters with weekly or monthly podcasts could be a game changer!
Read More SEO Tips for Video on Search Engine Journal's Top Rules for Video Marketing & SEO Success
Partner Video with Traditional Blog Content
Landing pages and product pages can both benefit significantly from the addition of a video, as long as concepts like User Experience and page speed are not negatively affected by the video addition. Video can help to increase time on site, increase conversions, and even increase leads from lead generation-based websites. Video can positively impact SEO when paired with written page content as well. An optimized video on our long form landing page increases the chances of ranking on the first page more than 50x over. Impressive. 
Tip – Keep it Silent: 39% of consumers say they are more likely to finish a video if it includes text, so they can watch it silently. – Animoto (More video marketing stats)
From a user standpoint, visitors tend to consider video more engaging on the whole because watching a video requires less cognitive strain than reading, and humans are hard-wired to avoid heavy work in favor of relative cognitive ease. It makes sense that users prefer to sit back and relax while the video does all the work "for them" so to speak.
Some users are happy to read long form blog posts that take 20+ minutes, but others prefer the 10-minute video version and tend to stay more focused. Moz is a great example of a company that chooses to add video to static posts they created. Their Whiteboard Fridays proved to be a huge success, which don't rely solely on their videos for success, but they're using them to complement their guides, and in turn, widening their reach.
<iframe allowtransparency="true" title="Wistia video player" allowFullscreen frameborder="0″ scrolling="no" class="wistia_embed" name="wistia_embed" src="https://fast.wistia.net/embed/iframe/75btf6ci53″ width="400″ height="225″></iframe>

Offer your content to your audience in a variety of ways, and let your content types work together to help support you.
Video vs Written Content: There is No Winner
Video is a powerful tool and provides a platform for visual learners to immerse themselves in all the content the web has to offer, but it ought to be treated as a part of a larger digital marketing strategy. By focusing solely on video and abandoning other ways of communicating to your audiences, you could be sacrificing other important forms of customer interaction, other SEO factors, and other opportunities to extend your brand reach.

Video content marketing can be a tricky addition to a digital marketing strategy, but using the right agency will make all of this much easier. We can help you optimize your content and integrate video into your static content to create a more effective marketing campaign. That may very well be the best method of reaching a broader audience for your brand. When you're ready to incorporate Video campaigns into your branding strategy, call us at VisualFizz.

Publishing Date: