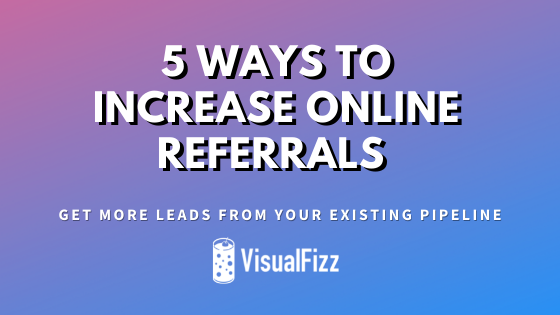 Categories for this post:
Referral marketing is an excellent way to create new sales opportunities from completed ones.  
What Are 5 Ways to Increase Your Online Referrals?
Improve your customer support experience
Go the extra mile for your prospects
Don't be afraid to ask
Personalize your customer experiences
Offer the right incentives
It goes without saying that consumers trust personal recommendations more than anything. Ultimately, you can state how great your products are and how suitable your company is to your target audience. 
Talk is cheap — consumers want more assurance when dealing with online businesses. 
This means that they need to be more active in increasing their online referrals in a strategy known as referral marketing. 
A few interesting statistics about online referrals:
Referrals create 65% of new business opportunities. 
Potential customers referred to your business are 5 times more likely to purchase from you than other leads. 
Businesses receive, on average, 16% more profit from each referral they receive. 
In this guide, we'll discuss each strategy in deep detail. 
Let's get started.
1. Improve Your Customer Support Experience
Customer support is the lifeblood of any business. If you're a SaaS brand, prospects need to speak to real people to learn how to use your product. If you're running an online store, prospects need to engage with live representatives if they have an issue with their order or an urgent question. 
Even while operating a local business, prospects should still be able to reach you if they have questions and concerns. 
The truth is that the quality of the customer support you provide will dictate if prospects will come back to buy and refer their friends and family. 
Fundamental ways to improve your customer support include:
Speedy Communication – Getting back to prospects immediately, whether you have live representatives or a ticket system. Interested prospects will cool down over time. 
Efficient Workflows – Eliminate all bottlenecks between your customer support team and prospects. 
Approach Sales and Marketing Together – Avoid sales and marketing as silos or separated teams. Both need to work together to engage and educate potential customers. 
2. Go the Extra Mile for Your Prospects
It's not a secret that people love to be catered to. Let's use an example. 
Hotels are well-known for their customer support and hospitality, whether good or poor. 
If you visited a hotel's front desk and asked where your room was, what response would you appreciate more:
Response A: "Your room is located on the third floor. If you'd like, one of our staff will lead you there."
Response B: "Your room number is located on the key."
Response A would sit well with most people. 
In the same way, going the extra mile for your prospects on the internet is equally important. 
Here are some takeaways to make sure your prospects aren't given the cold shoulder during an interaction:
Offer educational resources to your prospects. This will engage them more for your sales teams, while giving them helpful information before making a purchase. 
Don't give a bare minimum response. Offer more than what is required — treat your prospects like hotel guests. 
Be transparent. Instead of having prospects wait on you to provide a solution you're not qualified to give, be clear from the start that you'll transfer them to the right person for their inquiry. Multiple transfers during a customer support hotline can be irritating for prospects. 
3. Don't Be Afraid to Ask
Referral marketing doesn't always have to be an inbound strategy. Above, we listed a few natural ways to acquire referrals from excellent customer support and experience. 
However, this just may be the most straightforward method for getting referrals from existing customers. Of course, simply asking for referrals is as uncoordinated as it gets. 
Some effective strategies for asking for referrals include:
Reaching out to existing customers via email to ask for a referral. You should have already segmented your email list to separate customers from leads (do this now if you haven't). 
Making sure your email is as personalized as possible. No one wants to be addressed like "Dear Customer". Email is personal, so make it that way. 
Going the extra mile to ask how your customer feels about your product or service. It will show that you really value their satisfaction and opinion, instead of trying to solicit a referral from them. 
Example of a great referral email in action:
With a little elbow grease and time, you can create a productive email campaign to ask and collect referrals for your business. 
4. Personalize Your Customer Experience
Many companies operate solely using their business models. 
It usually looks like this:
Customer visits website and requests product or service. 
Company engages with suppliers.
Company fulfills order requests and provides products. 
Company receives profit. 
Successful customer experiences don't work like business models. Instead of the tired-old "you buy from me" customer experience, create a model that will provide customers with value at every step of the purchasing process. 
You can do this by offering whitepapers and video tutorials to new customers after they've purchased a monthly subscription to a SaaS product. You can also do this by including a graphic of how a customer will maximize their investment after buying a service. 
5. Offer the Right Incentives
At the end of the day, most people will respond with "what's in it for me?" if you simply ask them for a referral. 
That's fine — asking for referrals should be a two-way street.
Here's an example of Coinbase offering an incentive for customer referrals through email:
As you can see, incentives can be simple.
People do love free stuff. 
Ready to Improve Your Marketing?
Referral marketing helps businesses maximize the value of existing client relationships. 
When used properly, you can make the most of a client's value to your business. If you're interested in adapting your marketing strategy to this method, we'd love to help.
Contact us today to learn more about how we can help. 
Publishing Date: