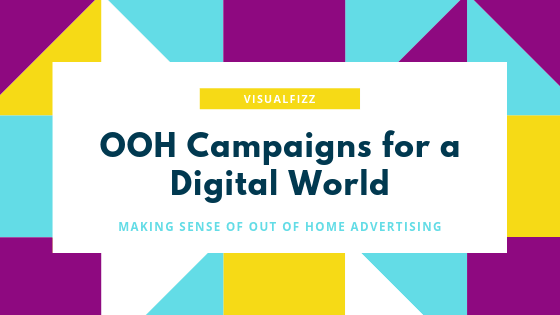 Categories for this post:
There's no denying that digital marketing has taken precedence these days when we talk about branding and marketing strategies for businesses. However, it doesn't mean we should be ditching more traditional marketing methods like out-of-home (OOH) marketing, for example, which still proves to be an effective tool.
How effective?
According to Statista, OOH is a growing industry which as of 2018 was worth $8 billion, an increase of over $3 billion in less than a decade. Team this up with the emergence of DOOH (Digital Out of Home) marketing and it's potentially a more effective and more lucrative approach for a wide variety of industries.
Out Of Home (OOH) becoming Digital Out of Home (DOOH)
Traditional examples of successful OOH aren't going anywhere, especially when they're implemented effectively. But OOH no longer just means pictures on billboards and banners on busses, OOH has gone digital too. Take the British Airways #lookup campaign which was the perfect blend between traditional and digital OOH and was a huge success with members of the public. Industry experts have praised its ingenuity and creativity.
Set up in Trafalgar square, each time a plane flew over, the little boy in the ad would get up and point towards the plane as it flew over. They would even show the flight number of the plane that was overhead as well as it's origin thanks to some nifty surveillance and good GPS tracking.
Tackling Ad Blindness
One of the challenges OOH and DOOH face is ad blindness, which is far from a new thing, but still a very common occurrence. We're so used to seeing the same old boring ads these days that our minds have simply stopped processing the information a lot of these ads provide. This doesn't just happen with OOH, it occurs frequently in the digital world too, which is why it's often also referred to as banner blindness. We've either consciously or subconsciously learned to ignore annoying banner ads and sidebars.
So how do you attract attention?
Creativity is, of course, the first way. Make signs and billboards interesting and make them funny. Take the examples from UK comedy channel Dave, which played on the British sense of humor. Dave made their ad look like it was stuck over someone else's. Next, they mocked an inability to make friends on the subway.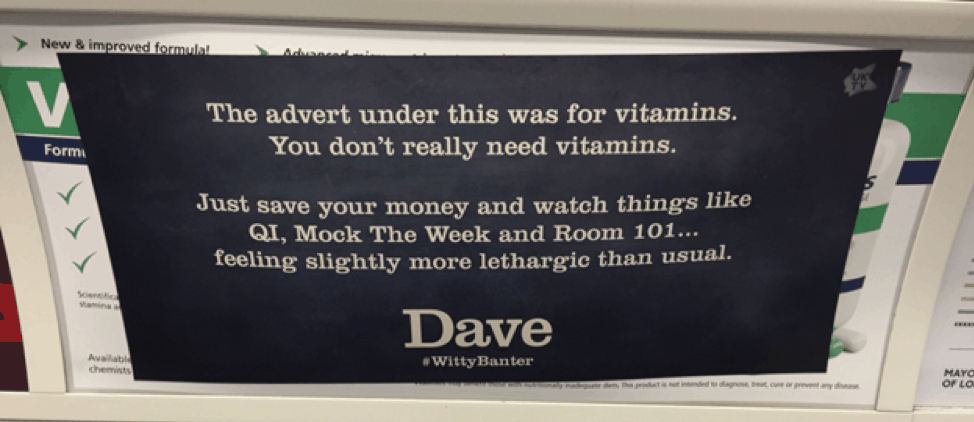 Image credit: https://corporate.uktv.co.uk/news/article/uktv–and–omg–uk–agree–new–cross–agency–deal–represent–uktvs–media–buying–account/
Secondly, place ads into scenarios where they can't be ignored and integrate them into everyday situations people can't get themselves out of.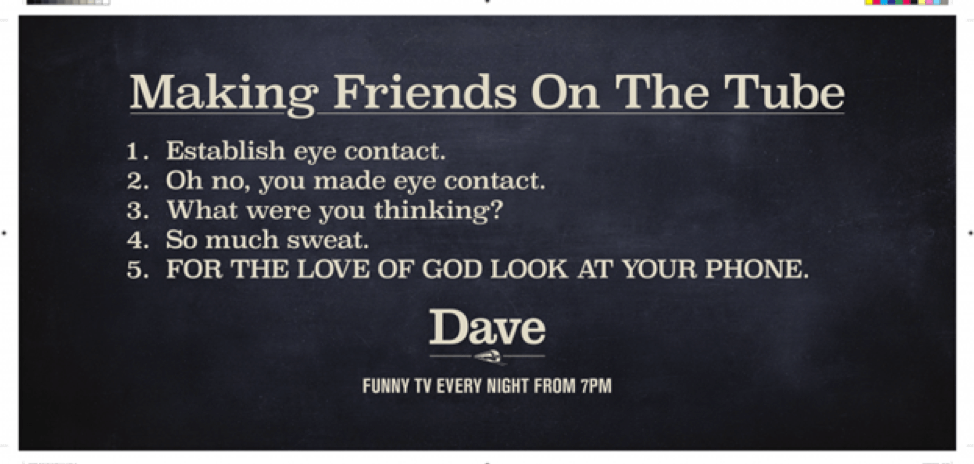 Image credit: londontubeads.wordpress.com
Similar to the above ads on the "tube" in London, traffic jams are usually an inevitable part of the day if you commute during rush hour, meaning OOH advertising on trucks and vans can potentially be a goldmine, especially if the ads are eye-catching. According to the advertising company Commoot, natural ad blockers tend to dissipate in situations such as traffic jams, and, psychologically we are more open to seeing what ads have to say as a way to tackle boredom.
Thirdly, you can consider using experiential marketing as part of your OOH campaigns which we will discuss below.
Experiential Marketing Supports OOH
By blending the world of experiential marketing and OOH, you can really generate a wow factor for your brand. It allows consumers to interact with the brand on a personal level and it will create a lasting experience for the user, especially if it's positive.
Through the integration of OOH and Experiential Marketing, you can target specific demographics in specific places at specific times – such as events, and the leads you will get will be of much higher quality. Allowing users to play around and have fun with your brand is essential to its success and, if you think of fun ways to deliver your brand to the user, you're likely going to get even more interaction after the event when it is shared on social media or by news outlets covering the event.
An example of successful OOH experiential marketing is House of Vans. There's one right here in Chicago as well as its counterparts in Brooklyn and Downtown NYC and one across the pond in London. They even have pop-ups from time to time in different parts of the globe. The locations are spaces for the community to get together and skate, listen to live music, watch screenings of movies and documentaries related to the industry and even ride BMX bikes.
They held a special event this year on International Women's Day to bring local female skaters to the House and showcase their talents. Alongside this, they had screenings of documentaries and a bunch of live music to round things out. The coverage made sure to keep them at the forefront of skaters' minds when thinking of skate brands and got people in the local communities interacting with the brand on a 1-to-1 level.
Another OOH experiential marketing campaign that springs to mind personally was when I once attended the Lollapalooza festival when traveling to Argentina back in 2016. Frankly, it was one of the most ad-riddled outdoor experiences I have ever had, and normally I would have been dubious. However, because they were all experiential and they made it entertaining, I was more open to the different brands' advertising and sharing the different brands on my social media because of the fun factor.
As you can see, OOH is certainly not dead and stretches far beyond the traditional, dull billboards for fast food joints that you see while on a cross-country road trip. When paired with DOOH, the duo is diverse, powerful and effective across a broad range of applications and for a wide variety of industries.
Interested in learning more about Out of Home marketing? VisualFizz recommends Commoot, an Outdoor Advertising startup focused on helping digital brands reach audiences in a physical world.
Publishing Date: