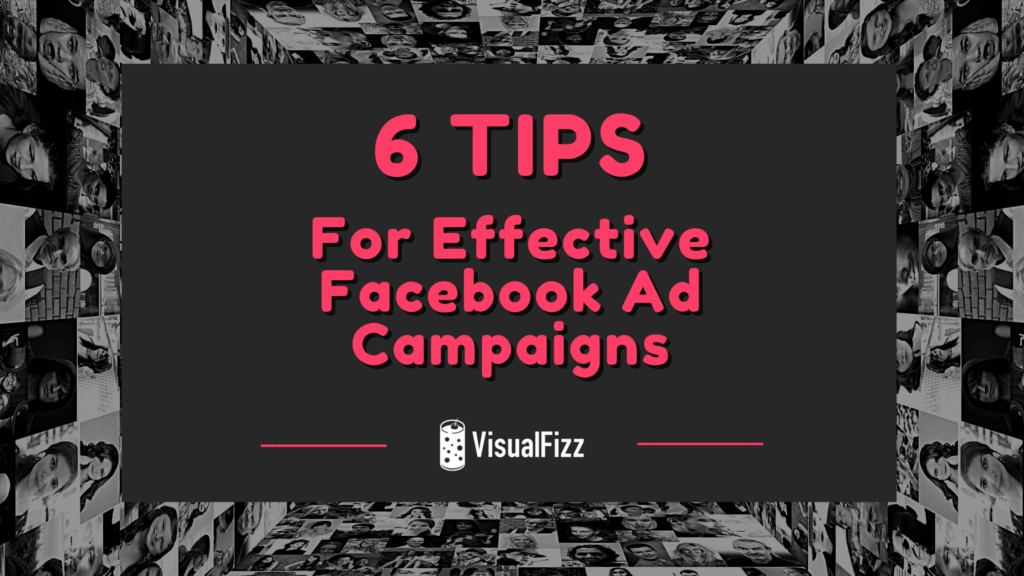 Categories for this post:
Facebook ads are profitable! With a user base of 2.8 billion monthly active users, the social media network is a river that nearly every marketer has explored at length. Unfortunately, most brands fail to maximize the potential for Facebook ads. In their attempts to get the most out of their campaigns, many marketers just end up throwing ad dollars into Facebook campaigns, without carefully building audiences or closely monitoring the results.
Here are 6 Facebook Ad Management Tips for Beginners.
Facebook Ad Campaign Tip #1: Narrow Down Your Audience
When it comes to social media advertising, it may be tempting to write for the entire audience in your first attempt as if you are writing a speech for the stage at a conference. However, it's often more effective to speak directly to a single audience member or group.
Similarly to in-person sales, brands should focus on reeling the audience in and persuading the shopper by focusing on their needs in a Facebook ad.
Luckily on Facebook, brands have the opportunity to narrow down their target audience according to a number of demographics, interests, relationship status, and more.
For example, target demographics could include US-based, 30 – 40 year old women with an interest in travel. Once the audience persona is identified, we can write ads that speak to a very specific audience.
Facebook Ad Campaign Tip #2: Include Images That Match With Your Ad Copy
Many marketers struggle to find good images for their ad copy. During their struggle, they make the mistake of adding images that are not relevant.
This is one of the biggest mistakes marketers can make – one that can break their ad copy. The right image doesn't make a small difference, it makes a huge one.
When choosing an image for your ad copy, choose ones that complement the copy. If the copy and the image don't line up, the audience will wonder what you are actually advertising.
The unavailability of custom images is another problem that many marketers face when sourcing images for their ad copy. However, having an original image is not a prerequisite for Facebook ad copy – but a high-quality one is. If you are unable to source customized images, you can easily purchase affordable stock photographs from reputable sites and fill in the visual gap.
Hot Tip: You can use free sites like Unsplash or Canva for high quality stock images.
Remember relevancy is the key, so avoid adding anything out of the blue. Instead, use images that resonate with the content in your ad seamlessly. With this tip for Facebook ad campaigns, you are one step closer to resonating with your target audience.
For example: In the above ad by Starbucks, the coffee company clearly shows what they are offering and visualizes it in the photo. Starbucks reminds its audience what they will be getting when they visit their shop – resulting in an effective Facebook ad.
Facebook Ad Campaign Tip #3: Say It With Video
Videos nearly always perform better than still images alone. Video ads are eye-catching and help brands stand out in the feed. Shoppers that view video ads are 1.8x more likely to purchase than a non-video audience. Moreover, setting up a video ad is a seamless process – just like image ads.
Facebook provides a handy guide to Facebook Video Ad requirements that marketers can bookmark for use during campaign build. Different video placements and ad types have different features; it is recommended to optimize your Facebook ads to the full extent for the best engagement.
Facebook Video Ad Requirements Chart and Guidelines here.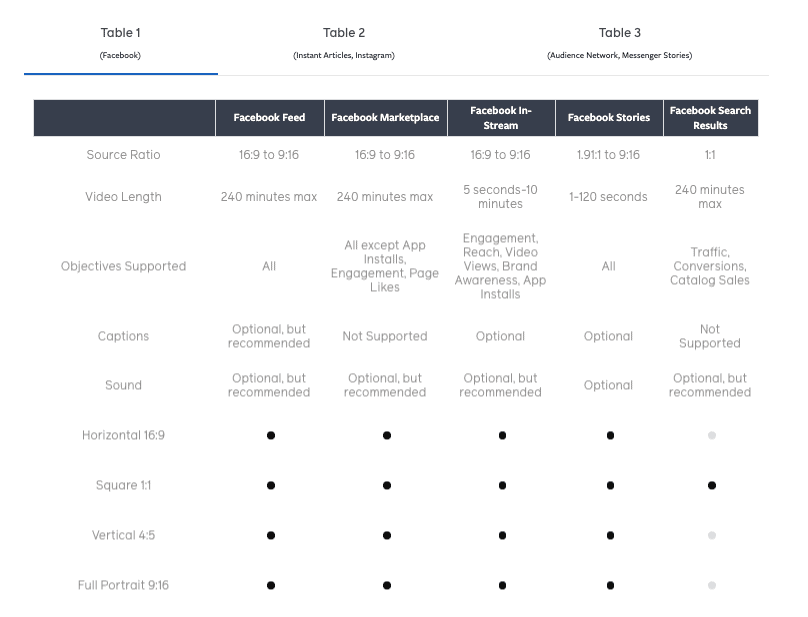 Ideal Facebook Ad Video Length Times
Generally, Facebook allows the videos to be up to 120 minutes long. However, marketers cannot expect audiences to keep their gaze on one ad for this insane amount of time.
A short and sweet video length is recommended. Facebook reports that most users will watch other video types to the end if they are 15 seconds long. One study found that if you want higher engagement, 2 to 5 minutes was the range that lead to the best performance.
One fantastic example of a video ad is the above advertisement by Cielo Wigle. This ad could have been an image, but the falling snowflakes against the backdrop of the brand's smart AC controller grabs the audiences' attention immediately, making for an ad the user literally cannot miss.
VisualFizz created an in-depth article on how brand managers can add Video Content into content marketing strategies. Check it out!
Facebook Ad Campaign Tip #4: The Right Frequency Balance
There is nothing worse than seeing the same ad over and over and over again. It not only makes the ad lose its effectiveness, but also frustrates the audience in costly ways.
To avoid this situation, marketers should set the frequency cap of Facebook ads. Frequency capping prevents ads from showing multiple times to the same user. You should test out which frequency settings result in the strongest performance for your ads.
Tip: If current campaigns are reporting high Costs-per-Click (costs per "action" on Facebook) and low Click-Through-Rates (CTRs), try adjusting your frequency cap.
Marketers can also 'turn off all ad sets' so ads automatically stops showing for each customer once the ad limit is reached.
Facebook Ad Campaign Tip #5: Create Multiple Versions of Ads
Even the best marketers don't know for sure what will work and what won't – testing out each variable, from ad copy (words) to media used (photos, videos, etc.) is critical.
It's recommended to create multiple versions of similar ads to test out what resonates with the audience.
While each ad should convey the same message, test out content in different styles such as bullet points, long paragraphs, and short sentences to see what works and what doesn't.
As the ad campaign is running, marketers pause the ad sets that are underperforming and run the ad set that is resonating with the intended audience.
For example, marketers can run two ad copies with the same image. See how Post Planner uses the same content but changes the ad copy. In one ad, they are asking a question and are making a statement in the other. This may seem like a small change but can make a difference in the results.
Facebook Ad Campaign Tip #6: Remove Placements That Aren't Needed
Facebook allows ad placements where you can show your ad to different locations on Facebook and off Facebook, including Instagram. You also have the freedom to choose whether you want to run ads on desktop, mobile, or both.
Facebook automatically places ads on all placements. This is a great way to waste your ad budget without much to show for it at the end of the campaign. This is a critical step that is often overlooked by beginner Facebook advertisers.
Facebook "Feeds" and Instagram Feeds (if applicable) is often the only setting recommended for the best performance. In most cases, ad budget will perform more strongly when Audience Networks and Messenger ads are completely turned off.
Marketers should also test out the various ad placements in a controlled way to learn how they can best leverage these settings. It is recommended to break these experiments out into their own ad sets or separate campaigns; this will allow for more controlled spending and clean data.
Facebook ad campaigns are often overwhelming with all the data that goes into it. With these tips for Facebook ad campaigns, we can help make the process easy for you and more effective. Each of these tips will help you utilize the ad system in a way the pros do so you can make the most out of the process. Try them out.
If you need additional help with campaign set up and paid advertising, contact VisualFizz today!
Author Bio: Ivy Attié
Ivy is a content manager, researcher, and author of many publications. She is passionate about visual imagery and has a vast knowledge of the industry, which she loves to share. She also loves literature and performing arts.
Publishing Date: