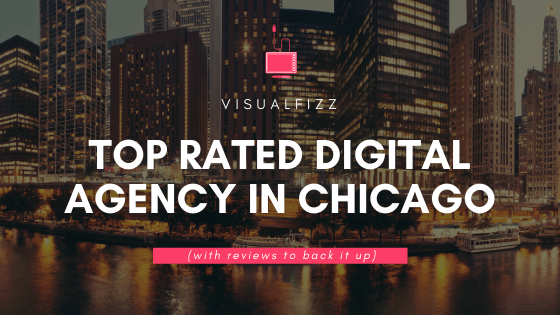 Categories for this post:
We probably don't need to tell you that for a business to survive in today's increasingly tech-savvy world, digital marketing is key. But who has the time or resources to keep up with digital marketing's constantly changing trends and strategies, anyways?
Well, VisualFizz does. We're a full-service marketing agency that delivers results to companies looking to outsource their marketing. But once again, we don't need to tell you that we offer 5-star services — our clients will.
We're thrilled to partner with Clutch, a groundbreaking B2B ratings and reviews platform. Our valued clients can leave in-depth and truthful feedback about our services and ability to deliver on our Clutch profile, providing potential buyers with a transparent view of what it's like to work with us. 
A great review came from Drinking Code, a digital company that helps people improve their health and lifestyle. They approached us to build an MVP website and a digital marketing campaign — and we were up for the challenge.
Our team designed and developed a WordPress e-commerce site, integrating Stripe for online payments. We also delivered the company's initial digital marketing campaign, which was primarily focused on Facebook and Instagram. 
Here's what the client had to say about the impact of our work:
VisualFizz went above and beyond to give me everything I asked of them. They put a lot of effort into the project and stayed within my budget.
— Owner & CEO, Drinking Code
The client commended our professional, patient, and energetic team. They appreciated our can-do attitude and the personal attention we gave them — and we appreciated the 5-star rating they left for us!
Another recent review is from Rose Paving LLC, the nation's top rated parking lot maintenance and asphalt repair company (as you can see, we work with companies of all types!). They were looking for a creative, yet practical full-service digital marketing company to work as an extension of their team on an annual contract basis, and VisualFizz fit the bill.
Since 2017, we've provided a wide range of digital marketing services:
Brand Strategy
Email Marketing
SEM/SEO
Social Media Marketing
Content Development
Marketing Design
We manage our clients' PPC and SEO campaigns and provide ways for them to improve the brands' website and other areas of focus, both digitally and physically. Our goal is to become an invaluable extension of our clients' teams. One review in particular struck a chord with us — the client deemed us "instrumental" in onboarding their new locations. While we continue to provide our very best in support for our clients, we also know the importance of creating new forms of media and content. In 2020, our focus will be on giving audiences "real life, emotional experiences" — be it through video content, experiential branding opportunities, exciting social campaigns, and more. Stay tuned!
"We look forward to what they'll bring to the table in the future to help us continue to differentiate our company and stand out as a market leader." — Rose Paving LLC
We know that our clients appreciate how quickly our team is able to turn deliverables around, as well as the creative insights we propose to tackle new challenges. 
We try to keep our "humble-bragging" to a minimum, but the leadership team at VisualFizz always stresses the importance of making sure our clients are as happy with us as we can possibly make them, because we know that when someone asks "Know anybody who offers digital marketing?", we'll be the first company that comes to mind. Word of mouth referrals are the best referrals, because our work can speak for itself.
We're recognized by many brands and decision makers as a top Web Design Company in Chicago for brands who want to reach new audiences and capture the attention of those most important to them.
Additionally, we're found all across the web for our marketing efforts in health, healthcare, and wellness. If you're looking for a healthcare digital marketing agency, VisualFizz can help.
Let's not forget about the importance of a local presence. Clutch has company directories that use client feedback to determine the best companies per industry — and we're a top branding agency in Chicago! We're also listed among the top firms in Chicago on Visual Objects, a portfolio website that showcases work from top creative firms, and on The Manifest, an approachable B2B guide that highlights business expertise.
We approach each project with fresh, creative perspectives, and we're eager to hear what you have in mind — so contact us!
Publishing Date: