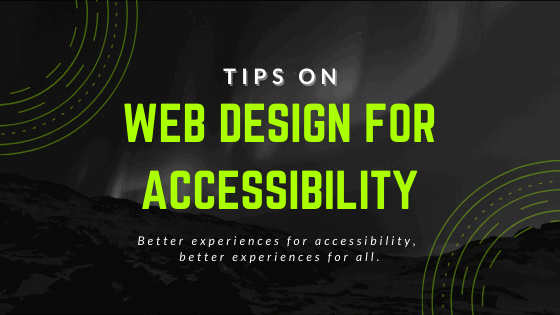 Categories for this post:
There are many pitfalls and oversights website designs can fall victim to — everything from hazy calls to action (CTAs) and poor readability to cluttered content and visual overloads. But while those oversights can hamper the average user's experience, it's not uncommon to specifically neglect the visually impaired users. The two overlap in more ways than one, so it shouldn't take much to argue in favor of prioritizing accessibility. Designing web and mobile experiences with blind or visually impaired visitors in mind can improve the user experience for everyone. So why is that the case and how should one best approach the subject?
What is Accessibility for Those with Visual Impairment? 
Accessibility on the web is whether or not the site can be used by everyone — however the user encounters it. Accessibility laws exist to ensure people with accessibility needs can utilize the full internet, but it is advisable for web designers to consider optimizing designing for accessibility anyway. Better designs for those with accessibility needs means better designs for everyone. 
Blind or Visually Impaired Internet Users are a Large Demographic
What often doesn't enter mainstream knowledge is that visual impairments are far from uncommon. The World Health Organization (WHO) estimates that there are roughly 253 million people with some visual impairment across the globe. Among them, approximately one in five is blind, while the rest have varying degrees of vision impairment. In the U.S. alone, Prevent Blindness America estimates that about 53 million Americans have some form of visual impairment. In accordance with the WHO's data patterns, roughly one in five among them is blind.
Of course, all such figures are estimates, and it's likely that many more cases go unreported.. Assistive technologies also enable visually impaired users to access the internet in ever-growing numbers. Thus, the number of visually impaired internet users is only bound to increase over time.
WCAG, the Law, and SEO
With the above factors in mind, accessibility can indeed be a wise endeavor business-wise. But before considering that factor, one should note it's both an ethical and a legal imperative.
The World Wide Web Consortium (W3C) has developed the Web Accessibility Initiative (WAI), which includes Web Content Accessibility Guidelines (WCAG). While those guidelines are not law, they are globally recognized as best practice, and they do inform the law in many jurisdictions. Compliance with W3C guidelines is often the standard against which lawfulness is measured, so it's not merely an ethical matter.
What's more, the law aside, a good accessibility score is actually also beneficial. Namely, it affects the overall user experience, and thus a website's search engine optimization (SEO) score. WordPress, the most prominent content management system (CMS) in the world today, has recognized this. Simply put, user-friendliness boosts engagement for all visitor demographics, which in turn organically improves a site's SEO scores. It can thus affect lead generation strategies, conversion rate optimization efforts, and a website's sales funnel.
Designing Websites for Blind or Visually Impaired Visitors
Having established that accessibility is a vital factor to consider, let us address just how to do so. All of the following practices can also inform UX design, since they improve the user experience of all visitors.
Facilitate Screen Readers and Screen Magnifiers
While visually impaired users can use different assistive technologies, screen readers and screen magnifiers are the most prominent. One can facilitate them in many ways, including the following:
Enlarged Text
In many cases, simply opting for larger text is all one needs. However, you should keep in mind that visually impaired users may want to only zoom in on text, not the whole page. Thus, you can make sure your site layout can reasonably support this practice. What's more, if your site uses large quantities of text, you could consider providing text-only versions for this reason.
Headers and Content Structure
Correct content structure and header distribution can also make your site accessible to all visitors. Screen readers use headers to interpret pages, and many users tend to scan pages for useful information. Using H1s, H2s, and so forth properly can facilitate both, as well as boost your SEO score. 
Alt Text
In essence, alt text "describes" an image. Screen readers use it to read images, and browsers will display it if an image fails to load. WordPress offers an easy way to implement alt text into your content, which will benefit all your users. 
Improve Content Readability
Whether visitors use assistive technologies or not, content readability is vital. Consider the following to improve it and, in turn, your SEO score:
Clear Page Structure
All sites can only benefit from a logical organization. Not only is a clean page structure beneficial to your SEO health, but a clean site structure can have excellent payoffs for those with accessibility needs. Ensure that relevant information is easy to find, and that your website design facilitates scanning. 
Interested in learning some SEO basics? Check out Easy SEO Basics You Can Implement Today.
Correct Color Choice
A wise design choice in general is to ensure your choice of color is correct. Namely, you should set dark and light colors in contrast instead of having similar shades bleed into each other. You should also set text against a contrasting background for better readability. Regarding visitors with color blindness specifically, you can review your page in monochrome to assess its readability for them.
Clear CTAs
Similarly, CTAs should be easy to find and clear in wording. It might be tempting to use common color pairs, such as red and green, but colorblindness should be kept in mind. Make sure CTAs contain clearly visible text that makes their purpose clear.
Keyboard Navigation
Some visitors do prefer keyboard-only navigation, and many assistive technologies also rely on it.  You could thus ensure that all your site's major features have "keyboard focus" and can be accessed through the Tab key alone. Doing so will also ensure your page structure overall is more concise and user-friendly.
Mobile Site Versions
Lastly, if you offer a mobile version of your site, consider allowing non-mobile devices to access it. Mobile site layouts are typically more visually accessible and less cluttered, so visually impaired visitors may find them easier to navigate.
Ready to learn more about VisualFizz's Web Design for Accessibility Needs? Contact us today.
Author Bio: John Stern is a freelance web designer, blogger, and content producer. He often writes about the relocation industry and digital marketing. He holds a deep interest in SEO and CRM solutions for businesses. https://wpfullcare.com/how-to-create-accessible-wordpress-websites/
Publishing Date: