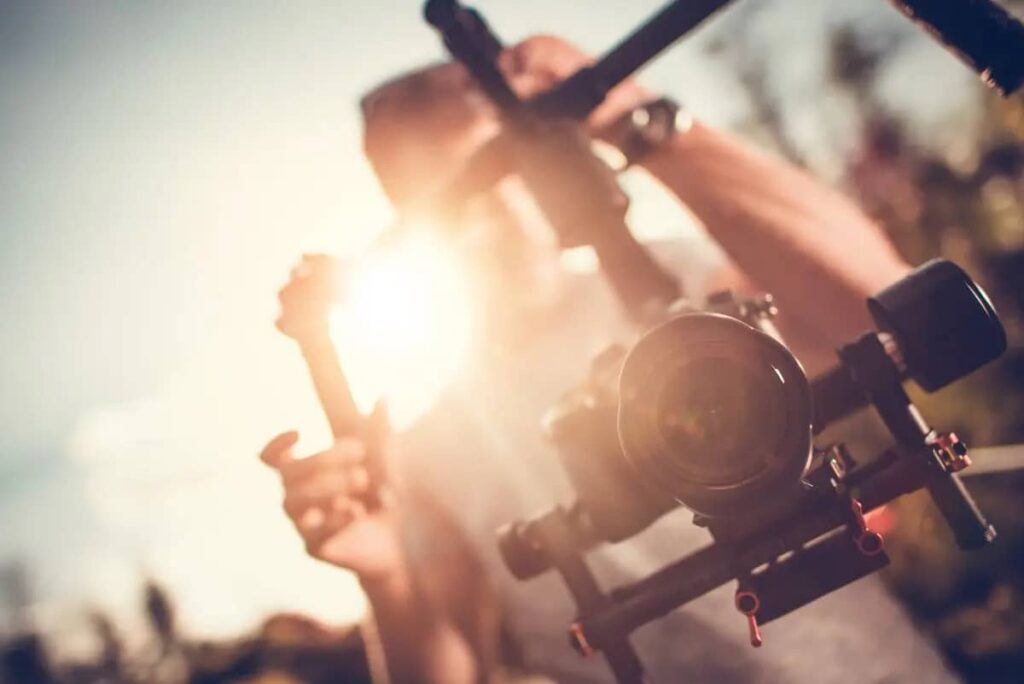 Categories for this post:
Congratulations! You've finished a video or video campaign to be used for digital marketing. You should be proud. You've put a lot of time and effort into writing the script, finding the perfect actors, filming the video itself, compiling the film and overseeing production. All that's left is to post it online and reel in the viewers (pun intended).
After everything that you've done to prepare your video for the web, have you considered what you can do to ensure that your branded video is seen by the audience that matters the most? If you forgot, we forgive you, and we're here to help. As mentioned in Your Marketing Video Might Suck (How To Make It Suck Less), even if you create the perfect marketing video, it might not reach its full potential if you don't optimize it for both your audience and search engines.
If that perfect video has been posted without considering meaningful keywords, descriptive titles and headers, and SEO best practices, you have essentially painted a masterpiece, but you hung it in the basement. Lucky for you, video SEO isn't extremely complicated.  The general rules and best practices of SEO still apply, and VisualFizz loves implementing SEO strategies that involve exciting visuals like video.
Lights… Camera… Action.
What Are the Basics of Video SEO?
The basics of video SEO include optimized Titles, optimized Descriptions, rich markup for your video, and transcripts that provide a text version of your video to search engines.
One of the most important things to remember when creating any type of content is to provide value to your audience. It may seem intuitive, but the fact of the matter is that most marketing videos provide very little, if any, direct value to the audience. A Search Engine's goal is to provide the most relevant, most valuable content to the user. It's important to consider just what type of value is being provided to your audience, and optimizing your video according to that value.
Optimizing your video for SEO isn't too different than optimizing other web content. For the basics on SEO, this link will provide some SEO Improvements You Can Implement Today.
Video SEO Keywords for SEO Power
It's not common knowledge that Google owns many channels and services. Google owns YouTube, and the same quality assurance and ranking algorithms apply to videos added to YouTube. We recommend publishing your marketing videos to YouTube so that your video can appear in the Search Engine Results Page (SERPs) of Google. Your video title and its description should contain keywords that are highly searched and important to your brand, and should contain a backlink to your website.
Uncovering the right keywords for your video post is as easy as running a google search about any topic related to the industry or the item being marketed. For example, a video regarding saw blades should include terms such as "best saw blades for ….," or "saw blade sharpening tutorial," etc.
Google's Keyword Planner enables marketers to check the search volume of a given keyword or search term. Keywords that return anywhere between 1,000 and 10,000 searches per month are recommended.
Adding Meta Data to Your Video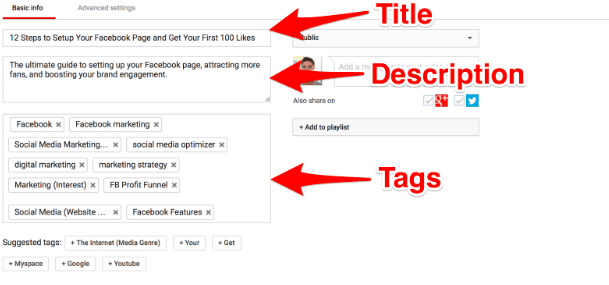 Search Engines have a pretty hard time understanding video content the way that humans do, since search engines can't see and understand videos that same way that humans can. Search engines rely on tags, file names, and descriptions to learn what a video file is about and how to properly index and categorize content.
Think of video titles and descriptions as a product label in a department store. It tells the shopper (either the viewer or the search engine) exactly what the video is about. You should ensure that your description is at least 300 – 500 words long and includes your core keywords for the best performance.
Video Transcript for Video SEO
A video transcript is exactly what it sounds like – a textual representation of the content of the video, what was said, discussed, who was interviewed, etc.
A video transcript is beneficial to an SEO strategy because it provides the search engines with more information than a video tag or metadata can provide, and allows it to better classify and index the video and provide it in more relevant searches.
Instructions on how to create a video transcript can be found here.
Landing Pages for Your Video
Most of SEO is understanding how the search engines function and return results to users. Video SEO is no exception. Google provides preferential treatment to the first video published on a webpage.
With that understanding, a video should be published to its own landing page. Each video you create shouldn't have to share the search engine spotlight with other less relevant videos.
It's also not recommended to publish the same video across multiple web pages. 1 strongly optimized landing page with video content will perform better than 3 optimized pages fighting to rank for the same keywords.
According to the designers at Web Designer Depot:
"When someone searches for web design tips and tricks on Google, Google's algorithm has to decide which page to display in its search results. And if all of your videos views are split among three different web pages, your chances of showing up in the search results will be pretty low. However, if you had published it on a single page, and that page was racking up all the views, comments, and impressions, then you'd have a better chance of showing up in search results."
Don't create competition for yourself. Create 1 single landing page on your website for your video, and make sure to add at least 300 words of optimized text content on the same page.
Rich Markup for SEO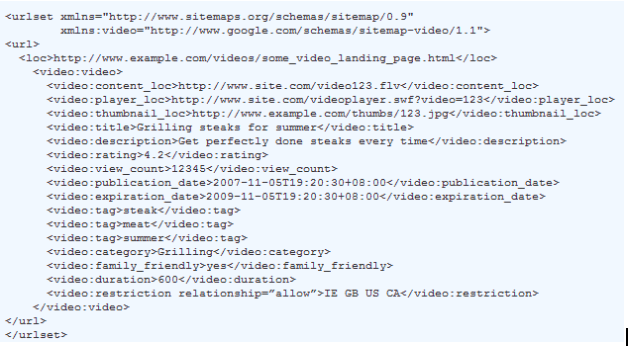 Rich Markup (referred to Schema.org markup) is additional information added to the description of a website, business, product, or service that gives the search engines more data on what the content at hand is about. Including this information with your video file helps the search engines to better categorize and better understand your content, which means your content is more likely to appear in searches for your keywords.
While there are many categories in Schema markup, video markup relates specifically to, you guessed it, videos. Information like Ratings, Views, Publication Date, Duration, and other factors are included in video markup. Below is an example of some rich markup that has been added to a video file.
So class – what have we learned today? We learned that in order for the broader target audience to see your video, it needs to be optimized for SEO. Video is becoming more and more popular as a marketing platform, and video marketing boasts increased CTRs, higher engagement rates, and better conversion rates. Those who dedicate the time and effort it takes to create the perfect marketing video would be doing themselves, their audience, and the product they are trying to market a disservice by not embracing the power of video SEO.
Publishing Date: