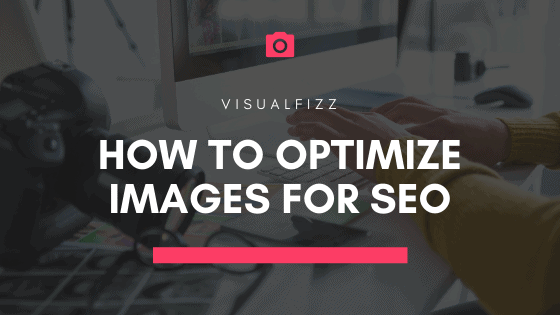 Categories for this post:
VisualFizz welcomes guest poster Chelsea Sanders to our blog!
SEO is vital to a successful digital marketing campaign, and has come a long way since its early days. Nowadays, you need to bring your A game to keep up with the competition and ensure a high ranking among search results. Although often overlooked, images play an important role in the health of SEO. By making a website more visually appealing, images boost the website's usability and increase the time spent on the site, which directly affects SEO. Also, images that support related content make the content more relevant to the search terms users enter. Moreover, they help increase organic traffic to a site from image-based search engines. We hope that's reason enough to learn how to optimize images for search/SEO health. Here come some useful tips!
Don't miss the benefits of image optimization for search engines.
Create Original, Relevant Images
Images are the first thing visitors notice on a web page. That's what the human eye is naturally drawn to. If an image is able to awaken their interest, they are more likely to read the surrounding text. However, don't use just any image. If the bullet in your SEO plugin turns green, that doesn't mean you chose a good one. 
An appealing image that is relevant to your page content will certainly leave a strong impression and even inspire visitors to share your content. Your goal is to appeal to your readers on a deeper, emotional level. If you are writing an article, use images that illustrate the subject matter with drama, humor, or romance. 
Ideally, you should use your own, original images, especially if you are presenting your own service or product. Free images that appear everywhere are not the best choice for SEO purposes. Ensuring a high search ranking requires a little more effort. Instead of free stock photos, upload unique photos you have taken yourself or hire a professional photographer. If you need photos for your new website design, a professional photo shoot with your employees is certainly worth investing in. 
Take original photos that reflect the topic of the post.
Use High-Quality Images
Low-quality images can harm your site in more ways than one. For instance, if the images on your site are poor in resolution or badly formatted, your pages can appear unclear on a mobile device. High resolution images are actually more important for SEO health than high-quality content. You should use the highest quality format, too. 
JPEGs are usually the safest choice for ecommerce, as they provide the smallest file size and the highest quality.
Use GIFs only for thumbnails and decorative images. To avoid unnecessary trouble when optimizing images for search engines, do not use them for large product images because their file size is very large and resizing them is tricky.
PNG can be a great substitute for JPEG and GIF. Thanks to its small size, PNG is a good option for simple decorative images. 
Make Images Mobile-Friendly
It is no secret that Google favors mobile-friendly websites. Therefore, do your best to optimize your images for the mobile-first index. 
Loading times depend heavily on image size. Pages that are slow often have a high bounce rate simply because visitors are not willing to wait. They won't hesitate to leave your page unless they find what they are looking for quickly. To reduce your bounce rate, improve user engagement and your ranking, create responsive images – images that adapt to the size of any device. 
Reducing large image files increases page speed, which is necessary to retain mobile users.
Use Descriptive File Names to Optimize Images for Search/SEO Health
With a descriptive file name, Google will know what the image represents without looking at the image. You want the file names to be relevant because they may be used as the image's snippet in search results. Rename your images to something more descriptive than an alphabetical and numerical code they usually have when uploaded from a digital camera. Briefly write what can be seen in the photo, placing the main keyword at the beginning of the file name. 
Add Appropriate Alt Text Descriptions to Images
Skipping the Alt text (Alternate text) box when uploading your images would be a big mistake, considering how beneficial it is to the overall on-page SEO tactic. Alt text/tag is often confused with Title tag. Unlike Alt tags, Title tags do not affect SEO health.
Since search engines cannot read an image and identify its contents, they use the surrounding text to determine its contents. Alt text is a text alternative to images and it's used by screen readers to help visually impaired persons to understand what is shown in a photo. In fact, Alt text is required under the American Disabilities Act. Alt text is also helpful when an image cannot load properly. In that case, an image box with the Alt text in the top left corner appears. When writing Alt text, make sure it properly describes the image and makes it relevant. 
Incorporate Keywords in Your Alt Text Descriptions
Adding appropriate Alt text descriptions to your images can help your site's ranking in the search engines by associating keywords with images. This is your opportunity to include the specific keywords you want to rank for. Have in mind that descriptions need to be relevant to the image they are describing. Incorporating keywords into Alt text to optimize images for search engines can be challenging. Try to come up with the most natural way to include the keyword while still describing the image. Alt tags must describe the image accurately while keywords must make sense.
Template for High Performing Alt Tags
VisualFizz recommends a series of tests that monitor performance and reveal which keywords allow you to gain SEO visibility to find the best-performing alt tags for your brand or business. To start, identify the most important images on your most important pages. Generally, these are the images you'd want to show up in Google's Image Search section, so not all images belong there. Blog Post banners, individual product images, company logos, case study images, portfolio images, PDFs, and any other custom imagery should ideally have their own unique alt tags per image. 
Possible Alt Tag template (fill in the [BLANKS] with your info): 
"[BRAND NA] [Descriptors] [Industry] "
for this image: 

, a great alt tag example could be "VisualFizz Digital Marketing Agency Chicago Logo CMYK small".
Alt tags continue to be extremely impactful to SEO rankings. For a full Alt Tag strategy as a part of your SEO campaigns, contact the SEO experts at VisualFizz. 
Guest Post Author Bio: Chelsea Sanders has nearly a decade of writing experience. She specializes in topics related to social media, SEO, PPC, and advertising. Based in Phoenix, AZ, she currently collaborates with AZ Citation Services. In her free time, she enjoys watching movies and painting.
Publishing Date: