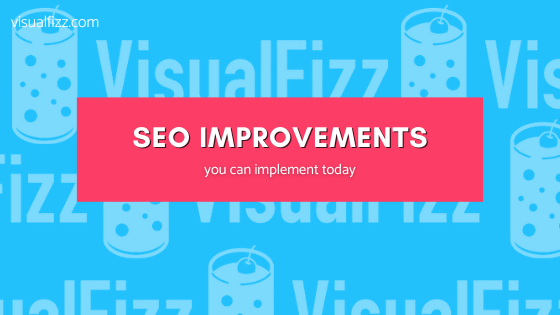 Categories for this post:
Ever tried to explain SEO to non-industry friends at a party? It's difficult! SEO can be, but doesn't have to be, confusing. Maybe you already know the basics of things like keywords, but if you still aren't getting the results you want, we've got some solutions for you in this easy-to-follow list of SEO improvements you can make today.
What is SEO and do I actually need it?
SEO, stands for "Search Engine Optimization", is the art of optimizing web pages and websites to make them easy to find on search engines. When searchers (people) are able to easily find your website via search engines, you get more visitors to your website, which ideally results in more sales and dollars from your website.
If your business or brand cares about anything on the web at all, you probably need SEO.
Improve Your SEO Today
Take A NAP
Now, that sounds nice, doesn't it? No really, though, adding your NAP (an acronym for Name, Address, and Phone number) information couldn't be an easier way to improve your SEO. By making sure the name, address, and phone number for your business are included correctly on your website's contact pages, "Google My Business" profile, social media pages, and local business listing (think Yellowpages.com, Yelp, etc.), you can boost your local search rankings. This is a change you can make right now and see a huge difference. What are you waiting for?!?
Note: Having THE SAME data across all channels is extremely important to local SEO success. Choose ONE brand name, ONE URL, ONE phone number, and ONE address to use across all your business listings online. Mismatching info across the web tells search engines that you are less legitimate and spammy. Services like Yext or other local listing managers can assist here.
Your Site Is Not On Island Time – Interlink All Your Pages
Internal links on your site is a crucial part of any SEO strategy. Search engines scan a domain to determine what it contains by 'crawling' each page, and following the links to other pages that it finds. If you have pages that are not linked to other pages, search engines will have a more difficult time finding them, and this can lead to poor SEO performance.
The good news is, it's super easy to implement and is something you can quickly do to improve the user experience of your site, while at the same time ensuring the site's searchability.
Here's how it works: let's say you write a blog post about a specific topic, like a certain trend. Find areas within that blog post to link back to other pages on your site. So, for instance, if you've written a past post about something a similar or related topic, link back to it. Or, if there are products in your mix that speak to that term, you definitely want to link there.
Additionally, you can provide a better user experience (UX) when you keep your readers/visitors/customers/whatever-ers circulating on your website. You spent all this time and/or resources creating awesome content, so you'll want to make it as easy as possible for your audience to access as much of your content as you can.
Don't let your own pages exist on an island – keep 'em connected by internally linking when it's appropriate. Ensure that every page on your website is linked to at least 2 other internal pages for the best performance.
Build An On-Purpose Strategy Around your Meta Titles and Descriptions
Meta tags are snippets of text that appear in your code and describe the content on a page. Basically, meta tags tell search engines what your page is all about.
There are a few crucial parts of your site's meta information:
Title – this is the text that search engines show as the title of your page. This text should be more than 40 characters, but no more than 55. Use your brand name as well as your core keywords.
Description – the Meta description provides a brief preview summary of your site in the SERPs. Keep it concise and succinct, and again use your main keywords. The title should read like, well, a title, and the description should read like a full, complete sentence or two.
Keywords – the meta keyword tag is where you put in the keywords you use in your site. It's best practice to NOT include any meta keywords in your SEO data, as search engines don't really give any emphasis to this area anyway. Leave this blank.
Meta information is the first indicator of what a site is about in the eyes of search engines, and is one of the most important aspects of SEO. All of your indexed pages' meta content should be optimized for search using your main keywords.
Meta strategies aren't just for small sites. When it comes to Enterprise SEO and optimizing hundreds or thousands of pages in bulk, a meta content strategy can assure that your pages have unique and optimized titles and descriptions, while sticking to the same, cohesive branded approach.
Here is a great example of good vs. bad meta descriptions from the folks over at Search Engine Watch: How to write meta descriptions for SEO (with good and bad examples)
Page Speed Matters – Don't Make Users Wait
The world is fast-paced, and there's a lot of content out there. People don't have time to wait for your webpage to load, nor should they have to. The speed of your site can impact your search engine rankings considerably. If you think of Google as a service provider, it makes sense that they would prioritize the best, fastest content for their users over content with long wait times.
To speed up your site, make sure that all image files are the right size, and optimize to decrease file size and speed up loading time. It's even better to shrink the images used on your website yourself (making sure that the images are still high quality – blurry or pixelated images will have a negative impact rather than a positive one) and upload onto your website, without relying on the code to scale your images down. 
Reducing the number of images and content your website has to process, and the number of plugins used on the backend, can greatly improve your site speed. Use only what you need to use, and eliminate the rest.
Bonus: the name given to photo files is super important too. Use keywords in your image alt tags to improve searchability.
Check out your domain on Google's Page Speed Insights tool.
Manual Outreach Wins The Link
Off-Page (or off-site) SEO refers to relationships, links, and affiliations on other websites. Off page SEO makes your site more trustworthy, and more likely to show up in search results. Your links act sort of as a 'word of mouth' referral to search engines. If a reputable and high-quality website recommends you as a company by linking to you, you too will be seen as reputable and high quality. If a less-than-reputable and low-quality website recommends you as a company by backlinking to you, you, too, will be seen as less-than-reputable and low quality.
This concept is known as "backlinking", and the best approaches involve doing some old-fashioned manual outreach.
Backlinking involves building relationships, one way or another, to encourage other websites to link to your content on their pages. Those links may come from news articles, bloggers, customer-created content and links, affiliate and influencer marketing, and self-created links in signatures, online directories, or press releases. Research popular websites in your industry, and manually reach out to the webmaster or business owner.
When you're reaching out, search for websites in your industry that already link to content similar to the awesome content that you have already created. Then, include a message in an outreach email. Check out Backlinkio's Guide to Link Building for more info.
Manual outreach takes a super long time and is difficult to standardize, but it's critical to building white-hat, strong, genuine links.
PR Is A Combination Of Content And Link Building
Search engine optimization is a multi-faceted approach that goes hand in hand with your overall marketing strategy. By employing these tactics, your business can improve its searchability, readability, and marketplace reach.
Creating content is hard work (not to mention expensive work), and it's something both content marketing and PR do extremely well for two extremely different audiences. By making your content work twice as hard, you can take advantage of content that is already created and use it towards you PR strategies as well.
For example, your brand created an infographic for a third-party influencer who agreed it can be republished with a link back to the original source (hopefully, your website). Your PR team can take that same infographic and pitch it out to their media sources, sending more traffic and creating more links for the search team and an easy content placement for the PR team.
Still scratching your head? VisualFizz offers Sustainable and Organic SEO service, and we'd love to help you build an effective SEO strategy.
Publishing Date: