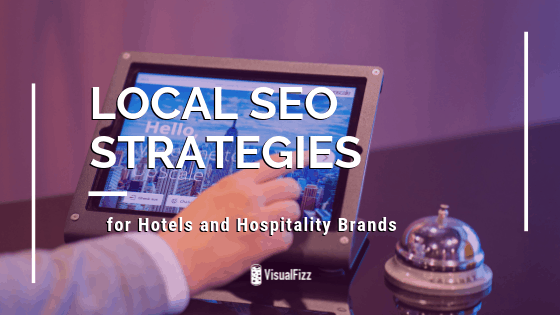 Categories for this post:
Eleanor Roosevelt once said, "true hospitality consists of giving the best of yourself to your guests." As one of the most influential women in American history, we can assume the great first lady did not intend for her words to apply to local SEO. 
We can make this assumption because Eleanor Roosevelt died in 1962, 30 years before the internet. She was absolutely right, of course. Hospitality Groups and hotels must show their best side at all times, or risk drowning in a sea of obscurity.
Luckily, there are steps Hospitality Groups and hotels can take to improve their SEO, win the local market and stand out against the competition.
Boost Your Local SEO Visibility
Like everything nowadays, most travelers search for restaurants, hotels and travel deals online or on their mobile device. According to new research from Google, 48% of all consumers are comfortable researching, booking, and planning an entire travel experience on a mobile device. 
That means that if your hospitality group can't be found online, it likely won't be found at all. From local listings to neighborhood guides, and online booking sites, Hospitality Groups and hotels need to show up everywhere and anywhere that is relevant online. Thankfully, there are some easy steps you can take to improve your SEO. 
Optimize for Geographically Related Searches Near You
It's common knowledge that very few users read below the first page of local search results on the SERP. That's why it is essential that Hospitality Groups and hotels to do everything in their power to appear at the top of the SERP. When done correctly, local search is hugely successful and attracts local customers who are more likely to become long-term customers. 
Start by optimizing your website for geographically related searches so you can promote your business to local customers within your defined geographic area. Don't forget to optimize your local listings for relevant keywords, as well as "Near Me" and voice search.
Update Your NAP Info on Your Homepage
We can't overstate how important accurate NAP (Name, Address, Phone) data is to your hospitality business. An accurate NAP enables Google to correctly locate the physical address of your business and display it in the local search results. 
Your NAP listings should also appear on highly trusted sites and directories (Yelp, LinkedIn, FourSquare, BBB, Yellow Pages, Google My Business) as well as the municipality where you filed your DBA. Don't forget to have the exact same NAP details and format in all your business listings as mentioned in your Google My Business page.
Acquire High Quality Links
When it comes to ranking local business listings links are incredibly important. The more locally relevant and trusted backlinks you have to your website, the more likely you are to increase the visibility of your business in local search results.
Create Unique Content
Content is king, and blogging is every SEOs secret weapon. Unique content is vital to attracting local audiences who can generate better ROI. When you create content for your hotel or restaurant you're not just providing users with timely information, your enabling Google's local algorithms to detect and promote content based on freshness.
Related Reading: Using Content to Build up your Expertise, Authority, and Trust with Google for SEO
This gives Hospitality Groups and hotels the power to better maintain their local online reputation, and a solid social media presence. You can also add lots of Q&A-styled content that is specifically useful to local audiences, or new travelers to your area. 
Encourage Reviews & Testimonials
Positive comments, testimonials and reviews are essential to local rankings. The more positive comments you have for your hotel or restaurant, the more trust users will place in your business. You can persuade customers to leave positive reviews by providing incentives like reward points, gift cards and discounts to encourage positive feedback. 
Always respond to your existing reviews. Thank customers for leaving positive reviews. Address negative reviews with the utmost sincerity, professionalism. If there was an issue take immediate steps to resolve it.
Boost Remarketing Efforts
Travelers are easily distracted. Data shows that abandonment rate for booking hotels online typically fluctuates between 75% and 81%. That's why remarketing is essential for Hospitality Groups and hotels looking to win the local market.
Remarketing can lower your abandonment rate and close more bookings by enticing previous users with display ads to remind them you're there and lead them through the process. Offer deals and extra incentives to book with you instead of your competitors, but don't forget to make the booking process as easy as possible. 
Target the Right Audience
A Super 8 Motel in San Jose has a different target audience than the Ritz Carlton in San Francisco. What type of hotel are you marketing? Who is your typical guest? Answer these questions to determine which audience you should be focusing your marketing efforts. 
Allocate Marketing Budget for Peak Booking Seasons
What type of hospitality do you provide? Is it seasonal? Running a ski resort in the Alps is quite different than running a beach side resort in Costa Rica. Each has its own peak booking seasons. 
Hospitality marketers need to be aware of their peak booking season and allocate their marketing budget appropriately. This requires a good deal of forward thinking ahead, but Google and other ad platforms make it fairly easy to adjust your budget on an ongoing basis. 
Reinforce Local Partnerships
Unless you a hotel on an island in the middle of the ocean, far from civilization, you're likely surrounded by a variety of local businesses and attractions. Regardless of the business, it's essential that Hospitality Groups and hotels build partnerships with local restaurants, shops, and attractions, to co-promote each other, build relationships and increase your booking rates.
Market Your Location, Not Just Your Business
The majority of travelers do not travel to a location specifically for a hotel. They determine where in the world they would like to travel, then determine which hotel in that region is the best fit for their family, their budget and the trip they wish to have. 
Instead of solely focusing on the amenities of your business (infinity pool, room service, etc), focus on promoting your location, and what makes your city a desirable place to visit.
Create Neighborhood Guides
Neighborhood guides are a terrific way for restaurants and hotels with five or more locations to showcase the attractions in the area and include their business as one of the area's attractions, or at least as a popular travel stop off. 
Engage with Customers on Social Media
Social media is an essential touching on the customer journey and one that drives users to your site. For Hospitality Groups and hotels, a strong social media presence correlates to a strong organic search presence, because content, engagement, and popularity align with the most important aspects of SEO – relevance and authority.
Develop a social media strategy that includes engaging with followers and replying to inquiries promptly. The goal is to foster engagement with travelers and to promote content that funnels visitors from social media to your website.
Here's a Guide to Social Media Basics that we've already put together for you. 
Local SEO Matters For Hotels and Hospitality Groups
If you want to make sure your hospitality group wins the local market then people need to be able to find you online. Local SEO will greatly improve a user's likelihood of finding you, but engagement, relevance and authority are what will get them in the door. 
If all of this seems like too much to handle, that's because it is. What you really need is a team of experts with the knowhow, experience and expertise to craft a winning SEO strategy. 
If you're a hotel brand, chain, or hospitality group looking to improve your SEO and win your local market then you need VisualFizz. Contact us today. 
Publishing Date: