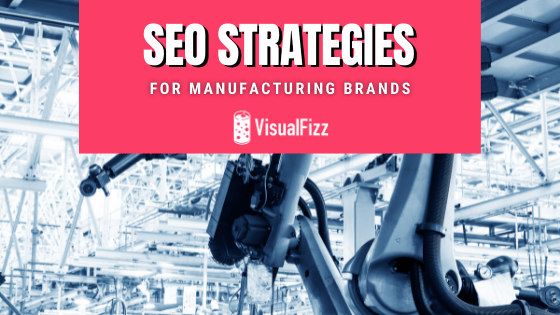 Categories for this post:
At VisualFizz, we focus on a number of industries and offer our digital marketing expertise to a wide range of clients. However, a large number of our client partners fall into the "Industrial" category, as Manufacturing or Construction brands, or even as AEC (Architecture, Engineering, and Construction) brands. That means we've done a lot of research, competitive analyses, and data mining with marketing metrics that come from these brands. Our SEO team has put all of that to good use, bringing you the SEO tasks and strategies that have made the biggest impacts to our clients' SEO health. 
4 SEO Tips and Strategies for Manufacturing Brands: 
Focus on Categories 
Maintain a Clean Technical SEO Approach
Clearly Define What's Offered With Content
Create Content for Each Stage of the Sales Funnel
First, Remember: SEO is Sales
Before we dive head-first into the SEO strategies for manufacturing brands recommended by VisualFizz, it's important to take a sales-driven approach to SEO for the best results. 
SEO visibility directly impacts sales, and sales can directly affect SEO's impact, as well. For example, if a potential customer goes to the web to find a solution to their needs, and Brand A has not provided ample content on the subject or does have a strong presence online, sales from SEO will be limited. If the right answers to the customers' questions are provided and easily accessible, Brand A can be visible to the potential customer. SEO impacts Sales. 
Reversely, if the best SEO and content strategies have been implemented and there's a great content offering tailored to the needs of the potential customer, but the sales-driven aspects of the customer journey fall flat, sales from SEO will be limited. Great content is no substitute for strong Conversion Rate Optimization, strong design, and well-placed contact forms throughout the website. Sales impacts SEO. 
Let Sales Teams and SEOs Work Together
It is recommended that Sales teams and SEO teams work closely together to learn as much as they can about potential customers and the sales funnel. SEO strategies should focus on creating content offerings for each funnel stage. 
SEO Strategies for Manufacturing: Focus on Categories 
Focusing on categories, rather than direct service or product offerings, allows industrial and manufacturing brands to brand for a wider range of contextually-appropriate searches. Focusing too specifically on spec numbers, product names, branded searches, and other narrowly-focused search terms can make it difficult to find brands online. 
If a brand that sells x-ray equipment wants to increase its SEO ranking, it can begin to add in category-based terms into the pages that relate to x-ray equipment. For this specific example,  keywords that are category-based, rather than product specific, should be added to the page headers and throughout the page. 
Keywords for this example might include something like:
Xray equipment and parts
machinery parts for Xray
Xray manufacturer's guide to 
Xray machinery maintenance
Additionally, category-based keywords and categories of products/services should be added to offpage locations, such as Google my Business, Bing for Business, Yext listings, or other brand pages across the web. 
SEO Strategies for Manufacturing: Maintain a Clean Technical SEO Approach
A technically clean and easy-to-navigate website is critical to any brand's success online, but technical SEO health is especially important to industrial brands. In many cases, manufacturing and industrial brands have multiple lead pages, multiple forms, and even multiple pages that contain the same or very similar content. This, combined with many plugins or outdated page builders, can wreak havoc on a brand's technical SEO health. 
To translate that into plain english – Google won't reward a domain with high rankings if it does not meet Google's technical guidelines. 
Technical SEO health means maintaining a clean and organized website, navigation, and naming structure across the website. Both search engines and humans should be able to easily move nimbly bimbly from page to page, without using the back button. 
While this may seem intuitive, all too often, industrial brand websites remain stagnant, outdated, and difficult to use. Technical SEO health is very achievable when executed correctly, and can have relatively swift organic payoffs.
Technical SEO Recommendations for Industrial and Manufacturing
Clean up broken links, 404 errors, and redirect issues
Combine, rewrite, or remove thin (thin = short) content 
Clean up menu and navigation with the most important pages
Analyze backlink profile and disavow any spammy links that may be harming the site (more on how to do this advanced technical step here)
Meta title + description clean up (we recommend excel and Yoast premium to update metas for large websites efficiently)
SEO Strategies for Manufacturing: Clearly Define What's Offered With Content
Industry jargon is unavoidable in most industrial and AEC-based industries, since most brands in this space have specific terms or phrasing that is unique to them. From the marketing side, this can be challenging, since this jargon-heavy language is not always universally understood. Potential customers may not use jargon the same way as service-providers do. This can cause a disconnect between the language offered on a site and the language used in the query of a potential customer on Google.  
Speaking the language of the industry is important. However, using only jargon-heavy terms and phrases online can severely limit the SEO visibility of a brand. Instead of using only jargon-based messaging, combine some jargon-based terms with plain-and-simple language that is easy for non-experts to read and understand. 
Manufacturing and industrial brands should clearly state what it is they offer in the content of their landing pages, and in metas. 
Bonus Content Idea: Define Industry Jargon to demonstrate knowledge of the subject matter. 
SEO Strategies for Manufacturing: Create Content for Each Stage of the Sales Funnel
In order to be successful, SEO strategies must also take into consideration the written text content on the website. SEO-focused content can support Sales and sales goals by creating the content a potential customer needs to move from the top of the sales funnel to the bottom of it. 
Each stage of the sales funnel will have unique requirements – consider what a potential customer needs to hear, read, or review before they are ready to convert. 
Content for Top of Funnel (Discovery, Introduction, Attraction): 
Home Page content
Top level service pages / product pages 
Social media (intro focused)
About Us content
Content for Middle of Funnel (Consideration, Engagement): 
Portfolio pages
Case studies 
Guides
Product Catalogs
Industry Reports
Content for Bottom of Funnel (Purchase, Conversion):
Review aggregates
Customer reviews / customer success stories
Email campaigns 
Data reports 
Application and Use pages 
SEO Strategies for Manufacturing: Capture Customers from Tradeshows and Events
Tradeshows and events are often the main sales drivers for industrial, manufacturing, and AEC brands. By creating content, blogs, and landing pages about upcoming or past events, brands can be sure to capitalize on the added exposure from tradeshow presence. 
Since most tradeshows and events are industry-specific, the content that's created about them will inherently be industry-specific, as well. The possibilities for content that's valuable to SEO visibility are endless. 
Tradeshow and Event content could include: 
Speakers and tracks not to miss
Breakout sessions that favorite brands or teams are leading
Featured guests and brand names 
Reviews and wrap-ups 
Speaker quotes or interesting findings 
Additionally, many tradeshows will have a directory that may include a valuable backlink, and some may even have a dedicated email list for the event. All of these will positively impact a brand's SEO health. 
While many manufacturing and industrial brands have similar SEO needs, the actual SEO tasks that will have the largest impacts should be customized to each brand. To learn more about SEO for manufacturing and industrial brands by VisualFizz, contact us or visit VisualFizz BUILDS.
Publishing Date: