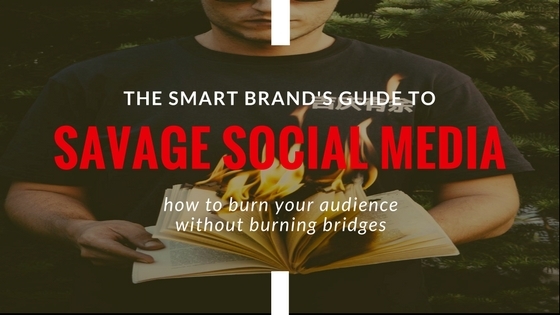 Categories for this post:
How Being a Smartass on Social Media can Benefit Your Branding Efforts
Imagine this: You just finished interacting with a brand, but the service you received was poor, or the quality of the communication lacking. You, being a savvy social media user, decide to forgo the typical Yelp or Apple Store review in lieu of what we in the "Millennial" generation lovingly refer to as an attempted "Burn."

Jumping onto Twitter, you make a comment similar to the one below thinking you are both hilarious and safe from retribution because, as the old saying goes, "The customer is always right" …Right?

Good One @JRhodesPianist…
But to your surprise, you find the brand you attempted to burn on social media actually responded with a burn themselves with your name on it. Ouch.

Congratulations! You've been the victim of a branded tone of voice that's emerged amongst the younger, savvier social media managers on today's channels – the 'savage' response. The term "Savage" implies an aggressive, sarcastic, and often somewhat insulting tone of voice, usually foregoing any kindness or sugar-coating.
A previous article posted to Visual Revolt highlighted The Psychology That Explains Why We Hate Being Advertised To and what brands can do to reach said greater audience. Recent trends recorded by Sprout Social show a growing effort amongst select brands to cash in on what their social media followers are internally theorizing, but don't want to say out loud. In other words – Savagery, the shady area between making fun at another's expense and laughing mercilessly because it's true.
Anyone who has worked in customer service can tell you that responding to negative reviews on the web is absolutely critical to a brand's reputation. No brand wants to be seen as indifferent to their customers' satisfaction with their service. However, as social media has become the most common platform for advertising and reaching target audiences, brands have discovered that wit, humor, and aggressive comebacks to snippy followers can be just as effective in their branding efforts as ad campaigns.
Fast food companies have led this front, with brands like Wendy's, Taco Bell and Arby's not only ready to respond to critics on social media, but ready to do so with charisma and a tone of sarcasm.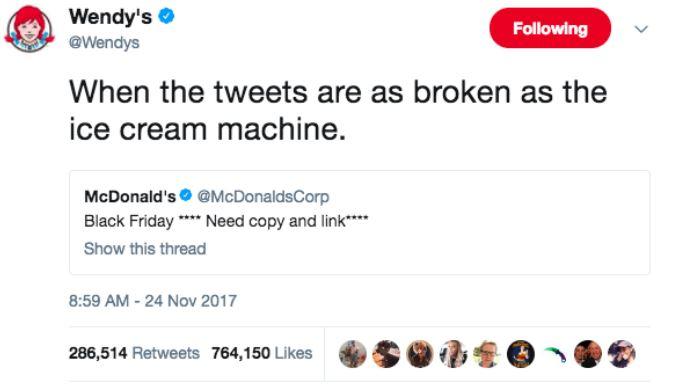 The savageness is turning out to be an effective marketing strategy. According to Simply Measured, Wendy's experienced an all-time peak in engagement with their now infamous garbage can tweet, circled in red in the chart below. The tweet even garnered recognition on major media outlets like Forbes.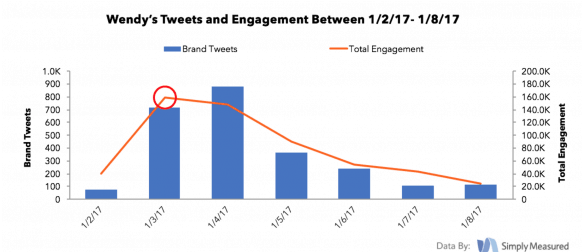 Source: https://www.castleford.com.au/content-marketing-blog/why-is-wendys-so-savage-striking-the-right-social-media-tone/
Furthermore, brands that engage with their followers on a real, conversational level boast a higher social media engagement rate than brands who keep it clean-n-kind. Chances are, consumers don't follow these brands because they prefer brand A to brand B. More likely, consumers follow a brand because of the originality, personality, and humor that is added to their newsfeed. Is there anything better than watching a brand that you love eviscerate a troll on social media, as is the case below?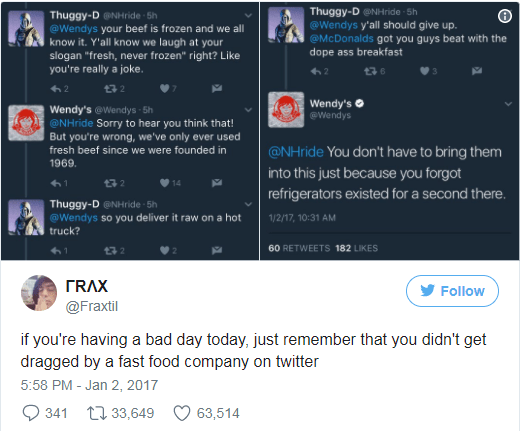 But engaging with a brand on the level you would one of your close friends is a unique experience that is bound to garner a retweet or thousand.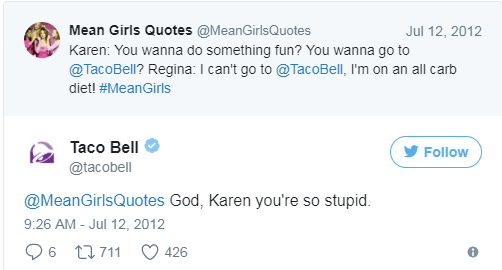 One can take that engagement a step further by participating in pop culture. This shows a brand's followers that they are not just relevant, but attentive and willing to engage in the issues and events that are important to their followers. Brands who engage with their followers on pop culture will establish that oh so important emotional response that, according to Thinking vs Feeling: the Psychology of Advertising, has a far greater influence on a consumer's intent to buy.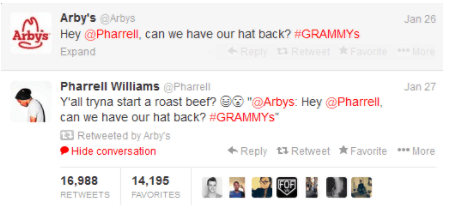 The brands participating in the art of savagery show, unlike their competition, that they understand social media is, first and foremost, a social platform meant for conversation, debate, and the exchange of opinions and ideas – it's not a jumbotron to broadcast a ton of advertising. Old Spice and Taco Bell are responsible for this brilliant chain that not only garnered thousands of retweets but even won a response from Red Bull (who apparently just couldn't resist).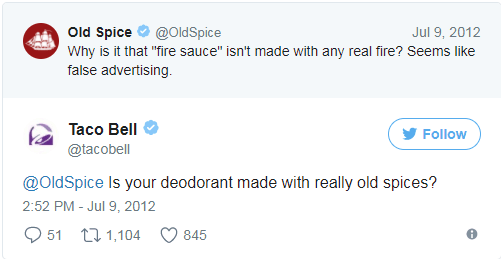 So how does a brand turn their savageness into measurable results? Experts would emphasize with caution as savageness can easily and quickly backfire as it did with Hawk and Co, a popular American clothing brand.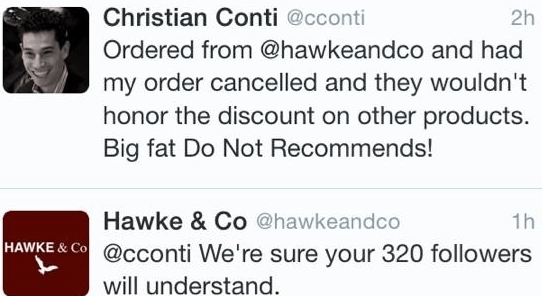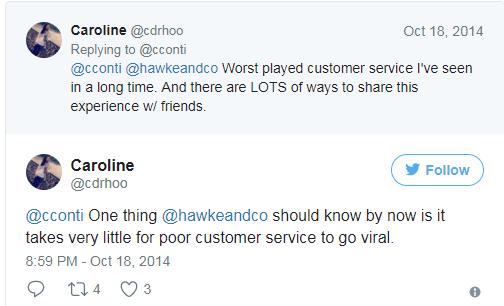 Hawk and Co clearly overplayed their attempt at savageness, but customer service experts would argue that Hawke & Co's mistake was even worse, as they never actually attended to their customer's complaint. True, the shade was funny, but in this instance insulting your customer when they have a legitimate issue can only result in negatives.
So how does a brand use a 'savage' tone on social media without angering their followers? According to an article from Hootsuite, the trick to successful savageness is being selective with which tweets to respond to aggressively and which to respond to with kind, polite customer service.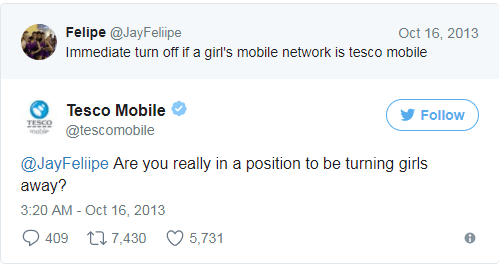 Brands who are successful at social media savageness are so not because they have a witty comeback to every negative post, but because they have chosen to apply their wit and sarcasm in response to followers making jokes at the brand's expense.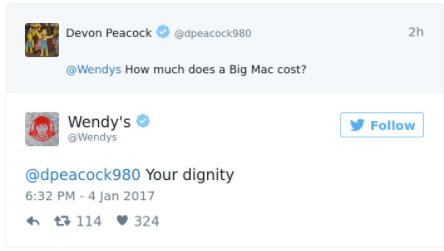 Brands who engage in "selective savageness" may see an increase in engagement simply because of the wit and humor that it provides.
Not everyone approves of this fairly new tone brands are adopting on social, though. Social media savageness gets tricky when you consider the results of the 2016 Sprout Social Indexstudy, in which 32% of those polled said they "find it annoying when brands try to be funny".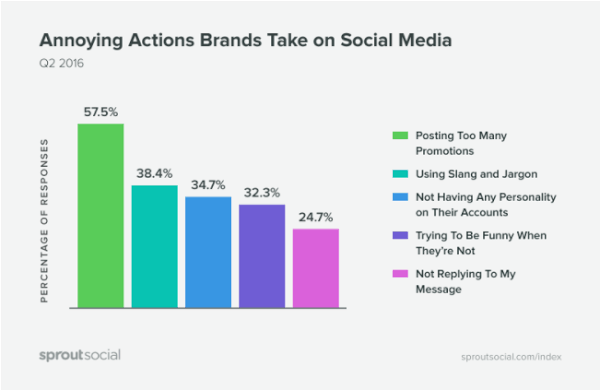 Source: http://www.socialmediatoday.com/marketing/social-media-savagery-new-marketing-approach
The study elaborates on specific annoyance factors that can cause followers to unfollow a brand, ranging from utilizing slang when they clearly don't know how to a lack of account personality, or trying to be funny (and failing at it) to not responding to messages. A calculated, strategic approach to a brand's social media has proven to alleviate all of these annoyances. The takeaway? Don't try too hard.
The quintessential genius, Albert Einstein, argued that doing the same things over and over and expecting different results was akin to insanity. So, If your brand is struggling on social media, take a risk. It may behoove you to dabble in a little savagery. But be wary, for in the words of Batman's wise and aged butler Albert, "some people just want to watch the world…"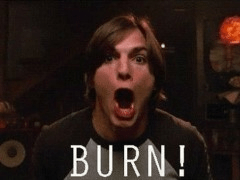 Publishing Date: