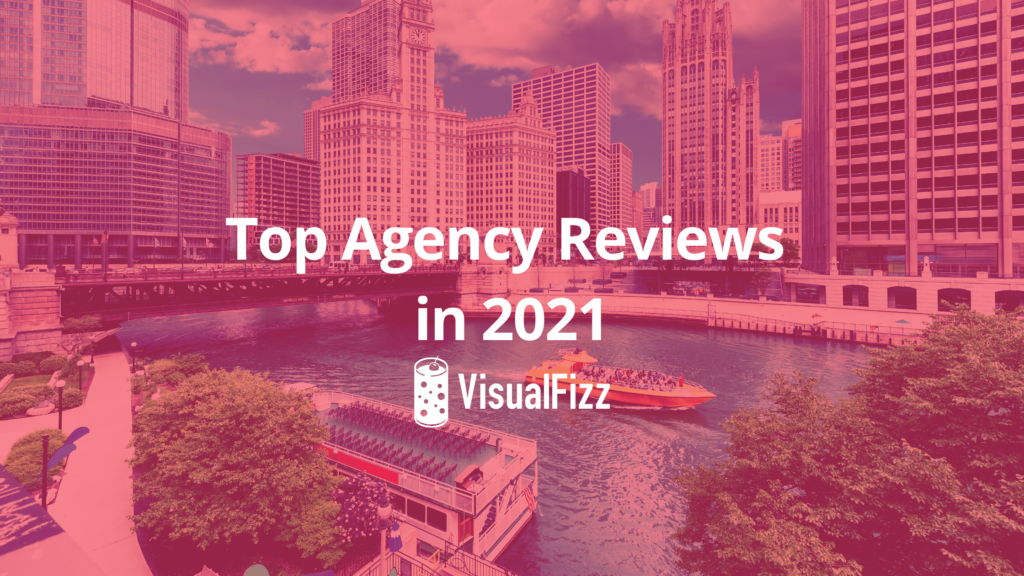 Categories for this post:
Full Service Digital Marketing Agency Earns Every Five Star Review
If you Google Top Digital Marketing Agency in Chicago, you're going to see five star reviews for VisualFizz all over the place. We're extremely proud of that. Though we'd like to say it was easy, it wasn't. 
We bust our butts for our clients, and earned every five star review and raving testimonial you read. Here are some of our favorites from 2021. Check'em out. If you like what you see, we encourage you to contact us for a consultation. We'll chat through your project, then provide you with the same kind of high-quality work you see here.  
A Hands on Approach to Web Development
Do you know what's really tough? Selling haircuts in the middle of a pandemic. Despite the obvious challenges, the master barbers at Goodman's Barber Lounge kept the gentlemen of Chicago looking sharp through quarantine with safe, stylish cuts, shaves, manicures, pedicures, and more. 
The only problem was the number of customers coming through the door. As the pandemic worsened, and words like "Covid-beard" and "quarantine hair" became a thing, fewer and fewer people were getting haircuts, let alone visiting the barber for a shave. 
To combat the lull in sales, and provide much needed visibility to their brand, the Goodman's team hired VisualFizz. Since implementing our web development, PR and SEO strategies, Goodman's website has been revamped; engagement is now seamless, and sales have increased each month. Those achievements sure sound great, but they sound a lot greater when the client says it.
Web Development for Barber Shop – "VisualFizz Takes a Hands-On Approach."
"I'm the owner of two barbershops and a hair products company. Our brands were very disconnected, so we needed more continuity. We also needed better imaging, PR, and SEO services to increase sales.
VisualFizz revamped our website, including all of the keywords that Google would look for. We worked closely on the keyword research. They've done different Google Ads campaigns for us, created a blog for us, and run our social media accounts. They also work on our Instagram, Facebook, Twitter, LinkedIn, and Pinterest.
The engagement started with their team looking through our background and searching Google. They found areas that would be quick wins and others that would take more time. At the start, they made sure our phone numbers and hours were listed the same across all platforms. 
For the website revamp, they did a deep dive, adding images and content. Now, we're looking at different marketing channels to target… Their team has sent me detailed listings of conversions and visibility on Google. Every month I've been open since I've hired them has been a higher sales month than the previous."
What Did You Find Most Impressive About Them [Visualfizz]?
"VisualFizz takes a hands-on approach. They have an expert for each area, so it's not like one person is handling everything. Their team ensures that the best person that can speak to a certain problem or propose a possible solution is involved." – Brian Burke, Goodman's Barber Lounge
How We Increase Sales and Drive Engagement
We love working with the Goodman's team, and want to thank Brian in particular for his review of our service. If you would like to see what we did to earn such a stellar review, check out our case study.
In it we explore the different steps we took to promote Goodman's Barber Lounge, and what we did to turn a local barbershop blog into an online style and grooming resource for gentlemen everywhere.  
Better Content. Better Prospects. A Perfect Partnership.  
From shaves to software, VisualFizz clients sell a wide range of different products and services. One thing that all of our clients have in common is the need to define who they are, and what they do. 
Unfortunately, many brands struggle to define their services, and how their offering is different from other brands in their industry. Fortunately, the VisualFizz team is not only staffed by subject matter experts (SMEs), our agency structure enables us to bring technical experts as needed. 
The following review was written by a technology consulting firm with a very unique, and technical service offering. They outsourced their marketing efforts to VisualFizz to make it easier for potential customers to find them. 
Not only is the partnership an ongoing success, it also demonstrates our agency's ability to bring in the right subject matter expert for the job, no matter how technical the topic or service offering. 
Digital Marketing For Technology Consulting Company – "VisualFizz Helped Make Our Content Less Generic And More Specific."
"I'm the president of a technology consulting company that builds software and provides consulting services to businesses. Our goal is to help our clients address business process problems through technical solutions. 
We engaged VisualFizz to help potential customers find us more easily. We've outsourced all of our marketing activities to them. They started by doing an analysis of our website content, looking at where we stood with our SEO and collecting search page analytics. Then, they gave us a report of their findings along with a set of recommendations to improve our current state.
Their team has since tuned up our site to basically improve all of the SEO on our existing copy. They've worked with us to think through who our audience is and how they best receive and process information. Using those findings, we've restructured our content to make it better suited to our audience's needs.
They've also brought on a writer, who is a subject matter expert (SME) in what we do, to rewrite our copy in a new voice. That's been a great help because we're technical consultants, not writers." 
What Evidence Can You Share That Demonstrates The Impact Of The Engagement?
"It's a little tricky to judge our metrics because of COVID-19. Pre-pandemic, our pipelines were really healthy. We'd regularly get leads who'd found us through our targeted keywords. That's become more of a hit-or-miss since the economy has shifted. We'll still see a potential client reach out once a week or so.
When we were getting more prospects, we noticed that these leaders were looking for exactly what we did. A big part of that is because VisualFizz helped make our content less generic and more specific. We're seeing people who know they need an API or who want help with legacy software."
Are There Any Areas They Could Improve?
"No, they're very open to constructive criticism. Anytime we've said that something hasn't been going well, they've quickly responded to remedy the issue.
For example, our first writer did their best, but they were having a hard time communicating our highly specific and technical work. It ended up putting more work on us to review the content and define the terms. VisualFizz actually found a second technical writer who used to work for Microsoft, and it's been great."
VisualFizz: The Right Full Service Digital Marketing Agency For Your Brand
With every five-star review we earn we push ourselves to be just a little bit better. 2021 is not yet half way through, but we are already better than we were yesterday. Contact VisualFizz today to crush your marketing to-do list and infuse your brand with the engagement and visibility you need to succeed. 
Publishing Date: