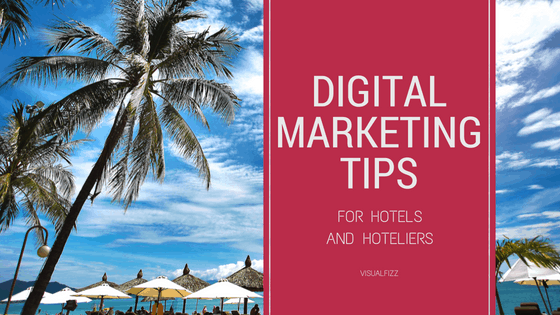 Categories for this post:
Aaaah, staying in a hotel. For most customers, the idea conjures up images of crisp white sheets, room service trays, minibar raids, and some good old-fashioned peace and quiet. But how do guests choose the right hotel to book? Hotel brands want to make sure they put their very best foot forward to potential guests while they are in the research process. It's no surprise that brands that make Digital Marketing and an optimized presence a priority are the ones who gain the most bookings.
Across industries, digital and online marketing has changed the way companies allocate their marketing budgets and redefined what the customer experience looks like with features like instant reviews and ratings that will remain visible for the life of the hotel.  Despite the shift from offline advertising and print to digital advertising and online presence, the process of actually booking a hotel hasn't kept up or the most part, consumers today still need to click through static images and compare rates across a number of sites before booking online. The process is as sterile as buying toilet paper on Amazon.
With a little creativity, helping guests choose where to stay and guiding them through the booking process can be engaging, interesting, and lay the groundwork for a lasting customer relationship.
Let's get started.
The Booking Process
So, imagine if a guest was looking to book a hotel in a new city, what would they do? Likely, turn to Google or a similar search engine. Keep in mind that 38% percent of travel bookers in Canada and the U.S. were influenced by advertising when considering. For this reason, it's important to invest in a solid SEO strategy to ensure that your direct website beats out the litany of online travel agencies (also referred to as OTAs, these include companies like Expedia, Orbitz, etc). Still, most customers will inevitably come to your site through an online travel agency – everyone is hungry for a deal, and OTAs offer the convenience and benefit of comparing prices from multiple sites across the web.
Often, a potential guest will begin the search process on an OTA, but will continue onto your branded website to learn more about the specific accommodations and amenities your hotel offers. This is where you have an opportunity to hook customers in with your marketing tactics and convince them to book directly through you – which can save up to 30% or more in lost profit to the OTA.
This is your chance to impress the potential guest. One of the easiest ways to do that is by sharing positive experiences and reviews from other past customers. Showcasing reviews, i.e.  "social proof" of the quality of your hotel, on your site shows that other people have stayed with you and enjoyed the experience, helping prospective customers feel more comfortable moving forward with booking. 95% of respondents read reviews before to booking, with leisure travelers reading an average 6-7 reviews. Social proof is incredibly important in the age of Yelp and Amazon, but take it a step beyond reviews.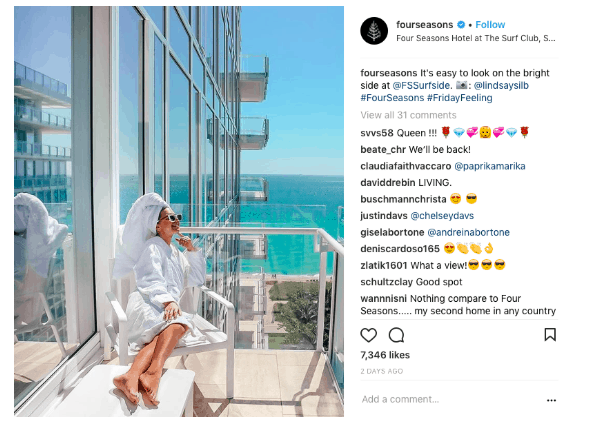 So how can you incorporate the concept of "Social Proof" into your branded Hotel Website?
Show Off User Generated Content (UGC)
Create A UGC Gallery
Create a curated gallery of photos that live on your homepage and mimic an Instagram feed, mined from real customers' social media accounts (these photos are called user-generated content or UGC). Source these photos through social campaigns using hashtag or location searches on Instagram, and request permission from the user to use the photo. An easy, time-efficient way to do this is to leave a standard comment like "Thanks for visiting us – we love your photo! Comment back with #yesfourseasons to give us permission to use it in our digital marketing efforts." There is, of course, social-media monitoring software like OlaPic or Percolate that will manage this process for you, but it is also something that can be manually managed in-house or through a marketing agency.
Solicit Travel Diaries
Enlist the help of a local micro-influencer / blogger whose photography style you admire to enjoy a complimentary stay and document their time at the hotel. Put together a blog entry or homepage feature using their photos and a few choice soundbites. The photos will feel more accessible and authentic than professional photos, and the cache of having a blogger/influencer stay with you (even a small name – this does not have to be pricey) will establish the hotel as a cool place to stay. For example, Fairmont Hotels and Resorts has often sponsored influencers on trips to Fairmont properties around the world. Each blogger/influencer used his or her own trademark style to lend a unique perspective to the brand. Here's a video from Blair Eadie of the blog Atlantic Pacific, documenting her stay at a Fairmont property.
Maintain A Blog Or Online Magazine
Content is king! Great content doesn't all have to be user generated. Invest in a beautifully-designed blog that lives on your homepage, and fill it with keyword-rich content around where to eat and play in your city. You can use it to share hotel updates and improvements, profile staff members, and share more of the story behind your brand. Blog posts on restaurants at every price point, for example, can also be a great resource to share with guests inquiring at the front desk or for the concierge to use. The Four Seasons has a beautiful online magazine, with fun, must-read articles like "Our most Instagrammable desserts" and "A local's guide to Mexico City."
Invest In Video
According to Cisco, 82% of all web traffic will move to video content in 2020. Video content is an incredibly effective marketing technique that brings life to your brand. There are so many ways to incorporate video content into your site. Some ideas:
Add video tours of rooms on the booking pages
Ask satisfied guests to record a 10-second sound bite about their stay. These can be compiled into a quick marketing video that can live on the homepage.
If your hotel sits in a choice location, consider a drone video starting at the front door, touring the walkable attractions, and returning – perfect to share how close you are to fun things to do.
If you do use a blogger to collect marketing collateral, ask them to record a quick video diary a few times during their stay (think Instagram-story style or vlog). These quick, informal videos are perfect for your social channels or paid social advertising. Embed the videos on your website and add to your YouTube to let guests get a taste of where they're staying.
Adding UGC, blogger content, and video testimonials to your site help potential customers connect with your hotel on a more personal level and get an "unfiltered" look at what it's like to stay at the hotel.
Once they've booked, it's time to make a personal connection with your future guests. This can happen in many ways – here are a few ideas:
Find out as much as you can about why they're staying with you – this may require adding an (optional) question to the check-out flow during booking that asks what brings them to town and adding a few choice questions to the check-in script.
Develop an email journey with personalized, modular sections segmented to different customer groups. The categories can be as broad as simply separate professional/personal / family tracks. The professional email flow would provide information about shared workspaces on premises, dry cleaning services, and information on conferences in the area. The family email track would cover kid-friendly happenings in the area. All emails can include content sections for daily weather, traffic, and general hotel information.
If resources allow, consider developing a mobile app. An app allows you to send your guests push notifications with pertinent information. They can even check out or write a review through the app. Plus, they're more likely to book a return trip with a convenient app already installed on their phone.
Another alternative is simply texting guests from a standard hotel number with a quick, professional text asking them how their stay is going and letting them know they can feel free to text back with anything they may need or questions that may have. This is a good way to stay in touch with guests while they may be touring around the city or otherwise out of the hotel, and the ease of texting may be simpler for some guests than calling the front desk.
Of course, nothing is as important for retention as good old-fashioned customer service. Encourage employees to look for creative ways to improve a guest's experience, perhaps through a dedicated "surprise and delight" budget they can use however they see fit to improve a guest's day (i.e. offering complimentary dry cleaning if they see a spill happen).
It's all cyclical. Providing a wonderful, personalized experience ensures that guests are more likely to post and review your hotel, keeping your content funnel full for future user-generated content. To aid this process along, consider designing new areas of the hotel with a social-first mindset. Add a mural, plant wall, or scenic garden or roof to encourage social shots. Guests will post and tag their location, letting other people know where they're staying.
Try promoting a simple hashtag for your hotel, and add it to the room key cards, put it in the info binder and on any other branded material. Create geo-targeted Snapchat and Instagram filters that guests can use to promote where they are. People love to share (and to brag a little) – the easier you can make it for them to easily let their friends know where they are, and get the hotel's name out there, the better.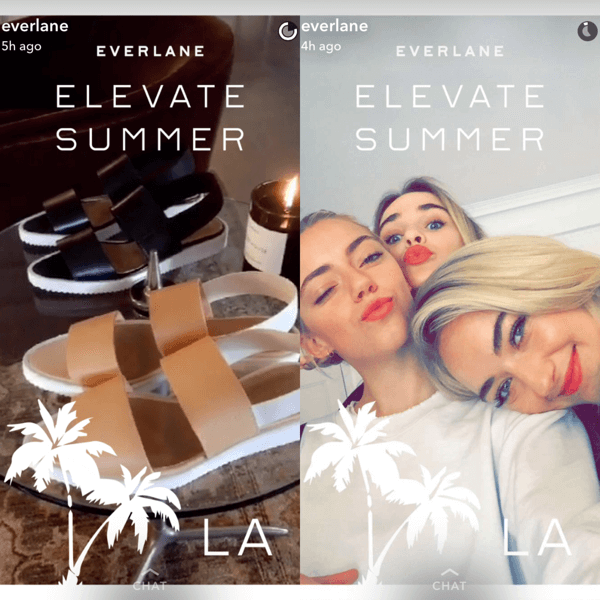 It's almost become a cliché at this point – but younger audiences really do prefer to pay for experiences over things. A hotel is the ultimate place to sell an experience – there are so many touch points, so many opportunities to leave guests with a favorable taste in their mouth and a positive feeling about their visit.
The digital landscape is changing almost constantly, and it can be challenging to stay on top of the latest marketing trends. With so much change, people crave authenticity, and with so many choices, they crave crowd-sourced information. Adding user-generated content to your site and providing personalized information to your guests are simple changes to help your hotel stand out. If you're looking for more on how to revamp your hotel marketing efforts, feel free to reach out to us for more information.
Publishing Date: