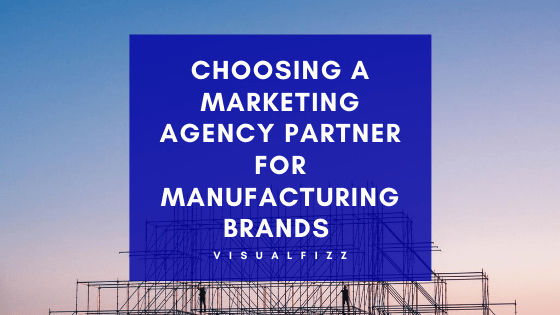 Categories for this post:
Historically, manufacturing and other industrial companies have relied predominantly on word-of-mouth referrals for new projects. As a close-knit community of businesses often family-owned and operated, contractors have networked with and relied on other contractors for business development since the early ages. In the past two decades, however, the advent of the Internet and an ever-evolving digital landscape has rendered word-of-mouth referrals much less efficient. For companies who have traditionally relied on print advertising as their primary marketing tool, the transition to digital marketing can seem daunting.
Some may make valiant attempts to establish their own digital presence but usually find themselves struggling with the task: either your cousin's kid who's good at computers and is home for the summer isn't cutting it, or you can never find enough hours in the day to get it done yourself. Whatever the case, digital marketing agencies like VisualFizz exist to navigate that uncharted territory with companies in a variety of industries and untangle the important steps you may find particularly confusing, like social media campaigns and SEO. 
As a manufacturer or industrial company, it's especially crucial to pair yourself with a digital marketing agency that concentrates on your industry's unique needs. Unlike retail products or services, manufacturing and industrial companies require a specialized approach when it comes to launching digital marketing campaigns or rendering those types of services. That being said, when working with any digital marketing agency for the first time, there are several green flags to keep a lookout for before taking the next step to consider how that agency will fit your company's needs. 
Digital Marketing Agency Green Flags (Positives)
Positive Agency Trait #1: A Well-Maintained Blog 
This may seem like an odd place to look first, but a digital marketing agency with a well-maintained blog hub is clearly practicing what they preach. In order for websites to be successful, they need a regular posting schedule of quality content that is well promoted through social media and on their own landing pages. If a prospective digital marketer has a whole bunch of engaging content, then it's likely they'll be pretty successful with helping you build your own. Keep an eye out for blog posts that specifically apply to your industry as well. 
Engaging blog posts like "VisualFizz's Best Marketing Advice for Industrial and Construction Brands" give you the added advantage of checking out the agency's in-depth understanding of your industry without even setting a meeting. 
If you find yourself in a wormhole of interesting reading on a potential digital marketing agency's blog, that's a definite green flag and good sign. 
Positive Agency Trait #2: Clearly Stated Offerings
When you're looking to move into the digital marketing space, it can be difficult to find the words to express what you're looking for. After all, if you don't understand what SEO is or what SEM does, why does your business need them? Therefore, when considering digital marketing agencies, it's crucial to understand what services they're offering your business. 
A good digital marketing agency's Services Page will explain what options they offer but an excellent one will clearly show you how they will help you accomplish your goals.
For example, VisualFizz's Services Page clearly outlines six different digital advertising services, including Interactive Web Development & Design, Sustainable Organic SEO & Content Development, and Social Media Advertising & Brand Presence. When a digital marketing agency is easy to work with before you've officially partnered with them, that's a good sign and a green flag. 
Positive Agency Trait #3: Responsive and Easy to Contact 
Nothing is more frustrating than reaching out to a promising digital marketing agency, only to wait days or even weeks for a response. Even more aggravating is if the agency's contact information is difficult to locate on their website, or if their social media information is out of date or seems neglected. Instead, keep an eye out for digital marketing agencies that seem to prioritize their communication with new and potential clients. Chat functions, secure and direct emails, and easy-to-locate phone numbers or addresses mean the agency is thinking about how to reach their own clients- which means helping you reach your own is a service they can be very helpful with. 
A contact form like this one is detailed enough to help potential inquirers relay their specific inquiry, but only takes a quick minute to complete. Like any industry, quality customer service and excellent user experience are essential, but as these are the very services being offered by a digital marketing agency, top-notch experiences are definitely a green flag. 
Tips for Choosing an Agency That Specializes in Manufacturing and the Industrial Industry 
Once your company has a list of candidates, be sure to evaluate each digital marketing agency's level of experience with projects like the one being proposed. As a construction, manufacturing, or industrial organization, it's important to work with an agency that has experience marketing your particular industry's goods or services. There are dozens of digital marketing agencies that claim to specialize in manufacturing marketing, but while they all may be qualified, they will not all be a great match. Here are some of the best tips for selecting an agency specializing in manufacturing marketing: 
Tips For Choosing Agency #1: Read the Case Studies
Digital marketing case studies are one of the best ways to learn more about an agency's previous successes and experience level with projects that match your own. Take note of how diverse the case studies are, how in-depth they go, and if the agency provides measurable results of their work. For example, the VisualFizz Builds page makes five of their most recent construction and marketing related digital marketing case studies easily accessible for prospective clients. Detailed examples of past successes and previous experience can sometimes make all the difference when selecting a digital marketing agency to partner with.
View VisualFizz's Digital Marketing Case Studies
Tips For Choosing Agency #2: Read the Reviews
Digital reviews are the new word of mouth when it comes to digital marketing. Unlike a traditional verbal referral which may have a pass-through rate of a few friends and family members, online reviews as part of a case study have lasting power. When scrutinizing potential digital marketing agencies, be sure to make note of the feedback and reviews they incorporate into their own portfolio. Is there so much praise that you're endlessly scrolling through, or are you searching deep for client feedback? 
Digital marketing agencies that are transparent with their feedback tend to be more transparent when laying out achievable project milestones and realistic expectations and outcomes, and when clients have a lot of good things to say about their experience with an agency, they should let prospective clients know it.  If you're looking for a particular attribute or characteristic, like expert attention to detail, for example, reviews are an excellent opportunity to glean information like this before meeting with a digital marketing agency. 
View VisualFizz on Clutch, Google, and UpCity
Tips For Choosing Agency #3: Do Due Diligence
When digital marketing agencies post case studies, blogs, and other content about previous projects, this also gives prospective clients an opportunity to see the agency's work live and in real-time. A quick Google search will show if a digital marketing agency is worth its salt- especially if they've been doing SEO work for the client you're searching for. If successful, the Case Study company in question should come up quickly, and you should be able to test out their website design and functionality without a problem. 
Keep in mind that the client may have requested these aspects of their build themselves, but things like speed, organization, headers, blogs, and graphics are all things to pay attention to when looking at a digital marketing agency's previous client as an example of the quality of their work. Doing your research will take you far when it comes to selecting the right digital marketing agency for your manufacturing or industrial company. 
As more and more construction, manufacturing, and other similar industries make the transition to a digital-based marketing platform, begin turning their attention to social media marketing, and start to embrace the many ways that digital marketing initiatives like interactive web development and design can benefit their businesses, digital marketing agencies need to rise and answer their calls for help. This means streamlining the onboarding process, taking the extra time to train employees on new operating systems, and stepping up to fill many of the industry's unique digital marketing needs. 
By listening to the specific needs of asphalt and paving companies like Rose Paving, dental healthcare manufacturing company Hu-Friedy, or Valley Grinding, for example, VisualFizz has been continuously working to cultivate more experience tailored directly to these industries. 
Remember to keep an eye out for green flags, do your research, trust your instincts when it comes to choosing the best digital marketing agency for your company. 
Publishing Date: