606 Digital, a custom software development company in Chicago, offers custom software development, .NET, and Infor Public Sector implementations to a variety of clients.
606 Digital approached VisualFizz with a goal of repositioning their marketing initiatives to better drive qualified leads from search engines. Through careful marketing planning that included Paid Search, SEO, and Content Marketing, VisualFizz helped to improve lead generation and increase conversions rates by over 150%.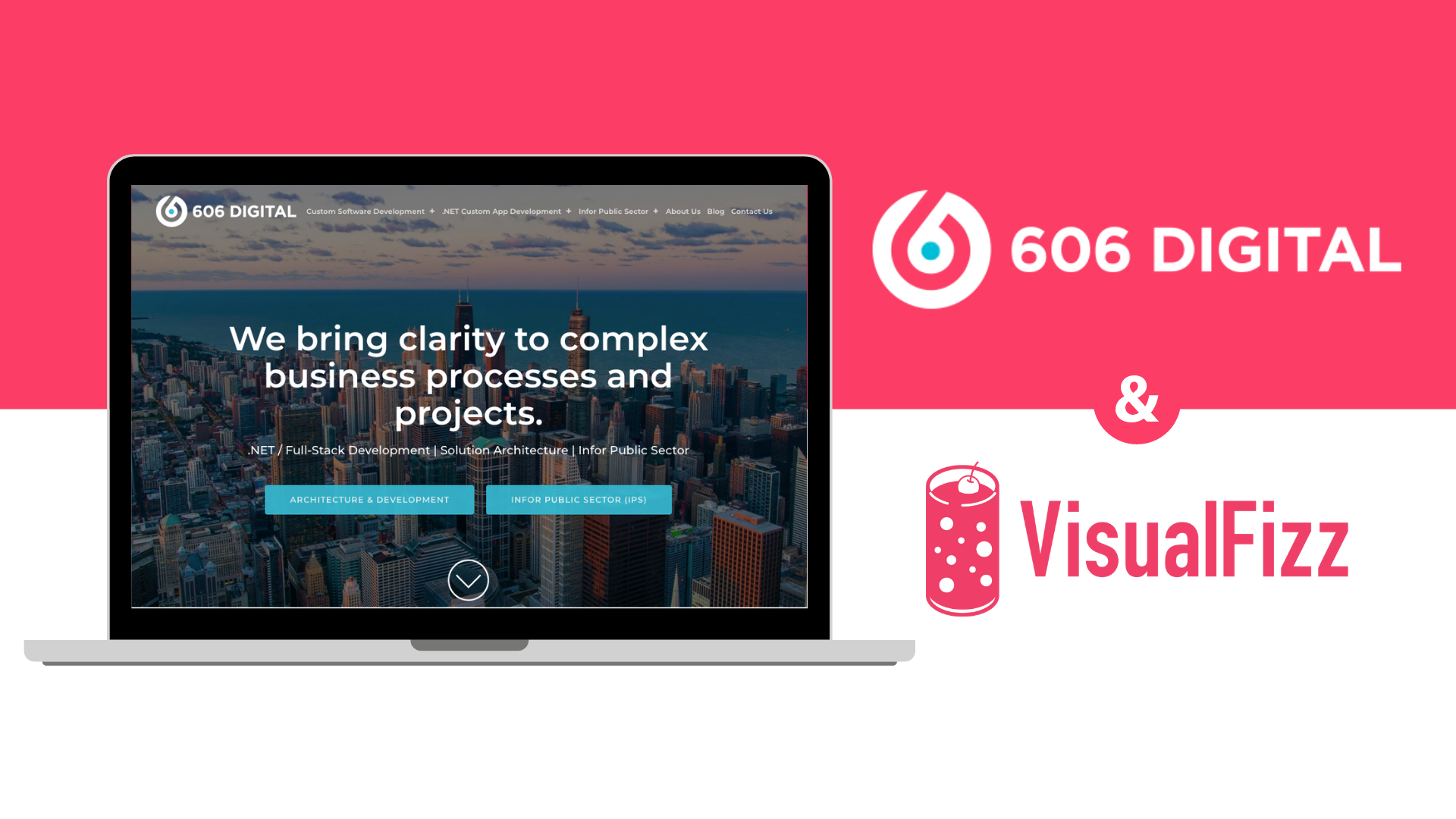 Partnership With VisualFizz
606 Digital came to VisualFizz looking to reposition their brand around their core services and redefine their target audience. Due to the highly specialized nature of their business, they found it increasingly difficult to generate qualified leads and connect with their existing customers. In fact, prior to the partnership with VisualFizz, 606 Digital had only registered a total of four conversions that year and did not appear on Google searches for their cores services like:
.net custom software development chicago
chicago .net development, or
dot net developers chicago.
As VisualFizz became involved in the project, it became obvious that the client would also need a simple way to generate more leads at scale and align their services with the rest of their marketing efforts. Our relationship started by implementing a more aligned content strategy, focusing our SEO efforts toward conversion-driven landing page creation, and improving the user-journey.
VisualFizz Drives Qualified Lead Generation and Improves Conversion Rates for Software Development Agency
VisualFizz took a multifaceted approach that included Content strategy, Web development, design, SEO, and Paid Search.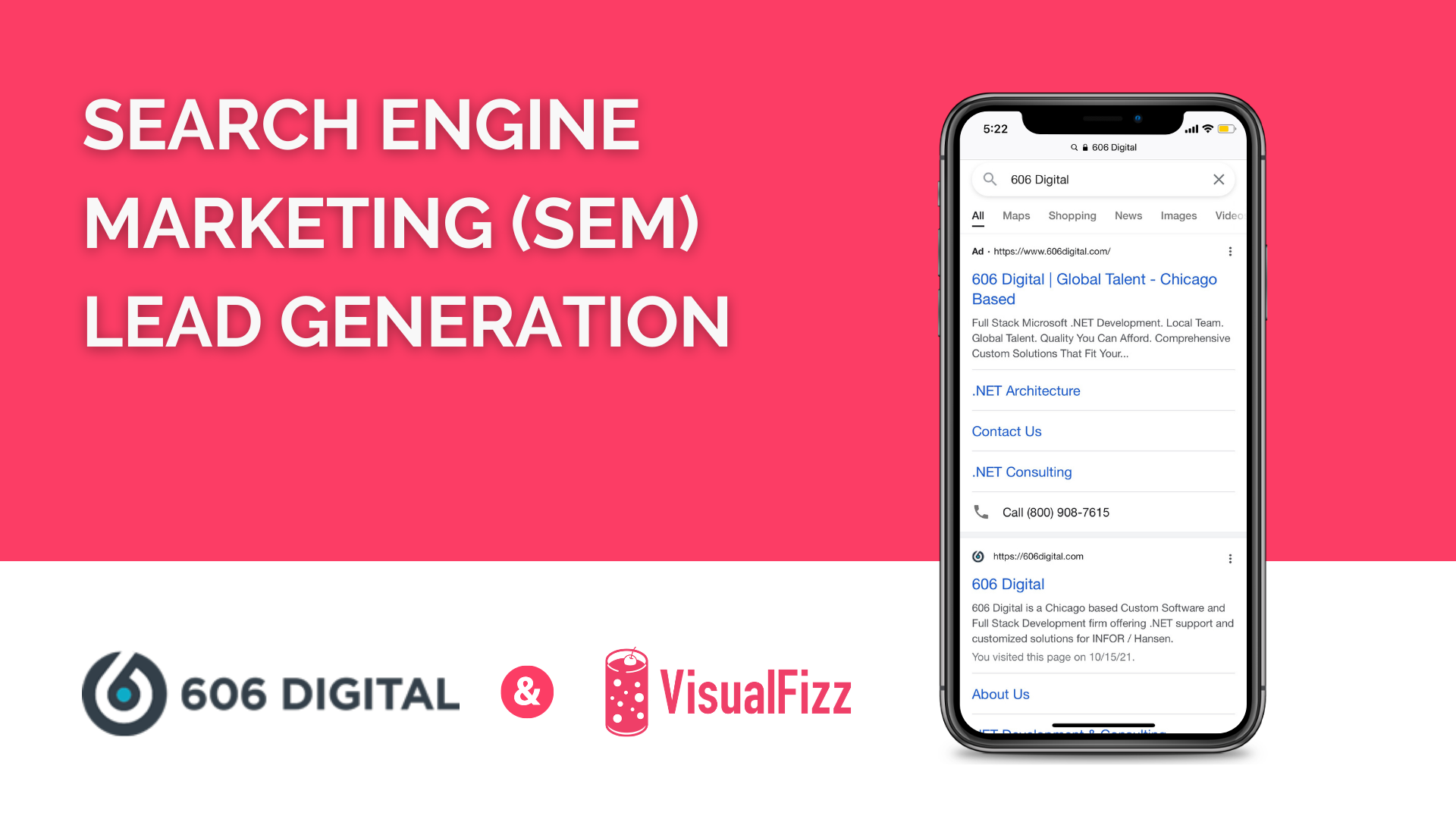 Since implementation, the VisualFizz team also reformatted and restructured the account to match the website, defined ad groups, added keyword match types, expanded keyword offerings, updated ads to match the website; created a Chicago-only brand and non brand campaign to boost traffic and potential clients, and completely updated website and tracking for better functionality and conversion rates.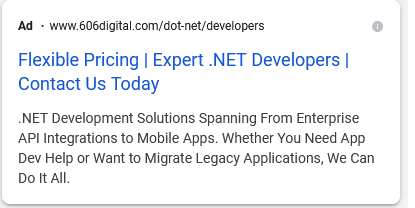 The partnership would also grow to include the development of a live-chat feature and a mega menu, as well as additional support for the client's legacy messaging service.
The VisualFizz team would also restructure the client's website to be SEO-friendly and supply an expert content writer to rewrite existing landing pages for optimal SEO-friendly page structure, word count, brand alignment and keyword inclusion.
Due to the initial success of these efforts, 606 Digital would go on to add the full-breadth of VisualFizz's service offering, including the implementation of a full-scale digital marketing strategy. This strategy led to a 155.51% increase in conversion rates, and a website that is focused on their core services.
Client Feedback
To really understand the value of the VisualFizz – 606 Digital partnership, however, you need to ask the customer. Below is an excerpt from a client-testimonial by the president of 606 Digital.
Q: What was the scope of the partnership with VisualFizz?
A: "VisualFizz oversees our marketing strategy and SEO/paid search efforts. They started by doing an analysis of our website content, looking at where we stood with our SEO and collecting search page analytics.
Then, they gave us a report of their findings along with a set of recommendations to improve our current state. Their team has since tuned up our site to basically improve all of the SEO on our existing copy.
They've worked with us to think through who our audience is and how they best receive and process information. Using those findings, we've restructured our content to make it better suited to our audience's needs.
They've also brought on a writer, who is a subject matter expert (SME) in what we do, to rewrite our copy in a new voice. That's been a great help because we're technical consultants, not writers. For each piece of copy, they've optimized the content for organic and paid search on Google, and they're now working on some new blog posts.
On the technical SEO side, they've restructured our site's navigational architecture to be SEO-compliant and have recommended tools that will help people find us. We're currently in the process of implementing a call to action (CTA) for site visitors to text us".
Q: What did you find most impressive about them?
A: "We're a relatively small client, yet they make us feel as valued as their bigger clients. They take the time out of their week to meet with us to make sure we're getting what we need."
Q: Do you have any advice for potential customers?
A: "They're so open to helping you with anything — you just have to be a good communicator. Be straightforward with what you're looking for, and you'll have a great partnership."
Q: What evidence can you share that demonstrates the impact of the engagement?
A: "We're getting more leads, and noticing that these leaders are looking for exactly what we sell. A big part of that is because VisualFizz helped make our content less generic and more specific. We're seeing people who know they need an API or who want help with legacy software.
Full Scale Digital Marketing and SEO for IT Consulting Brands
606 Digital and VisualFizz generated a 155% increase in conversion rates by implementing a journey-based content strategy and paid search to drive more qualified leads to a freshly redesigned, conversion-focused website. Most importantly, the 606 Digital-VisualFizz partnership enabled the 606 brand with a new image, a new voice and the ability to drive leads well into the future.
Ultimately, the above mentioned result is the goal of every VisualFizz partnership. If you're looking to reinvigorate your brand and empower your business, then contact VisualFizz today to see what our full scale digital marketing strategies can do for you.