Since 2018, VisualFizz has had an incredibly fruitful partnership with Rose Paving, helping them grow their online presence and increase website conversions. This case study shows the benefits our clients can see from using our full suite of digital marketing services.
About Rose Paving & Why They Came to Us
Headquartered in Bridgeview, Illinois, Rose Paving is the largest industrial paving contractor in North America. With eight strategic business units, nearly 50 years of experience, and an extensive client list of enterprise companies, Rose Paving represents the highest level of skill, experience, and customer service in any segment of the AEC industry.
To sustain the rapid growth of their business and pursue additional enterprise clients, Rose Paving knew they needed to amplify their digital presence and institute a host of traditional advertising and digital marketing initiatives. Enter VisualFizz, the leading industrial marketing partner in Chicago, offering services for construction, manufacturing, industrial and building service companies.
Thanks to the applied hard work of both teams, we were able to build campaigns that focused on ROI, awareness, and growth. We'll walk you through the suite of digital services we provided for Rose Paving to help them convert website visitors into new B2B customers, including paid search, SEO, content writing & copywriting, web development, email marketing, social, and web design.
Rose Paving has trusted us to be stewards of their brand, and we're happy to say that we've been able to deliver great results over the years and continue pushing them to the forefront of the industry.
Paving the Way for Growth with PPC & Website Optimizations
Work began on the Rose Paving account in 2018 with a PPC campaign audit that revealed multiple challenges, which uncovered the need for optimizations and our team's expertise across paid search, SEO, content and web design. Those challenges are outlined here:
Out-of-Date Website – The client's existing website not only relied on an antiquated CMS platform, it required an aesthetic face lift to drive conversions.
Disorganized Ad Account – The state of the client's Google Ads account was disorganized and ignored best practices for campaign efficiencies.
Lack of Targeted Landing Pages – Efforts would need to be made to create targeted landing pages and eliminate conflicting CTAs, navigation links, and poor content and design.
Our plan of action to improve the client's PPC campaign was made up of three important initiatives: (1) Implement the most efficient structure for the account, (2) Design, write and implement optimized landing pages, and (3) Create a disciplined process for optimizing the campaign that results in ongoing improvements.
1. Implement Optimized Account Structure
We began by learning the specifics of the client's business, including their services, their target audience, the industries they serve, and their competitors. Using the Google Keywords tool, we identified the most suitable keywords for their campaign.
We also utilized geographical keywords for the metropolitan areas surrounding the client's strategic business units in Chicago, Denver, Nashville, Phoenix, Atlanta, Tampa, and Southern California.
The next step in our paid search initiative was to develop a solid account structure. All keywords that accounted for at least 90% of expected traffic were placed in single-keyword ad groups (SKAGs).
Using this many SKAGs allowed us to gain more control over the campaigns, which also meant that we were able to perfect our message match between ads and keywords. In theory, this would lead to higher quality scores and click-through rates, while maintaining a reasonable keyword cost per click.
2. Design and Implement Optimized Landing Pages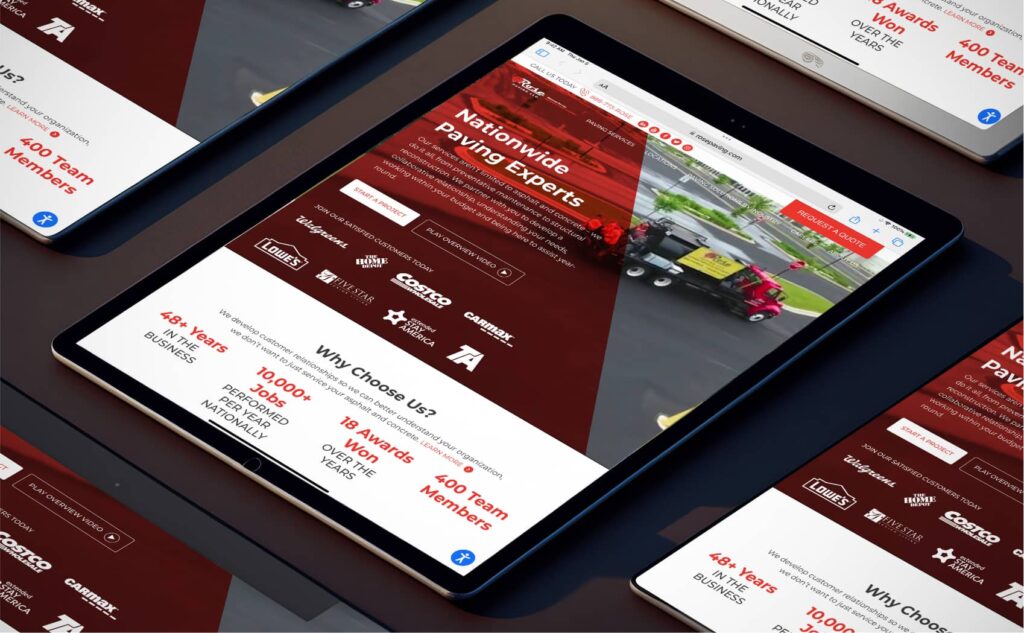 A large part of our SEO efforts to grow the client's online presence included developing conversion-optimized landing pages and aligning them with ad copy. Key elements of the website redesign include:
Updated Mega Menu design to quickly access inner pages
Modern design that was up-to-date with latest trends
Improved font sizes for legibility and accessibility
Bigger CTAs to drive conversions
New page templates (home page, locations, service, modular, staff members)
Streamlined multiple menus into one primary menu
Redesign of the form elements to drive conversions
Consolidated several forms to make them easier to manage
Easier access to contact information and social media throughout the site
Interactive elements (testimonials, embedded videos, etc.)
Quick access to services and industries
Accessibility adjustments widget
Improved site speed by removing unused code and plugins
Added captcha to reduce spam
Removed hundreds of broken links from the blog
Guided by our SEO strategy and best practice, our content team initiated a major technical clean-up of the client's website content by:
Writing and publishing updated content
Consolidating out-of-date and duplicate pages to improve rankings
Removing or refreshing thin, underperforming content
Rewriting service pages to be a thorough resource for prospects, and
Creating robust location based pages
The results of these efforts (comparing YTD 2022 to 2019) are a 98.56% increase in form submissions and 123.12% increase in conversion rate.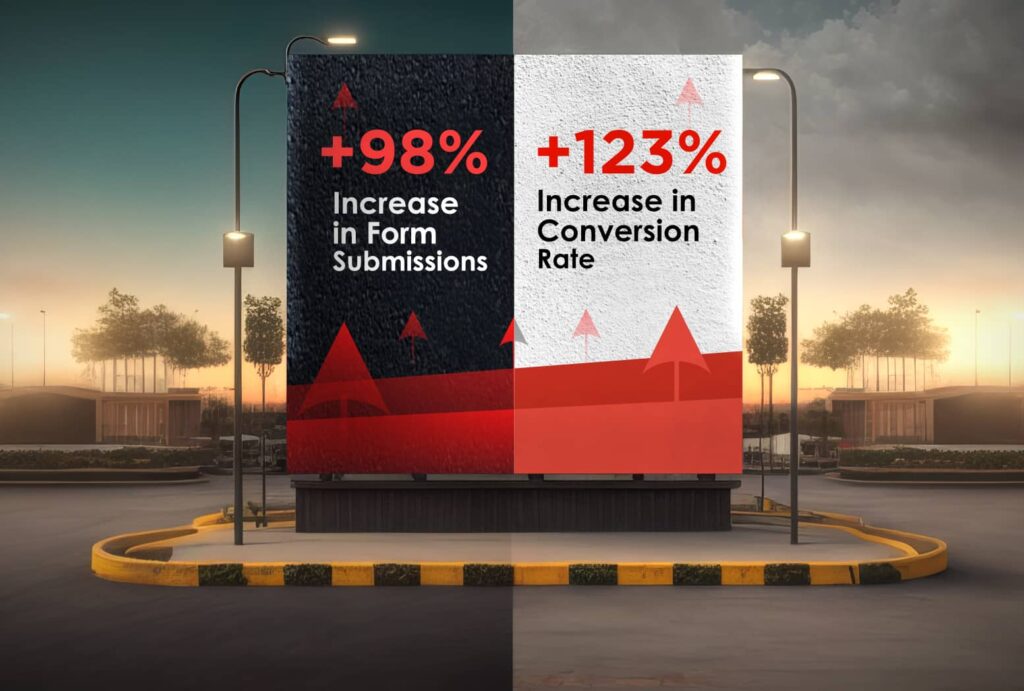 3. Continuously Optimize
Over the years, we've been making optimizations—including the ones listed above as well as continued A/B testing, negative keyword implementation, and conversion-based smart bidding—to cut out wasted traffic and focus the budget on what's actually converting site users to submit forms.
These campaigns are running extremely efficiently now, with the massive conversion rate jump from 2020 to 2021 due to the implementation of conversion-based smart bidding, which we are still utilizing.
Expanding Reach with a National PPC Campaign
We also launched a national PPC campaign in March 2022, a tactic that is helping us grow Rose Pavement from local favorite to a national powerhouse. Here are some highlights and results:
Goal: Target multi-location/multi-state clients that could use one single provider for all their paving needs.
Strategy: Target Rose Paving's services nationwide using keywords and ads that would more closely target B2B clients. We also initially set up a display effort to help boost Rose Paving's brand awareness for larger clients.
Continuous Optimization: After our initial efforts were rolled out and we analyzed traffic metrics, we paused the display campaign to funnel more funds into the higher converting search efforts. In terms of lead tracking, all leads were initially counted as a priority; however, in August, we redesigned the conversion process so that single-location and multi-location leads could be tracked separately.
As VisualFizz continues to collect conversion data, the campaign's focus will be shifted to only multi-location leads once we gather enough data.
Results: Since the launch, VisualFizz has brought in over 109 leads for Rose Paving with a conversion rate of over 3%, a rate that's on par with what we're seeing at the local levels. These results are extremely successful given the nationwide targeting and end users we're trying to capture.
Since we shifted the conversion process in August, these campaigns have brought in 24 single-location leads and 21 multi-location leads. These are the kinds of high-value leads that can result in massive new business growth to the tune of hundreds of thousands of dollars. Rose Paving has seen tremendous ROI and continued success from this effort.
Comprehensive Email Marketing Plan & Execution
In addition to the paid search, SEO, and website optimizations we implemented, VisualFizz also revamped and launched a new comprehensive email marketing strategy for Rose Paving that included internal and external communications.
Internal Comms – The Rose Review, a bi-monthly email newsletter that updates the staff and crew on the accomplishments and goings-on of each location.
External Comms – Each month, Rose Paving sends clients and prospects emails on specific services and solutions, educating recipients on typical problem areas and maintenance solutions to help them make informed decisions. We also send special announcements and targeted emails for specific industries.
Since implementing the 2022 email marketing strategy, click through rates rose 62% percent between January and May 2022!
VisualFizz has eased the Rose Paving team through the transition to a new email client, organizing complex troubleshooting to work toward optimal operations. With the new email client, Rose Paving's email marketing can take advantage of campaign automations to ensure each message not only reaches the recipient's inbox, but is read as well.
After troubleshooting deliverability issues with the new email client, the resolution led to six times more opens than in previous sends and four times the web visits.
Taking the Reins on Social Media
How do you ensure stickiness with advertising and marketing? Make sure all of your strategies work cohesively. We combined the comprehensive email marketing strategy outlined above with a robust social media presence to create brand cohesion, increase awareness, and, ultimately, drive conversion.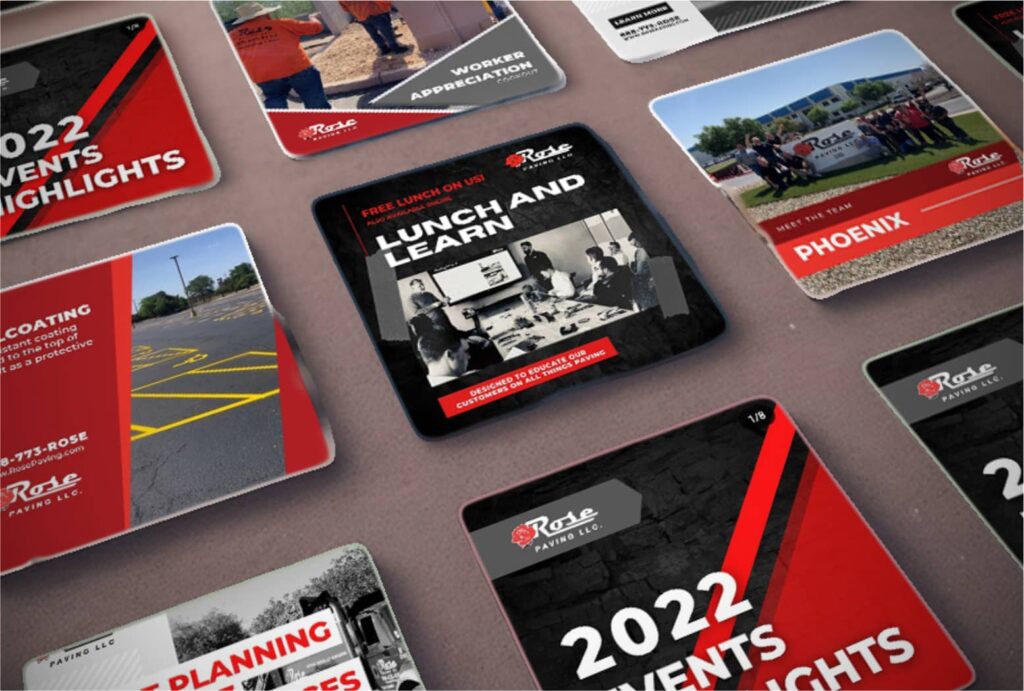 Here are some of the services we provided:
Created posts tailored to each platform to reach specific audiences
Created content pillars, eye-catching post templates, and posting guidelines for a consistent and cohesive look & feel across all platforms
Highlighted services, locations, and educational content every week
Monitored hashtags and keywords to help increase post reach
Created and posted content to Facebook, Instagram, Twitter, and LinkedIn
Developed campaign- and event-specific initiatives (Women of Asphalt, Recruitment, Lunch and Learn, LLS Light the Night Charity Walk, One Warm Coat Drive)
Created customized monthly reporting on social media performance
The results of these efforts have been truly impressive. The following reflect metrics for the overall growth from 2019 to 2022 across all platforms combined:
Overall audience size increase of 3,000 users – The great community is growing!
51% increase in impressions – This aids in the goal of becoming a trusted national brand
68% increase in engagement – Audiences are not only seeing their content but also actively engaging with the posts in the form of liking, commenting, and sharing
182% increase in link clicks – Users are more frequently taking the desired action of clicking the link provided within the content to land on the website
And we're already seeing YOY increases for all social metrics for 2022.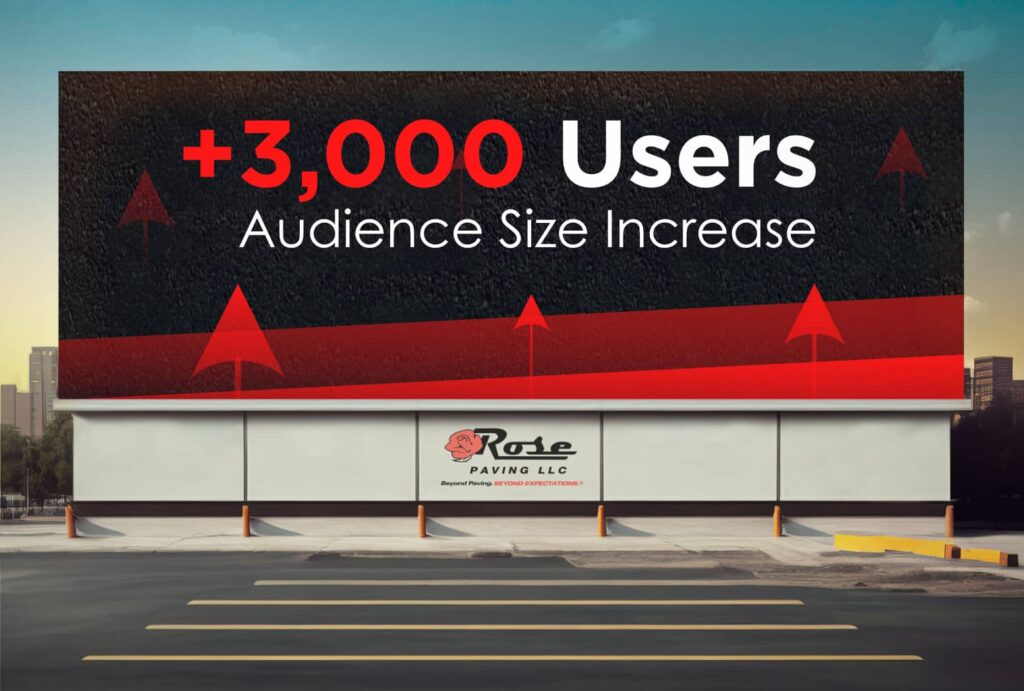 Overall Results: More Leads & a Massive Spike in Conversions
VisualFizz began working with Rose Paving to grow their online presence in 2018. As the client's demands and needs have changed, VisualFizz has adapted our online strategy to maximize growth and hit yearly conversion goals. Since then, VisualFizz has met and exceeded the online goals of Rose Paving YoY.
2019: leads grew 263% on a 131% increase in YoY spend
2020: leads grew 116% on a 53% increase in YoY spend
2021: leads grew 100% on a 12% increase in YoY spend
And perhaps the most impressive metric:
193% increase in conversion rate in 2021 vs 2020 with a 44% decrease in cost per conversion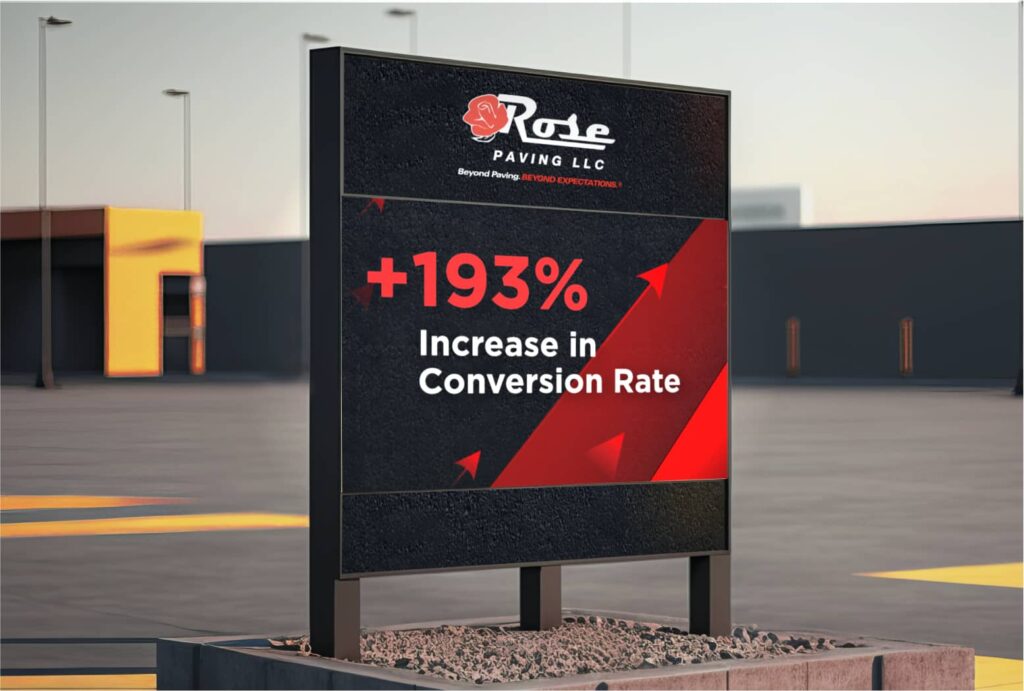 Through continued optimizations and expert data analysis from VisualFizz, Rose Paving has stayed ahead of their competitors and top of mind with their target audience. The success of these campaigns also enabled Rose Paving to launch a new location and start a nationwide B2B effort built upon the accumulated learnings of our prior successes.
Contact VisualFizz for a Consultation
The partnership between Rose Paving and VisualFizz was and is today a resounding success because it enabled the client to meet their goal of attracting more enterprise clients.
The true value of the partnership comes not from what the VisualFizz team did, but what the Rose Paving team didn't have to do. Unburdened by the all-encompassing task of building and implementing a successful marketing program, the staff at Rose Paving could focus on what they do best: paving the way for a better tomorrow.
Contact VisualFizz today for a consultation.