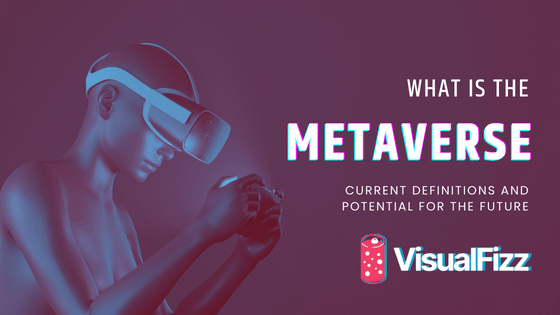 Categories for this post:
The term "metaverse" has been thrown around lately, from Facebook's rebranding to video game marketing and virtual reality. But, amidst all the hype, it can be hard to figure out the metaverse and where it fits into your business's marketing strategy.
Brands, businesses, and individuals alike can benefit from having a presence in this digital space.
A Brief History of the Metaverse
The metaverse is a virtual world that uses technology, like virtual reality (VR) and augmented reality (AR), to connect people. It's an immersive real-time environment where users can socialize, work, and even shop. According to Gartner, by 2026, a quarter of the world's population will use the metaverse daily.
The metaverse concept dates back to 1992 when Neal Stephenson wrote a science fiction novel called Snow Crash. In this novel, Stephenson described a virtual world in which people could interact with each other digitally. Since then, many online communities have begun to form as more and more people spend time in digital spaces like video games, virtual reality, and social media platforms.
The metaverse gained traction again in 2003 with the launch of Second Life. It was one of the first examples of a virtual world where users could interact, shop, and even buy land. Second Life helped pave the way for other platforms to emerge in the metaverse.
The Evolution of the Metaverse
Since Stephenson's novel, the metaverse has evolved into an ever-changing landscape. Although some form of the metaverse has been around for decades, it wasn't until the COVID-19 pandemic that it began to take off.
The pandemic has forced people to interact in digital spaces, so the popularity of virtual worlds such as Roblox, Minecraft, and Fortnite exploded. As a result, the global market for the metaverse is projected to grow to $758.6 Billion by 2026.
Today, many companies use the metaverse to host virtual events, market their brands, and create engaging digital experiences. Some of the biggest names in tech are all exploring ways to use this emerging technology.
Digital Marketing in the Metaverse
The hype surrounding the metaverse has made it an attractive platform for businesses looking to market their products and services digitally. By leveraging the power of virtual worlds, companies can create immersive experiences that will help them stand out from the competition.
The possibilities for marketing in the metaverse are endless. Companies have the potential to reach new audiences and create engaging experiences that would not be possible in traditional marketing channels. You can combine digital and physical elements to create a unique customer experience.
Examples of Marketing in the Metaverse
From virtual concerts to interactive product demonstrations, the metaverse offers a blank slate for businesses to explore and create. By harnessing the metaverse technology, brands can supercharge their marketing campaigns.
Here are a few examples of how companies are using the metaverse to engage their customers:
In-game advertising
In-game advertising effectively enables businesses to reach their target market in the metaverse. By leveraging the popularity of video games like Roblox or Fortnite, brands can create interactive experiences that draw in users and better engage with them.
Wendy's recently used this strategy in the popular game Fortnite. When Fortnite released a new game mode called Food Fight, players had to join either Team Burger or Team Pizza. So Wendy's created an avatar and joined Team Pizza to destroy their opponent's beef freezers and promote their brand message of "fresh, never frozen beef."
Collectibles
Collectible digital products are an effective way of marketing a brand in the metaverse. They allow companies to create unique experiences that engage customers and build loyalty by providing exclusive rewards. By leveraging the power of virtual worlds, businesses can develop virtual currencies, collectibles, and rewards programs that offer users incentives to engage with their brands.
Coca-Cola recently made its foray into the metaverse world by launching a Coca-Cola Friendship Box NFT. This innovative move has made Coca-Cola one of the first major brands to embrace the potential of non-fungible tokens (NFTs). The Coca-Cola Friendship Box NFT is an interactive digital collectible that allows users to open and trade virtual boxes with one another while also collecting unique limited-edition rewards.
Virtual events
Virtual events in the metaverse offer businesses a unique opportunity to market their products and services to a wide range of customers. By utilizing the interactive capabilities of the metaverse, companies can create immersive experiences that engage customers and encourage them to interact with their brands.
The In the Heights block party on Roblox was an innovative and successful event on the virtual platform. The event was part of their promotional campaign for the movie adaptation of the hit Broadway musical. It allowed users to enjoy a unique experience that blended elements of music, dance, art, and interactive games in an immersive environment.
How will the metaverse Continue to Evolve in the Future?
As technology continues to evolve, so too will the metaverse. We expect to see more sophisticated virtual worlds, better simulations, and more immersive experiences. We may even see the rise of virtual influencers and digital celebrities, which could help to shape the metaverse in ways we have yet to imagine.
Ultimately, it's clear that a metaverse is a powerful tool for businesses looking to reach new audiences and increase customer loyalty. By taking advantage of this technology and its ever-evolving features, your business can be on the cutting edge of digital marketing.
Stay Competitive in the Digital Age
By understanding the history and evolution of the metaverse, businesses can take advantage of this powerful technology to reach a wider audience and create more engaging marketing campaigns. As virtual worlds continue to evolve, companies should stay on top of the latest trends and technologies to stay competitive in the digital age. With the right strategy, businesses can reap the benefits of marketing in the metaverse, from Meta (facebook) to whichever platform comes next.
Author Bio: Cait Kulagin is a copywriter with experience in the solar, B2B, SaaS, sustainability, and digital advertising industries. She uses her expertise to help businesses craft their message, tell their story, and attract their ideal customers. Cait believes that words can create positive change and uses her writing skills to inspire people to take action. When not glued to her laptop writing compelling copy, she can be found hiking, reading, or spending time outdoors with her family on their hobby farm in Cleveland.
Publishing Date: