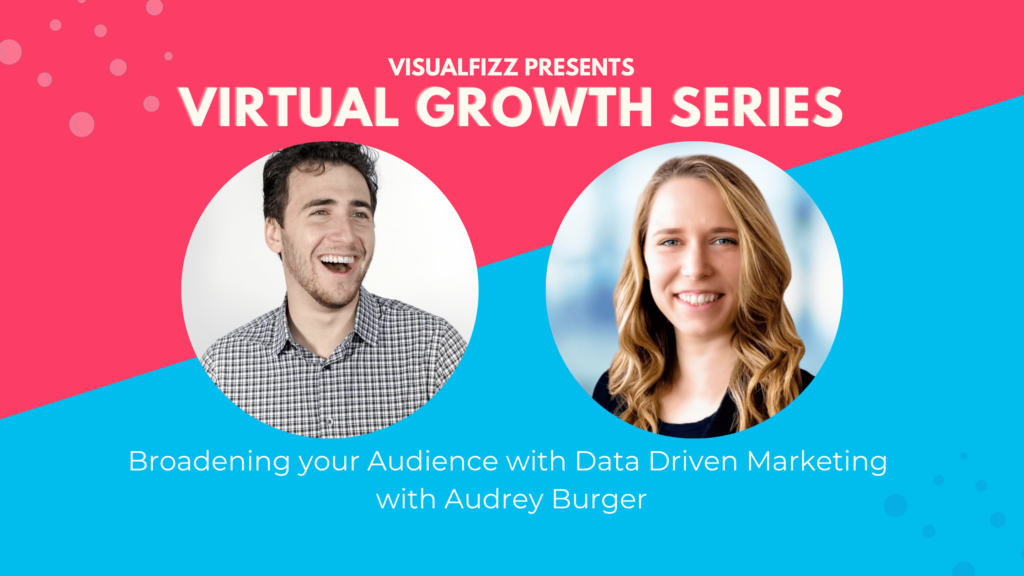 Categories for this post:
VisualFizz Virtual Growth Series #9 Recap – View VisualFizz Growth Series Here
At VisualFizz's virtual Growth Series event titled Broadening Audiences with Data Driven Marketing, our guest speaker mentioned a key statement to our virtual attendees:
I loved the idea of human behavior.
A major aspect of data driven marketing is compiling data on consumption behavior. Audrey Burger discusses how she leverages data to identify brand positioning for CPG; and provides insight on important data sources every business can use to understand their ideal consumers. This VisualFizz Growth Series features data driven marketing strategies, ecommerce strategy and digital marketing for business owners. 
Professionals from various backgrounds and industries attended the first edition of VisualFizz's free monthly Virtual Growth Series event.
Data is the Driving Force Behind New Product Launches
Dan Salganik introduced VisualFizz Growth Series and Audrey Burger, and from there, Burger opened up on her experiences launching 100s of consumer packaged good products and shared insights on the important factors that will cause a brand to be successful or fall short.
It all comes down to execution.
The takeaway? A lot of companies can provide the same services or products but the ones who execute appropriate brand positioning by understanding the consumers can separate themselves from their competition. Audrey and her team grew the CPG brand from local stores to chain retailers while also introducing an ecommerce store.
The evening finished with a Q&A session from the audience as well as VisualFizz co-founder Dan Salganik. 
Attendees left with some simple final words of wisdom from Burger: 
I've learned a lot by our failures.
Burger has tested, launched and developed new product lines during her entire career. She attributes her success through the data she was able to gather and analyze. Burger stressed the importance of social media data, real life surveys with shoppers, and retailer data.
As Head of Marketing for Primal Kitchen, she can sum up her strategy through three main points.
Be Consistent with your communication with your consumers and your team members. One of the biggest mistakes a brand can do is change something as simple as the packaging without warning their consumers. It may seem like a small detail but it can cause shopper confusion and deter their brand identity.
Understand your data. Who is engaging with your content and what does their network look like?
Find your "Super Fans. They will drive your business and create additional sources of generated content and engagement.
Primal Kitchen is part of Kraft Heinz as a natural foods product line that acknowledges that you can be healthy and still eat tasty condiments and sauces. Make healthy- eating easier.
The Story Behind VisualFizz Growth Series
Growth is one of the best problems a business can have. It is also something that you, as a business owner, Director, C-Suite individual, or team member have to deal with on a regular basis. Whether it's closing a sale, seeking outside funding from investors, hosting a successful networking event, hiring new members, or even simply not going crazy, you have to be mindful about the actions you take when growth happens.
This is why we launched the Growth Series networking event. Many of us have questions and few of us have all of the answers. VisualFizz, a digital marketing agency that predominantly works with 'growth stage' businesses has been asked these questions constantly and we felt that it's time to provide you with some answers.
We have asked the best and brightest to speak up and chat with us AND YOU about what they've learned through their years of GROWING their own thing and their marketing strategies for small businesses. These individuals are industry leaders, founders of notable companies, sales geniuses, event hosts and personalities, and so much more. 
Missed The Growth Series event? There's More!
Whether you're looking for business tips, leadership lessons or just wanting to connect with like-minded and passionate professionals of Chicago, VisualFizz wants to connect! Check out our recent Growth Series event on Adapting Your Skill Set for New Industries with Kyle Hodges of Dark Matter coffee offers insight on growth through adapting through tough times.
For more VisualFizz Virtual Growth Series events, reserve your spot for free here.
Publishing Date: