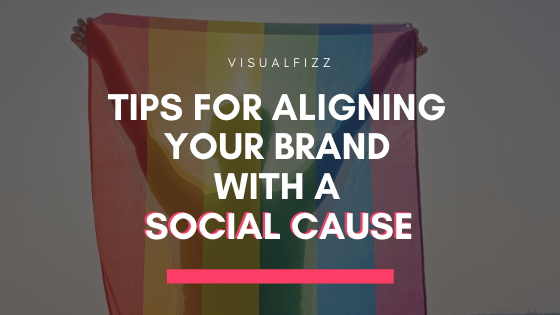 Categories for this post:
Thinking way back to New Year's 2020, there were some big expectations placed on the year (remember all the 20/20 vision captions?) and, unfortunately, we were thrown a curveball with things like a global pandemic and civil unrest. As a result, this has been an important year so far for brands, and there have been plenty of opportunities to stand out and make a difference. Moving forward, these are a few things you should consider when aligning your brand with social causes. 
Brands Should Remember People are Watching
The global coronavirus pandemic definitely complicated things and forced us all to adjust to a "new normal". Then, in the middle of the pandemic, we have seen a strong resurgence of the Black Lives Matter (BLM) movement. With so much happening all at once, it's first important to know that people are paying attention — more so than ever before. 
Consumers first began watching more closely with COVID-19. Specifically, American consumers were focusing on companies' behavior as much as 80% more than usual during the beginning of the pandemic. In fact, a strong majority (72%) of consumers said they expect brands to be positive contributors to society. Two-thirds (64%) also expect brands to use their power to help people, while 43% expect brands to act as leaders in our society. Transparency and honesty are essential to a brand's survival during this time. 
In addition to COVID-19, the Black Lives Matter movement came to the forefront of global conversation. Again, consumers have been paying attention. This is an extremely important cause to its supporters, so much so that they have no qualms about boycotting brands who don't support BLM. These consumers know their worth and know that their collective dollar can force needed change. 
Brands Should Make More than a Statement
Consumers are smart, especially in today's world of social media. They can — and will — see right through an ungenuine or unthoughtful message of support. They will also recognize when your support is just words without action.     
When you decide to align your brand with a social cause and put out a statement about that alignment, make sure you have a long term plan attached to it. Your consumers want to know not just that you support a cause, but also how you will continually do so.
Using the current Black Lives Matter movement as an example, a statement in solidarity with the movement isn't enough. Consumers want to see that you've been active with the cause and what your brand is doing to uphold the values of the movement everyday. 
This means using some of your social media clout to share facts, resources, updates, and petitions related to the cause on a regular basis, not just when it's trending. Commit to change within your brand to reflect the cause you've aligned with and be transparent about where your brand's donations are going. 
Brands Should Build Trust 
Developing that plan of action relating to the social cause for your brand to follow will help you to build trust within the community. Once you have the attention of those associated with the cause, you must work to maintain their trust and respect. With it, you gain their loyal support.
However, it is a slippery slope, as failure to prove your worth to the community can be your brand's downfall. Brand loyalty depends on many factors, and actions are more visible than they have ever been before. To help consumers who are loyal to the BLM movement, there is even a regularly updated list of brands' responses to racial injustice. 
Sometimes to build that consumer and community trust, you'll have to take a deep look at your company and brand voice. In times like these, where injustices and diversity are in the spotlight, part of your response plan should include a rebrand. From something as in depth as a complete overhaul of your brand to taking a more cause-centric approach, rebranding will come in handy and show that you're dedicated to change. 
It's always best to consult with experts in times of rebranding. VisualFizz's Branding Team can help you redevelop your brand with purpose. Experts in roadmapping and creativity, the VisualFizz team ensures there is a solid plan towards achieving your company's goals while keeping true and transparent with your adopted cause(s). 
Brands Should Remember Causes are Year-Round Projects
When issues hit the spotlight, it's easy to align your brand with the right side. For the pandemic, it was to make the health and safety of your employees and customers the top priority and to be as transparent as possible on how you were doing that. For the Black Lives Matter movement, you would make a statement about the wrongness of racial injustice, share resources and facts, and let them in on a forward-thinking plan of how your brand can do better moving forward and contribute to the movement. 
But what about those causes that aren't currently in the spotlight? It's easy to support causes when they receive attention, and natural to raise awareness during a dedicated period of time, like Pride Month or International Women's Day. The real question is, what is your brand doing for the LGBTQ+ community in October? Or, how does your brand aid in advancing women the other 364 days of the year? 
Brands Should Embrace Diversity
When consumers see a lack of diversity, they feel like your brand doesn't understand them. Diversity should exist in every segment of your brand — from those working for it, to your brand's offerings, and even to the issues it supports. 
You should adopt a wide variety of social causes, especially if they directly impact a significant portion of your brand's followers. Your brand doesn't have to be one thing, nor should it be. Being genuinely invested in and showing support for a wide variety of issues opens your brand to new followers. 
Lessons Learned
While in the past staying silent may have protected brands from criticism, the opposite is true now. Consumers are choosing which brands align with their morals and which brands do not. 
Research has shown that consumers tend to favor brands who take a strong stance for social causes. It pays off to listen to your consumers, and it pays to use your powers for good as a brand. 
Author Bio: Marie Johnson
Contributor to Enlightened Digital, UX Designer and technology writer from New York City. My infatuation with tech first emerged when I realized the vast impact social media has on our society. Since then, I've dedicated my career to creating meaningful online experiences. There's always something new to learn, which leads to new ways of understanding the world. If I can be just a small part of the initiative to connect today's people of the Internet, I'm more than happy. If I'm not writing my latest blog post in my kitchen, you'll likely find me strolling through Central Park, with my trusty French bulldog Ozzy by my side, and cappuccino in hand.
Publishing Date: