Full service marketing from VisualFizz enables a POS systems and solutions provider to improve their brand image, grow their social media presence, and target larger, more profitable clients.
Company Profile: ReSource Point of Sale
ReSource Point of Sale is a POS systems and solutions provider whose client roster includes major restaurant and retail brands like: Checker's, Qdoba, Jersey Mikes, Smashburger and more.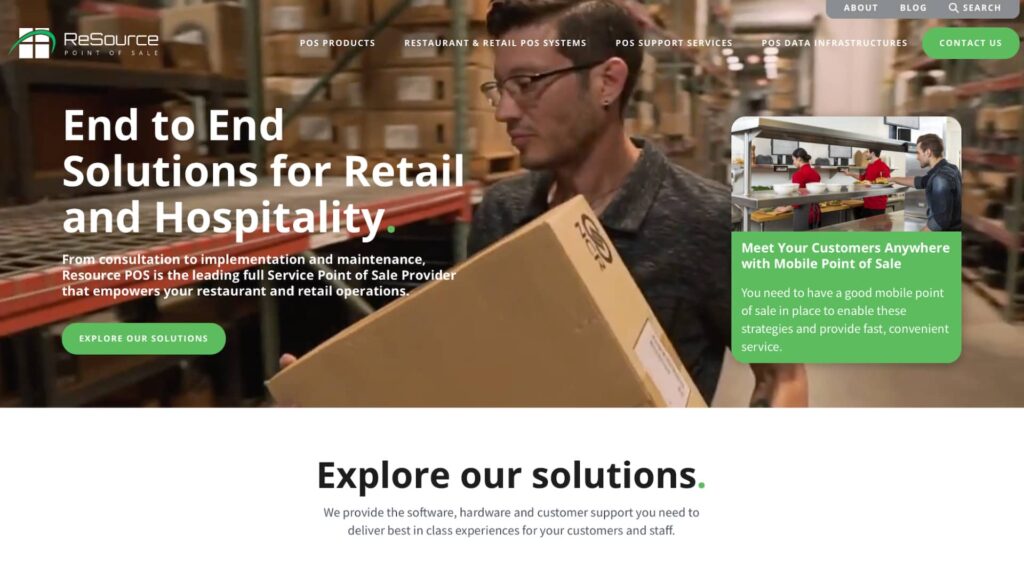 As a full service, end to end POS service provider, ReSource POS provides support and management, as well as a 24/7 helpdesk + on site support, and a designated manager for implementation, training and any special projects.
With nineteen years in business, ReSource Point of Sale has established strong manufacturer partnerships with top tier software and hardware providers in the marketplace including HP, ELO, Zebra, PAR, EPSON, and NCR.
These connections along with their expert team of POS specialists enable Resource Point of Sale to provide unparalleled point of sale support, management and implementation of their customers in hospitality and retail.
Brand Challenge: Target and Win Larger, More Profitable Customers
ReSource Point of Sale was looking for a way to step up their marketing efforts and gain recognition for their cutting-edge products and services. They were also looking to improve the performance of their lead generation channels and target larger, more profitable clients.
The largest challenge ReSource Point of Sale faced was how to reposition its services to appeal to larger clients, while also increasing full service support for existing customers. VisualFizz met this challenge by recommending a multi-channel marketing strategy that included branding, design, SEO, content creation, social media marketing, and web development of a new wordpress website.
The Solution: A Full-Service Marketing Partnership with VisualFizz
VisualFizz and ReSource joined forced when the rPOS website became slow, outdated, tedious to update, and challenging to navigate. Thanks to the designers and developers at VisualFizz, ReSource Point of Sale now enjoys a fully functional, beautifully designed website that remains a reliable sales generator to this day.
As part of the VisualFizz full service marketing package, ReSource Point of Sale aimed to position its brand for radical growth.
Website Redesign and Development
The ReSource Point of Sale + VisualFizz partnership included a website redesign of the existing brand website, resourcepos.com, a site that had not been updated since the company was founded in 2003 and was in desperate need of refresh.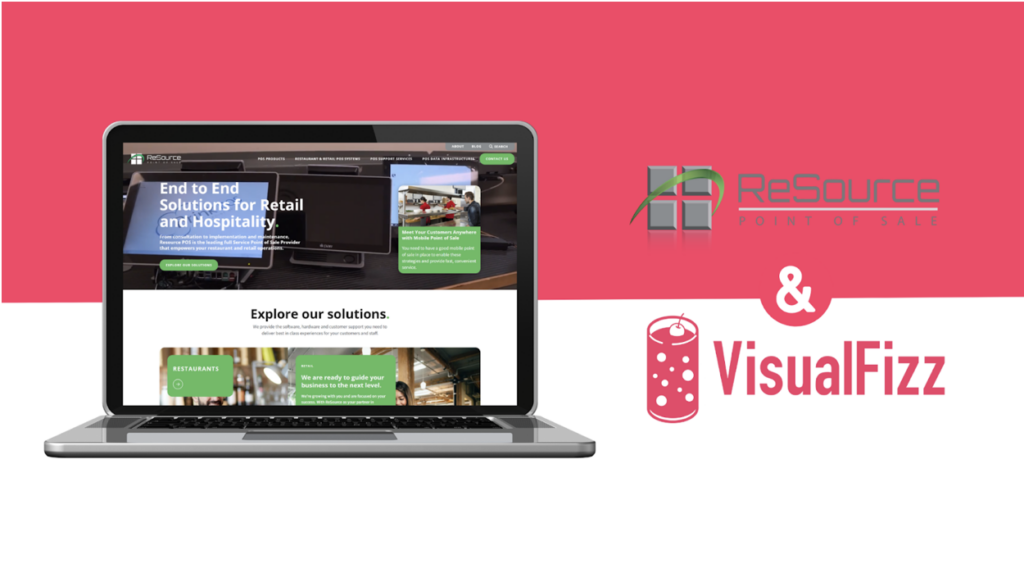 Website improvements include a new navigation menu with updated service items, a new community forum called Tech Talk that makes it easier for prospective clients to find the solutions they need, a redesign of the homepage to reflect the new structure of the site, and new landing pages to showcase the hardware partners.
Content Marketing and SEO Strategy for ReSource Point of Sale
Search engine optimization is critical to the success of any brand that wants to be found online. For ReSource Point of Sale, goals of the SEO strategy were centered around increasing the number of qualified visitors on the website, as well as positioning RPOS as the best option for Point of Sale service. The SEO strategy included:
technical site cleanup and technical SEO
content creation and copywriting of blog posts, PDF downloads, and knowledge pieces
website URL redirects and maintenance
keyword research and positioning for all verbiage used on the site
Keyword Research and SEO Targeting Strategy
Choosing the right keywords for your SEO strategy to target is the first step to strong performance from search.
Prior to working with VisualFizz, ReSource POS could not be found on Google for its core search terms, including the keywords that are most profitable and tied directly to the services rPOS provides. After the implementation of the SEO strategy, ReSource has gained considerable visibility and organic traffic increases.
Website Copywriting and Landing Page Content Writing
The first step to creating content is to determine a targeted keyword strategy with user search volume, competition and user intent. After creating the keyword list, the VisualFizz team created a content strategy to further reach the target audience in retail and hospitality who need an upgraded or new pos solution for their business. The content strategy would include:
Blog Content – To attract and entice prospective clients to engage with the ReSource Point of Sale brand and make a conversion. (Ex: A Guide to POS Systems for Restaurant Chains, 10 Features You Need in a POS System)
Landing Page Content – To serve as the destination for visitors attributed by the paid social campaigns. These landing pages were directly linked to paid advertising to drive more hardware specific inquiries related to HP, Zebra, and Epson.
Case Studies – To show the impact RPOS had on their top clients' business.
Forum – To serve as a destination for prospective clients to ask questions and get answers within the community.
Videography and Media Content Production
In addition to the website redesign, the VisualFizz team implemented a content marketing strategy to compliment the SEO improvements and engage with enterprise-level prospects across retail and hospitality.
Meant to educate and provide resources to the clients, the blog also includes feature updates from the software/hardware partners and videos like those shown below.
The content strategy is effective because it clearly defines the ReSource Point of Sale brand and helps potential leads determine why ReSource Point of Sale is the best choice for them through helpful content and insightful case studies..
Social Media
The social media strategy with VisualFizz has resulted in significant business gained for ReSource Point of Sale. Powered by VisualFizz, Resource POS's social media performance has grown significantly across all platforms. Highlights include:
971% increase in impressions
368% increase in engagement
1806% increase in post link clicks
net audience growth of more than 314%
Paid Social Media Advertising and PPC
Paid ads played a large role in the success of the ReSource Point of Sale + VisualFizz partnership. These services include branded paid search campaigns and co-branded social campaigns with their partner brands like HP, Epson and Zebra.
Paid Search Data: September 2020 – February 2021
The campaign was initially set up around HP and driving visitors with the intent to purchase the new HP products on resourcepos.com, which drove success in the early months. From September to December 2020, the campaign produced a conversion rate of almost 9% with 190 PDF downloads and 8 form submissions.
Results of ReSource Point of Sale and VisualFizz Partnership
As a result of our full-service marketing efforts, ReSource Point Sale was able to reposition their brand and services to better appeal to enterprise-level clients, and grow their digital presence well beyond that of their competition.
Traffic Increased By 30% and Form Submissions Increased By 1,300%.
With the appropriate strategy in place, critical landing pages such as the homepage have increased traffic by 30% and increased form submissions by 1,300%. The hardware page is up 80% in users.
Many of the new landing pages are among the top-performing landing pages, especially the new hardware brands pages. Combined, these efforts show the value and effectiveness of a research-driven content creation and page optimizations.
The timing of the relationship was especially important. As technology providers for the restaurant and hospitality industry, it was essential that ReSource Point of Sale position their brand as a guiding resource for establishments hard hit by the Covid-19 pandemic.
Fortunately, the full-service marketing provided by VisualFizz enabled the ReSource Point of Sale team to not only become that resource, but actually grow and expand. Ultimately, our partnership with ReSource Point of Sale was a tremendous success.
VisualFizz's full-service marketing efforts enabled their team to appeal to larger clients, but also reposition their brand from a POS warehouse into THE end to end solution for restaurants, retail and hospitality companies looking to improve their internal systems and customer experiences with the latest POS solutions. If you're looking to reposition your brand, redesign your website or grow your social media presence, then contact VisualFizz today for a full-service marketing consultation.