About ReSource Point of Sale
ReSource Point Of Sale prides itself on delivering end to end solutions for retail and hospitality clients. From consultation to implementation and maintenance, Resource Point of Sale is the leading full service Point of Sale provider that empowers QSR (quick service restaurants) and retail operations. It provides both the software and hardware that allows its partners to deliver best in class experiences to customers and staff. Resource POS is trusted by clients big and small, national and local, and restaurants like Checker's and Jersey Mike's.
Technology is extremely beneficial in growing sales for a variety of reasons. It speeds up the ordering and sales process, reducing time spent by workers and customers and generally increasing efficiency. It can also go where traditional sales tactics can't with the use of tablets and other devices. Lastly, point of sale systems limit the use of unnecessary paper and other waste from traditional payment systems. Beyond just point of sale touchpoints, POS technology is used in many instances including:
Curbside pickups and deliveries
Line busting and line management
Food and restaurant safety
Inventory management
Overall a streamlined POS system provides a satisfying guest experience and an organized client workflow.
Zebra Technologies Partnership with ReSource Point of Sale
Zebra Technologies is a global company that deals in innovative digital solutions for businesses. Its hardware specifically empowers workers with high tech products to sense, analyze and act in real time. Zebra Technologies's versatile and long line of products are utilized across dozens of industries, from banking and transportation to grocery and retail stores.
This partnership has allowed QSRs and other businesses to stay ahead of the competition through the COVID19 pandemic and beyond with safe ways of handling payments using QSR technology. Together, ReSource Point of Sale and Zebra Technologies respond to the rapidly-evolving sales environment with winning strategies, innovative new technologies and transformative improvements to customer service and restaurant operations.
Partnership With VisualFizz
ReSource POS had previously hired VisualFizz to conduct a B2B tech marketing campaign for the company. The success of the project earned us the trust from ReSource POS to work together again on this larger project with even higher expectations.
This time, ReSource POS and Zebra Technologies contacted VisualFizz about implementing a co-branded paid advertising campaign on LinkedIn that followed several objectives in order to accomplish Zebra's goals of increasing their ebook downloads, sales and educating customers of their new products. VisualFizz implemented the following tactics to deliver the desired results.
Created a custom landing page on resourcepos.com for Zebra's ebook, and directed traffic to this page.
Collected contact information by adding a form to the landing page for the sales team.
Increased search engine's contextual understanding of ReSource Point of Sale and Zebra Technologies connections by adding important keywords to the landing page.
Grew ReSource Point of Sale's LinkedIn followers and developed its overall community through paid LinkedIn campaigns.
Web Design
VisualFizz outlined a dedicated Zebra Technologies landing page hosted on the ReSource Point of Sale website that included a gated form requesting customer information in exchange for the ebook. The landing page also included product information.
The ebook section implemented specific messaging detailing ways in which technology benefits the hospitality and retail industry. The landing page concluded with a clear Call To Action for customers to schedule a consultation with ReSource Point of Sale experts for more info.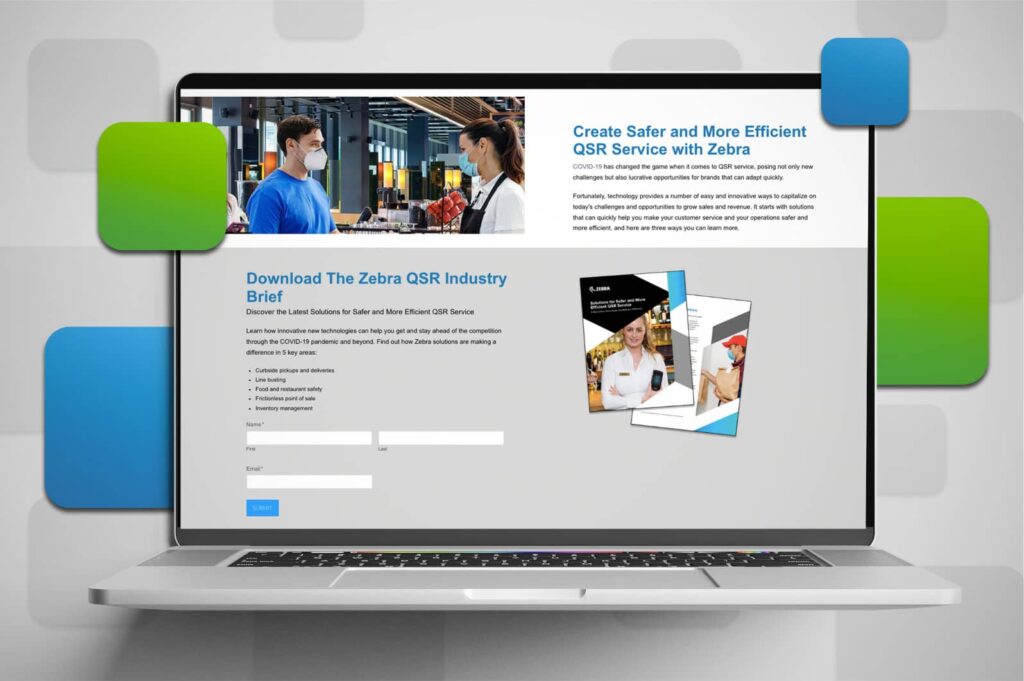 Paid Advertising
After the foundation was set with the landing page, VisualFizz outlined and executed a LinkedIn campaign to target the appropriate retail and hospitality decision makers by industry, company and role that were not already aware of the brand.
VisualFizz used various creative assets to run two separate campaigns in April and October on LinkedIn with an audience custom-built by our experts to reach various Hospitality industry employees like QSR and restaurant owners, CIOs and Directors of Technology. Utilizing AB testing of creative, messaging and audiences, VisualFizz maximized the impact for the best ROI to Zebra and ReSource Point of Sale. Once these campaigns concluded, VisualFizz gathered analytics to understand critical audience insights from each campaign to fuel the next, and presented them to the client.
How Paid Digital Advertising is Impactful to Driving Business
According to a study by Oberlo, internet users across the globe spent an average of 415 minutes a day online in 2021. That's just under seven hours per day! Consumers are splitting this time between a variety of social platforms on a host of different devices. Paid digital advertising is a beneficial way to get information in front of the right audiences for maximum impact and ROI. It works because modern consumers are presented with the ads in a less invasive way on online and social platforms they are familiar with. This targeted approach also generates a plethora of valuable data to analyze related to a specific ad or campaign.
Ad Creatives
VisualFizz designed the paid advertising content with a focus on both brands for the digital advertising campaigns on LinkedIn.
In order to optimize for the most resonating creatives, VisualFizz created several versions of each ad using different visuals, colors, copy and CTAs and understand the creatives that yield the greatest results. All components of these creative assets tied back to one or both of the brands' style guidelines.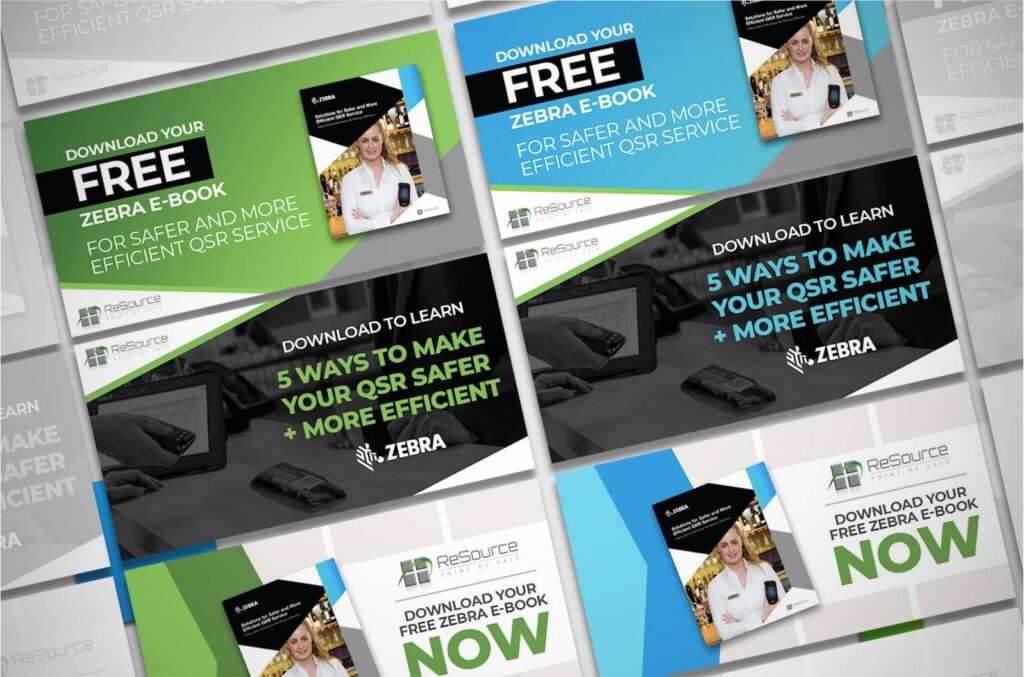 Results of ReSource Point of Sale and VisualFizz Partnership
After each campaign had come to a close, VisualFizz set out to measure the data of the digital ads. We found positive insights that both ReSource Point of Sale and Zebra Technologies were thrilled about.
The advertising doubled the amount of visitors to the landing page across both campaigns.
The optimization of the campaigns decreased the cost per visitor by 40% over the course of campaigns, resulting in higher ROI for the client.
More specifically, here's how each campaign succeeded.
Campaign 1: April 12-July 3, 2021
VisualFizz helped ReSource Point of Sale and Zebra Technologies earn nearly 75,000 total impressions and 68 reactions via the LinkedIn ads. The landing page received 107 visits while the ebook collected 43 leads. We calculated the cost per visitor to the landing page by dividing the ad spend by total visitors to come up with $18.
Campaign 2: October 15-December 31, 2021
On the heels of the first campaign's success we launched the second with a larger total ad spend. This campaign garnered 4x more impressions on LinkedIn, double the visitors to the Zebra Technologies landing page on the ReSource Point of Sale website and 398 individuals clicked through to the Zebra Technologies ebook download page. This campaign produced a cost per visitor of $13.77.
For each campaign, data helped us identify the top performing audience set by Function, Company, Role Industry, Company Size and Location. We also provide recommendations with audience learnings to be used for future campaigns.
In the end, Zebra Technologies, the ReSource Point of Sale partner, was very happy with the success of the campaign and increased its budget put toward the co-marketing campaigns for the future. The buzz both companies received via the campaign plus the learnings it gained about its audience was incredibly valuable. The VisualFizz team was proud of these results and happy to deliver yet another promising campaign for a wonderful pair of clients.
Contact VisualFizz
​​Interested in elevating your company's paid advertising strategy to increase sales? Don't hesitate to reach out – contact VisualFizz for a consultation today. We're excited to chat about how we can help your business achieve its goals!