Commoot is an out of home (OOH) advertiser with a great idea. VisualFizz is a digital marketing agency that promotes great ideas. The result of their partnership enabled Commoot to seed the OOH market with their innovative concept.
In this digital marketing case study we discuss the partnership in detail, and outline the digital marketing actions that enabled Commoot to revolutionize the OOH industry.
About Commoot
According to Dan Salganik, founder of Commoot, the idea to shake up the out of home advertising industry came to him whilst sitting in endless traffic.
"After 45 minutes of sitting in standstill traffic, I realized that all of the billboards are not memorable, require me to look at them by fully turning my head, and are generally too small for me to read. All the while, there were 52' long semi-trucks stuck in the same traffic that I was stuck in, and sitting in front of me for minutes at a time. Then, I came to the realization that my 'impression time' for the truck was higher than nearly any other form of advertising out there!"
This is where the concept of Commoot was born. Commoot would grow to become a machine learning platform that utilizes truck trailers as the creative medium for out-of-home marketing advertisements.
Commoot ads stand out from billboards because they adorn the sides and backs of moving vehicles, like semi trailers. Unlike stationary billboards, Commoot ads go where the audience goes, leading to up to 7x longer impressions than standard out of home advertising.
The concept was also unique because the team was able to take demographic information and data based on where traffic patterns were, types of cars being driven, speed of cars, location of vehicles,and much more. The old way of doing OOH analysis is to take a day's worth of traffic and get a rolling average to figure out loose impressions – not a very modern technique.
Partnership With VisualFizz
The out-of-home advertisers at Commoot approached the digital marketers at VisualFizz looking for ways to not only elevate their brand, but also change the way other marketing professionals perceive out-of-home advertising. Our proposal, and the subsequent scope of the project, included:
Branding and Brand Guidelines – To better align the Commoot brand amongst all team members and stakeholders.
Website Development – To produce a conversion-optimized website to boost marketing ROI and make branded strategies more effective.
Social Media Management – To drive engagement and conversion via an informative, human-centered social media experience.
Go To Market Strategy – To be able to launch a company that was recognized as a leader in their space from the get go.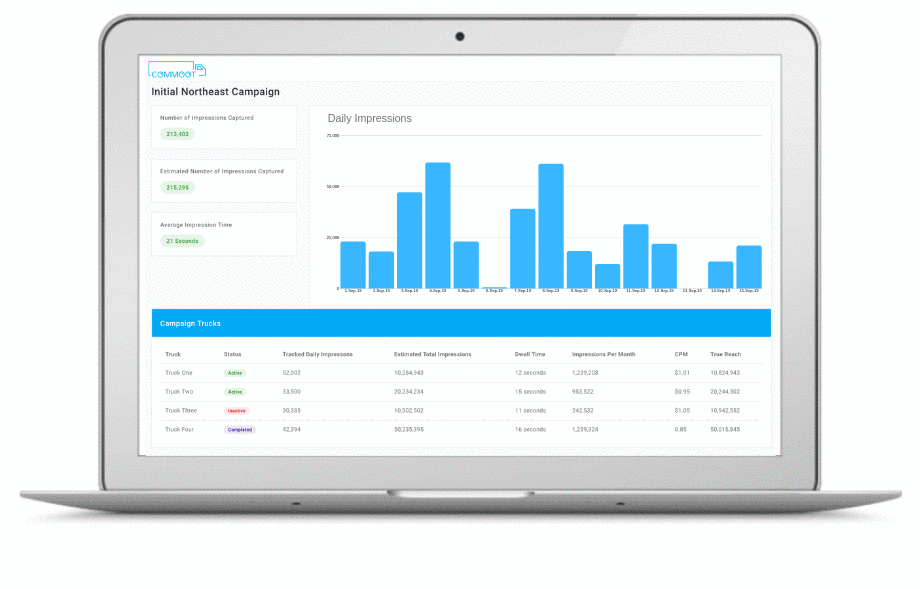 How VisualFizz Helped Commoot Challenge OOH Marketing Perceptions
The Commoot project presented a unique challenge – how to change perceptions around out-of-home advertising. While the majority of digital brands are accustomed to the fast-paced nature of the digital world, brands who are not native to digital or who are new to the digital space may be unaware of the new, innovative capabilities of OOH Marketing. Fortunately, the branding experts at VisualFizz devised a solution to overcome that bias.
Promote Concept with Branding, Web Development and Social Media
The best way to effectively market a unique concept is to position the concept as the solution to a unique problem. Therefore, our first step in promoting Commoot was to establish brand guidelines that would align the Commoot brand's message with the unique capabilities of the service.
Brand Materials
The unique concept behind Commoot's services all but demanded creative mock-ups to help potential future clients visualize their own marketing strategies. A diverse, eye-catching portfolio, filled with engaging pitch ideas and catchy campaign concepts would give the Commoot team a great foundation when setting up meetings with potential clients.
To appeal to a diverse variety of industries and organizations, VisualFizz created a series of different visual concepts and strategies that can be customized to fit the unique needs of a specific potential client.
These brand materials came in many shapes and forms, but a favorite among clients were Commoot's branded business cards. In addition to the brand name and all the pertinent information, the cards featured a transparent screen that, when placed over the prospect's business card, would show their logon on the advertising truck.
To appeal to a diverse variety of industries and organizations, VisualFizz also created a series of different visual concepts and strategies (pitch decks) that were customizable to fit the unique needs of a specific potential client. The versatility of these designs enabled Commoot to tailor campaign pitches to provide a greater impact and a more successful outcome.
Website Development
No brand is complete without a fully functional, dynamic, branded website with user-friendly funnels, and conversion-focused landing pages to ensure full optimization. VisualFizz
developers also provided training/education to manage the website, hosting and maintenance.
Social Media
A critical component in the success of any full-service digital marketing campaign is a well-rounded social media strategy. By nurturing a community around the Commoot brand on social channels, the VisualFizz social media experts were able to provide a branded experience that conveys the compassion, professionalism, and authority of the Commoot brand and its team of expert out-of-home marketers.
This was made possible via a balance of promotional messaging on social media that aligned
with the research and information gathered from the target audience. For maximum reach, we also boosted important social media messaging (with a small advertising budget) to maximize reach and ensure that Commoot's message was received by as many social media users as possible.
Results: In-Process
The outcome of the Commoot-VisualFizz partnership is postponed until further notice. The drastic effects of the COVID-19 pandemic on the trucking industry (on which Commoot's technology depends), as well as budgeting toward, has put the concept on hold. Beyond that, the Commoot technology team discovered that the technology-portion of the business requires data capacity beyond their current capabilities due to data-streaming limitations from major service providers.
Only time will tell if the marketing industry can catch up with Commoot's revolutionary advertising concept. As for the results of the Commoot-VisualFizz partnership, the quality of the brand, and its message will stand the test of time. Don't wait to launch your innovative idea. Contact VisualFizz today to get started on a launch strategy.