The Problem
Toyota needed a quick turnaround on creative work to share a new car release with regional dealership.
The Solution
Create a presentation that would wow the team and get the excited about the new 2019 Avalon.
The Result
A Visually engaging deck that used storytelling to sell the product, completed on a tight schedule.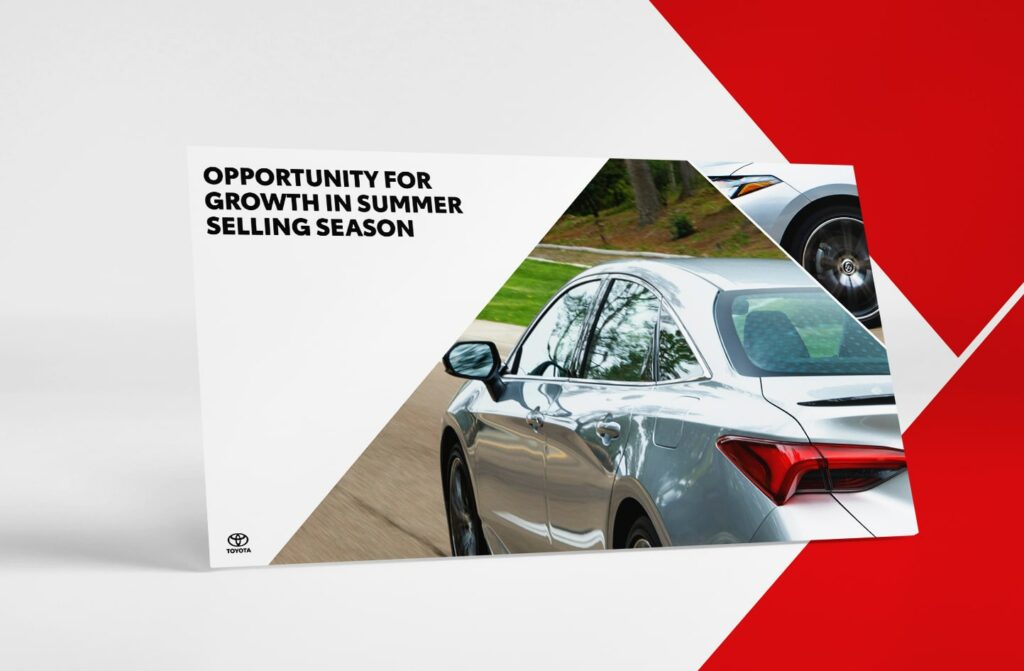 Overview of The Brand
Toyota has been a leading auto brand in the US for decades. However, despite record low unemployment and a growing economy, the midwest auto market is sluggish, and Toyota hasn't been the only car manufacturer to see sales lag. Toyota wanted to revitalize their sales field and dealership owners at a training conference where they introduced 2019 vehicles. However, shifting timelines and regional differences between dealerships meant they didn't have a presentation ready for the conference – and the date was quickly approaching.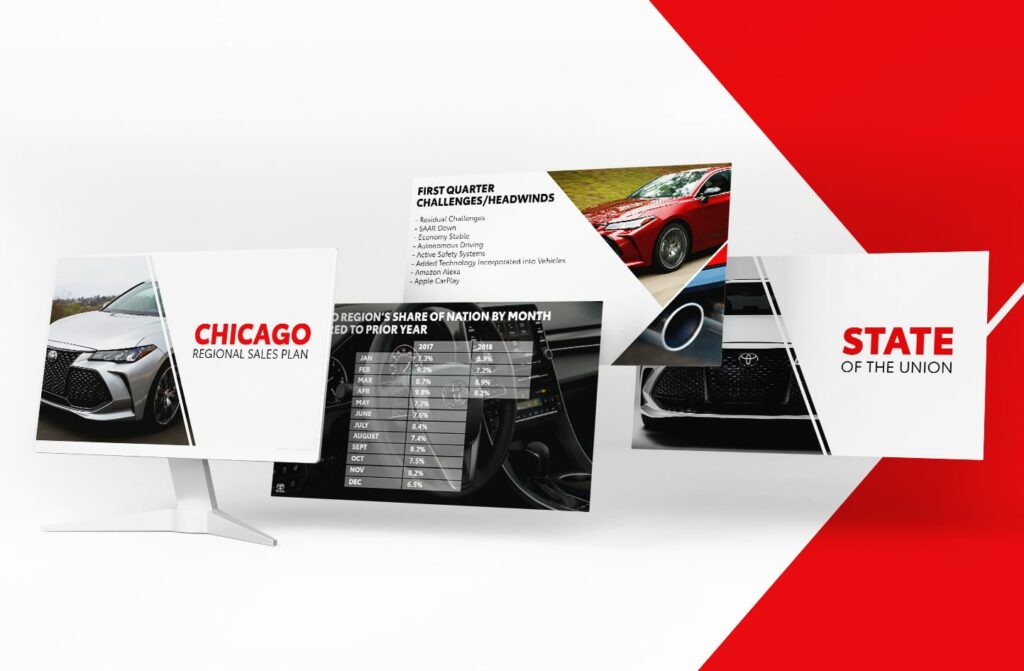 The Partnership With VisualFizz
Toyota came to VisualFizz with a request to build the presentation that would introduce the 2019 Avalon to dealership owners. VisualFizz worked on an extremely condensed timeline, and was available to react and redesign slides based on real-time feedback. Toyota was looking for creative guidance on the feel of the deck, and strategic thinking around how the content would flow. VisualFizz concepted a deck that worked within the Toyota brand, but pushed the boundaries on graphics and typefaces. It was extremely important to make sure the presentation was engaging and would excite the sales field, as well.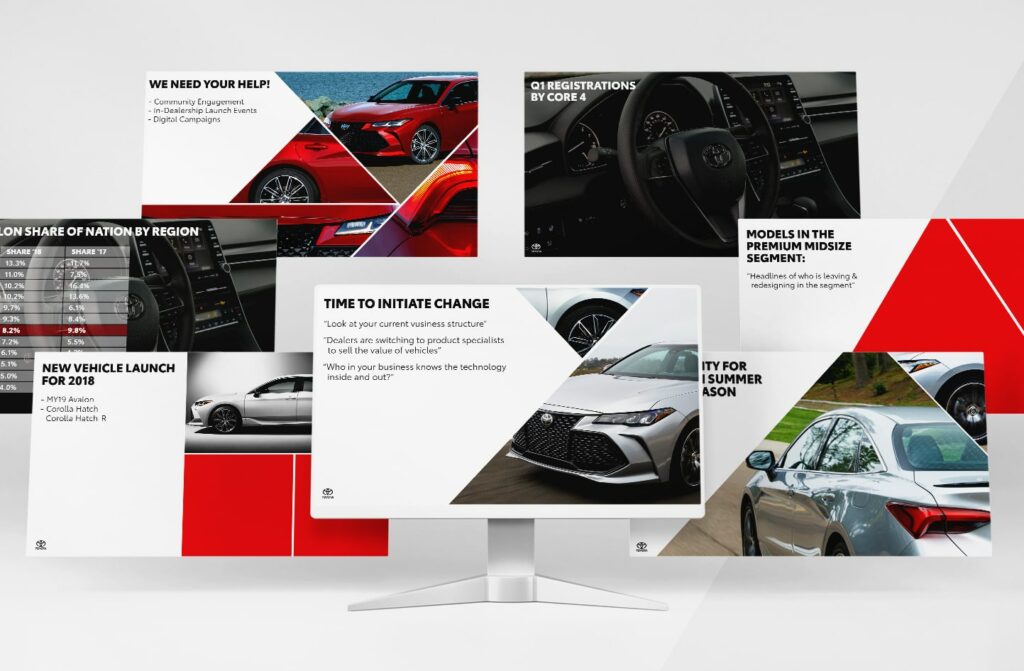 A Custom Tailored Solution
VisualFizz created a deck that incorporated positive press, bold graphics and strong design to help guide the conference and ensure a lively discussion. A key part of the project was getting the work done on time, and reacting immediately to feedback. The end result? The deck was drastically different from anything that had been used at a conference like this before, and got a great response from the team.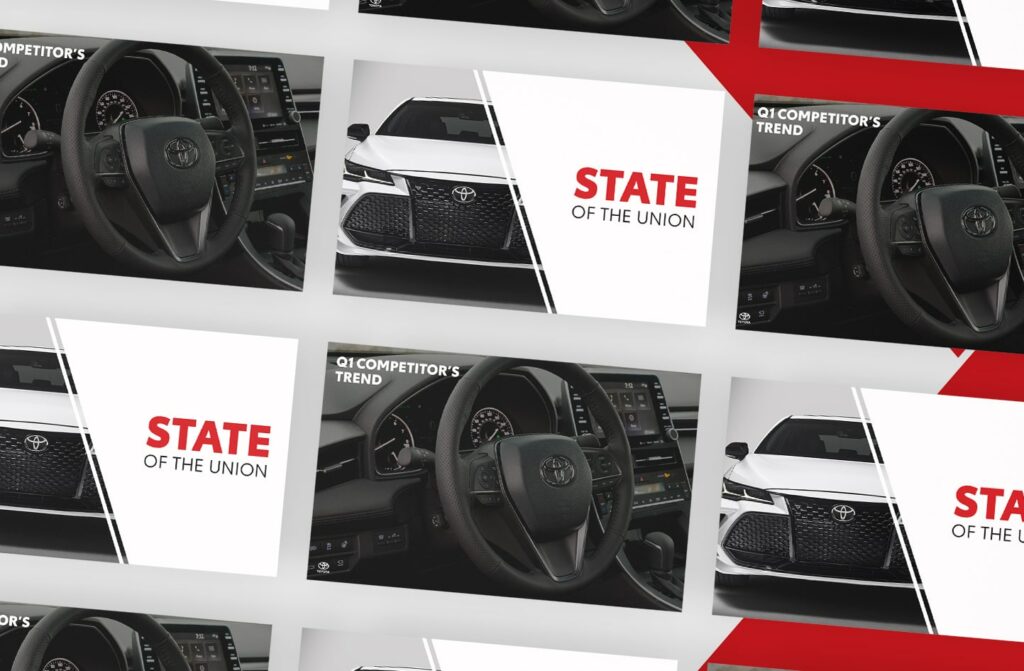 The Result?
The regional Toyota team informed us that the presentation went very smoothly and received a number of comments of how well the new, updated presentation looked. They were also very pleased with the speed and flexibility of our agency, as they wanted to step away from their agency of record for this project.