The team at Ivy Hall was far from "green" in the cannabis space when we met them. With years of industry experience under their belt, they wanted to launch a different kind of experience — a "sensory dispensary" that flipped the notion of a cold, sterile cannabis store environment on its head.
VisualFizz partnered with Ivy Hall prior to the launch of the first dispensary store to design and develop a beautiful, on-brand website and also ensure the grand opening was a success. This portfolio case study covers the website build and launch support services rendered for Ivy Hall.
About Ivy Hall Dispensaries Partnership with VisualFizz
Ivy Hall is a brand of dispensaries carrying a variety of cannabis, THC, and CBD products at its multiple locations throughout Chicago and Illinois. Sixty-one percent of Ivy Hall is Black-owned, and the company's social equity license was one of the first two issued by the state of Illinois in an important step for Black business owners in the industry. Ivy Hall co-founder Nigel Dandridge, a cannabis industry veteran, applied to be the social equity licensee for Ivy Hall. He also serves as its chief strategy officer.
When Ivy Hall came to us, they had brand guidelines to use as a north star for the look and feel of their marketing materials, but they hadn't yet translated those guidelines into many tangible digital properties.
We partnered with the Ivy Hall team with the goal of building a dynamic and beautiful website that spoke to the existing brand guidelines while bringing them to life in exciting new ways. We ensured that all digital assets created would be cohesive with Ivy Hall's physical stores that would eventually open.
Ivy Hall also came to us to help support their Chicago location's grand opening with email marketing, social media support and in-store environmental signage.
Services we provided for this project include design, content writing, web development, social media and local marketing.
Design and Development of a Best-in-Class Website
With a brand new brick-and-mortar store opening soon after we began work with Ivy Hall, the functionality and first-impression design of the new website was critical to its success.
VisualFizz aimed to create an unbeatable digital experience through a modern, clean, and highly functional website. But more than that, the organization's website needed to evoke an emotional response — one that echoed the inviting calmness and undeniable cool factor that customers are meant to feel when walking into an Ivy Hall storefront.
With this first iteration, goals of the website build included:
Generate online orders for in-store pickup
Build the base for their membership club
Increase awareness of Ivy Hall
Differentiate against competitors with a unique brand, style, and approach to dispensaries
We provided brand strategy, design, landing page copywriting, and web development services to reach these goals, creating a stunning, easy-to-use, mobile-optimized website that will be able to evolve and expand as the company does.
Web and UX Design for Dispensary Brand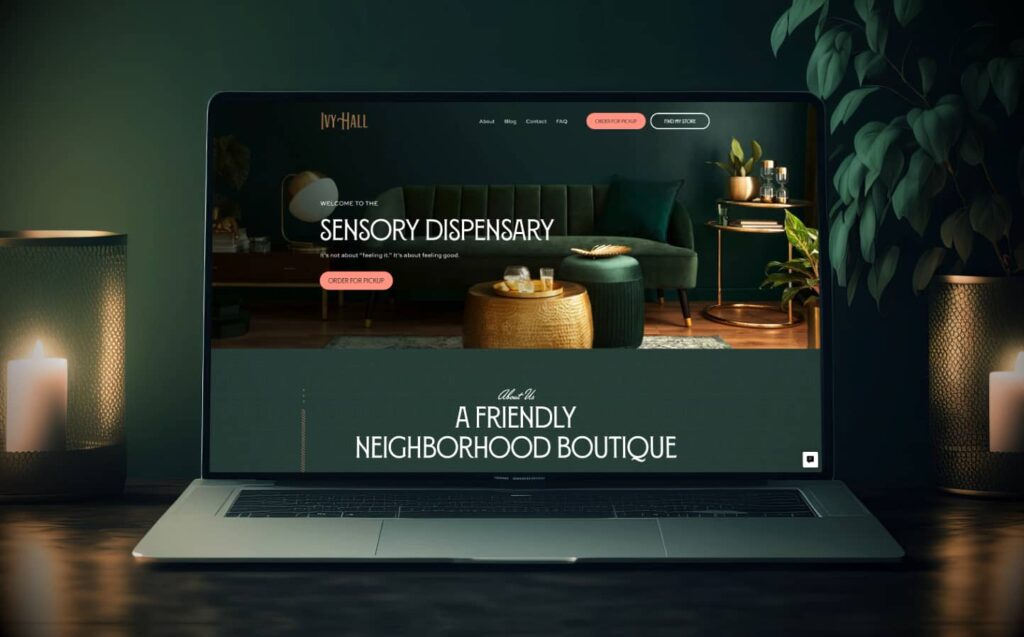 VisualFizz provided full Web Development and UX Design services for the Ivy Hall website. Some highlights include:
Sophisticated design – Up-to-date with the latest design trends and featuring both eye-catching and subtle elements that speak to the brand guidelines and Ivy Hall's cannabis offerings
Prominent CTAs & icons – These allow for easy access to product/purchase/pickup information and social media pages
Clear navigation – It's easy for customers to find exactly what they're looking for Adaptable layout – It will be a straightforward process to add new pages/content to the site as needed
Interactive elements – On page titles and imagery, these interactive elements create dynamic movement and lend an air of sophistication to the site
Prominent club membership sign-up – We knew this was a priority for Ivy Hall, so we incorporated a signup section on most pages
Copy Writing and Landing Page Content Creation
With the language in the brand book that Ivy Hall provided as a starting point, we crafted copy for each web page. Nailing the brand voice was important here, as Ivy Hall aims to come across as sophisticated and high-end while at the same time being warm, welcoming and approachable.
We wrote each page with their voice in mind, keeping it "timeless, not old-timey" as outlined in their communication pillars. The outcome is a site with some serious personality, all while putting the user at the forefront with clear calls-to-action and easily digestible chunks of content.
FrontEnd and BackEnd Web Development
We worked diligently and under tight timelines on the development of Ivy Hall's website. Some highlights include:
Custom WordPress theme – Built from scratch to meet Ivy Hall's design and functionality needs
Mailchimp integration – Forms send data to Mailchimp to manage email campaigns
Custom age gate – Asks if you are 21 or older, otherwise directs you to leave the site
Customized Google map – Made with custom design and markers
Full quality control – Because we partnered so closely with Ivy Hall, we were able to deliver a quick turnaround on development of individual pages and a quick turnaround on QA, both pre- and post-launch of the site
3-2-1, Liftoff: Supporting the Brick-and-Mortar Store Launch
With Ivy Hall's grand opening fast approaching, VisualFizz quickly got to work creating multi-channel digital campaigns to drive interest with customers — and follow up with them after launch. We also had the opportunity to create both print and digital environmental materials for the physical store.
Digital Marketing Support
Videos
We created two videos, including footage capturing and editing for both. One showcases the grand opening, including beauty shots of the store, ribbon cutting and speeches. The second video is a sizzle reel for social media featuring enticing visuals of the store and its product offerings.
Email Marketing Development and Email Copywriting
VisualFizz designed, wrote, developed and deployed an email marketing strategy for Ivy Hall that included two campaign elements: An invitation email for the grand opening event and a reminder email to come visit when Ivy Hall was newly open.
Performance of both emails was notably positive, with benchmark metrics exceeding expected open rates and click-through rates:
Invitation email metrics: 72.7% open rate, 41.3% CTR
Reminder email metrics: 67.6% open rate, 13% CTR
Social Media Graphic Design and Social Media Brandind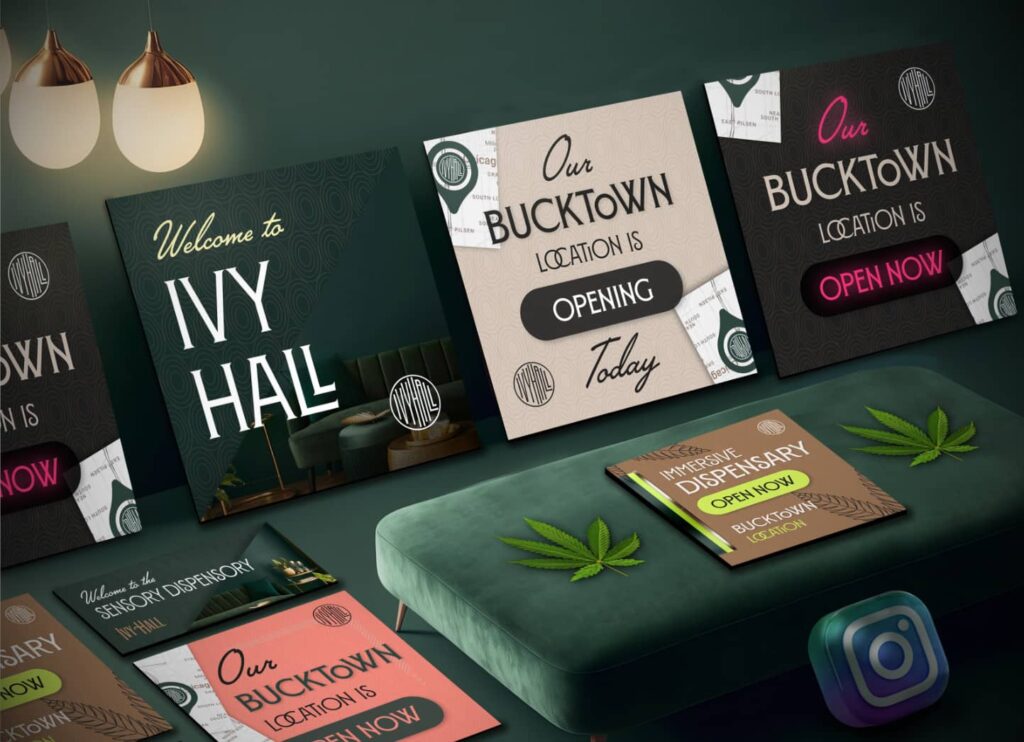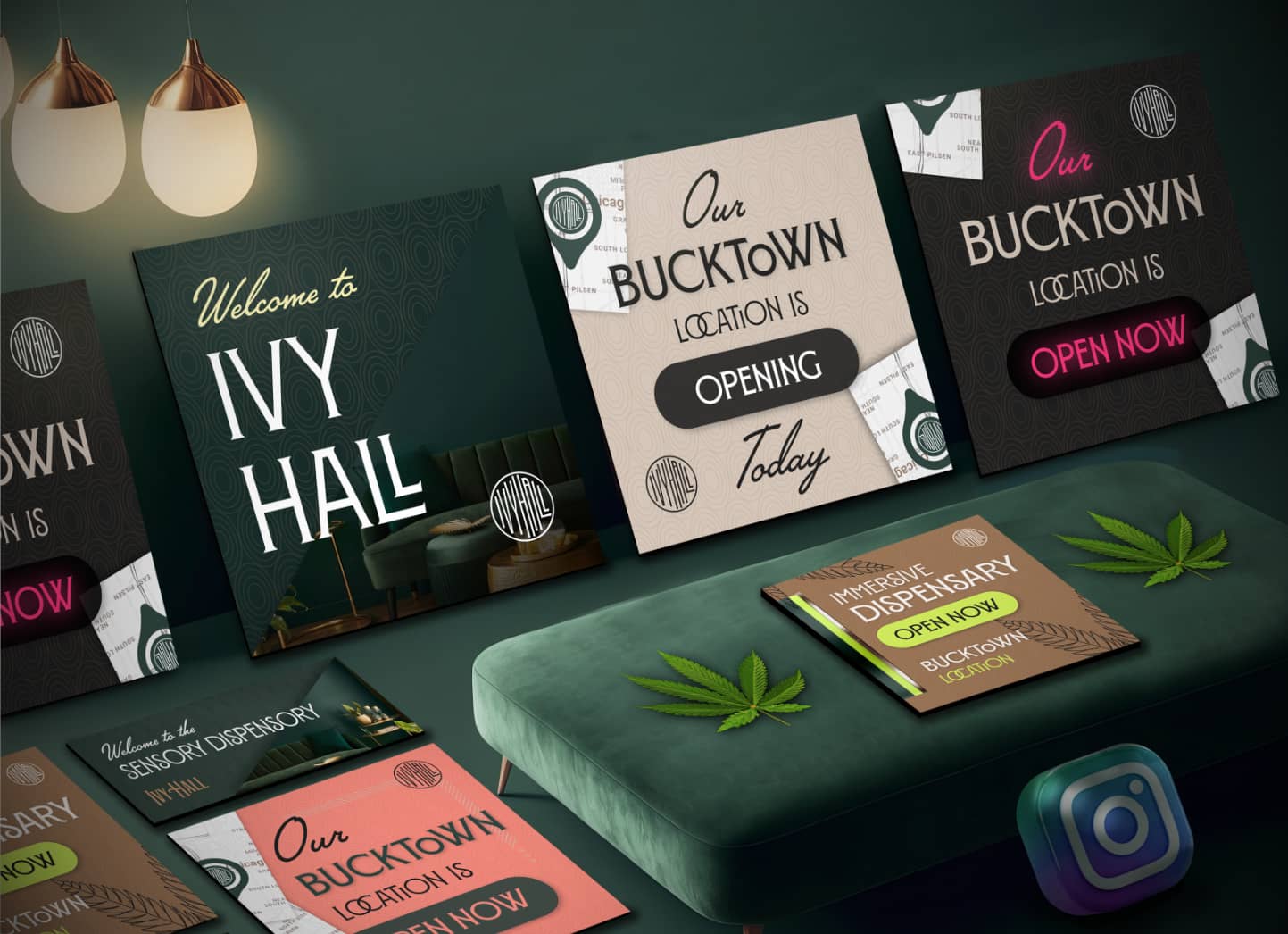 VisualFizz designed a social media strategy for Ivy Hall to share its branding across two major social platforms: Facebook and Instagram.
VisualFizz created and optimized a Facebook page for Ivy Hall, adding hours, about info and details and designing cover photos and profile pictures
VisualFizz optimized Ivy Hall's existing Instagram profile and created a series of posts & stories to promote the grand opening
Overall, VisualFizz designed a look and feel that is visually cohesive with the new website and created posts that elevated the brand's reach, engagement, comments and clicks to the website.
Notable Social Media Metrics:
1,100% increase in reach week over week
2,000+ profile visits in 7 days (a 698% increase week over week)
In-Store Signage Design and Brand Identity
Ivy Hall also needed some support for in-store materials to coincide with their launch. Our designer worked on a tight timeline and with challenging brand guidelines to produce multiple high-quality iterations of the following:
Digital menu/promotion boards – Eye-catching and easy-to-read visuals displayed on 75" TV screens throughout the store
Product cards – Customizable and able to be printed out to display with products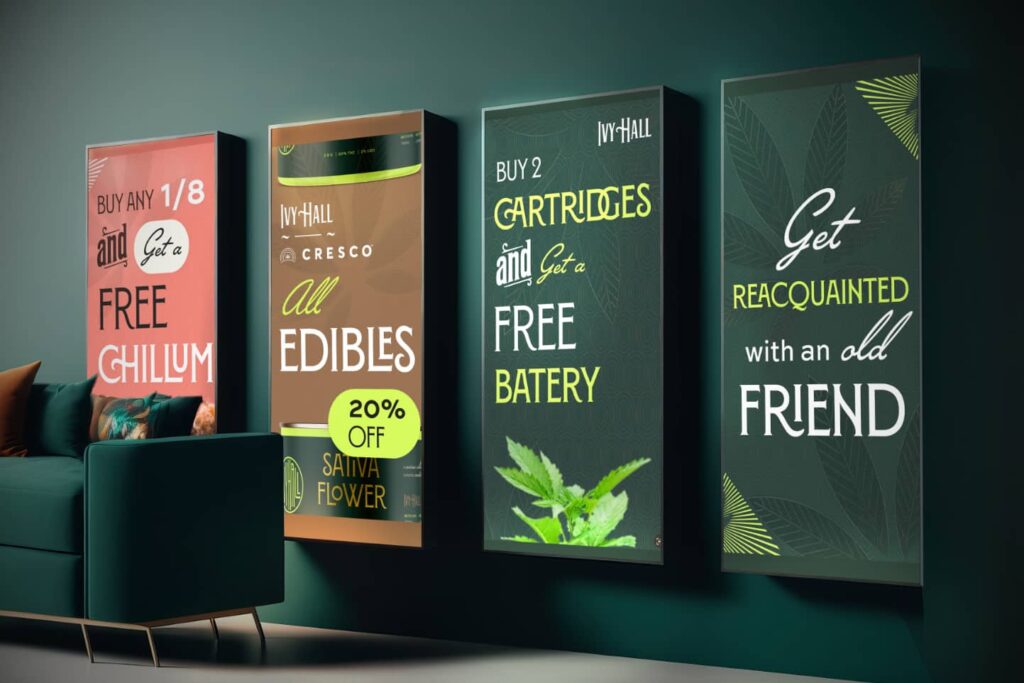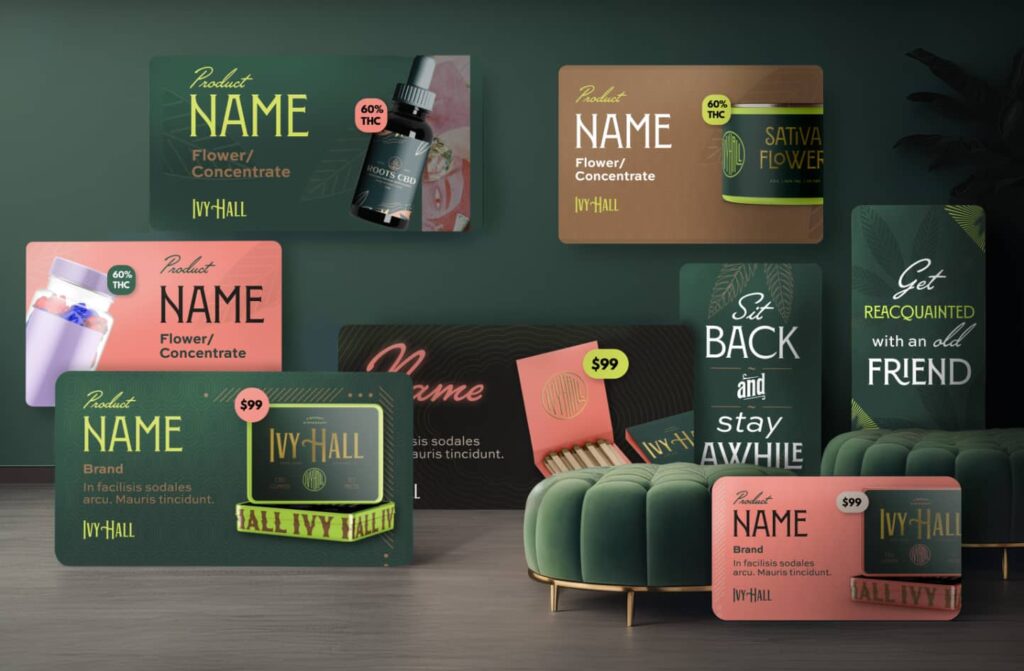 VisualFizz: Buds with Ivy Hall
VisualFizz continues to partner with Ivy Hall on its digital marketing efforts. We can't wait to see what's in store next for them!
Launch Brands the Right Way
Need a new website or help launching your product, brand or store? Drop us a note below. Let's start a conversation about how we can help your business achieve its goals!