Spiro Behavioral Medicine came to VisualFizz looking for a way to not only offer their services to patients in need, but also build awareness for psychological care, and challenge the misconceptions surrounding mental health and fertility treatment. The VisualFizz team achieved client goals and more with a combination of:
Branding & Design,
Conversion-Centered Web Development,
Social Media Strategy, and;
Content Calendar Creation.
In this digital marketing case study we discuss our approach in detail, and outline the digital marketing actions we took to not only achieve client goals, but also drive engagement and provide meaningful ROI for Spiromedicine.com.
Partnership With VisualFizz
Spiro came to VisualFizz looking for a platform to offer their patients the mental health and fertility services they need, and a strategy to build brand awareness, recruit therapists to their network, and challenge the misconceptions about fertility treatment and mental health care.
The team at VisualFizz would provide targeted, expertly crafted branding and marketing guidance, as well as brand strategy and design that portrays the Spiro company, brand and services in a positive, trustworthy light.
The partnership would also include a commitment by VisualFizz to develop the Spiro website, content calendar and social media strategy. Together, these items would act as lead generators and information centers for potential patients to gain familiarity with the Spiro brand before they proceed with therapy.
Develop Brand Guidelines and Branded Media
Phase one of the partnership with Spiro Behavioral Medicine included the development of brand guidelines, with extra emphasis on the correct voice and tone.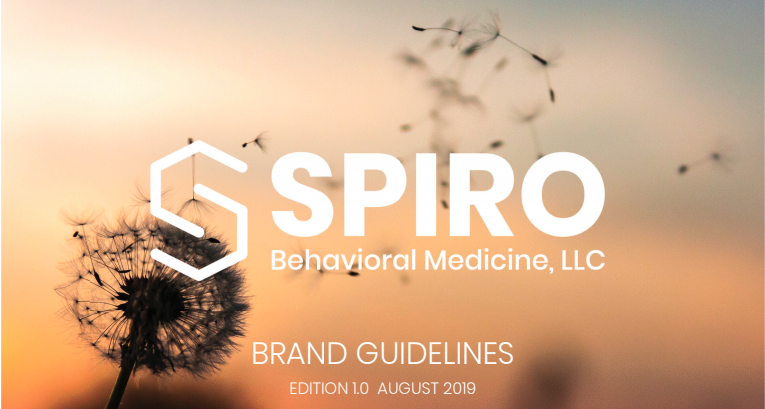 It was at all times critical that Spiro's brand voice not only convey warmth and compassion, but also professionalism, and a serene knowledge of symptoms, diagnoses, and the various courses of mental health treatment.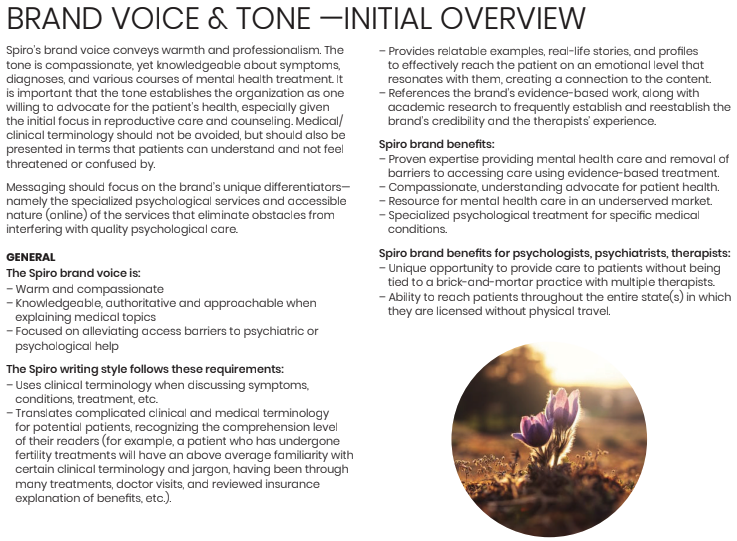 Logo Creation and Color Treatment
The VisualFizz team was able to draft up and design a series of unique logo options for Spiro, based on the initial brand research and discussions the teams had together. The goal, for the Spiro team, was to combine a mix of 'connectivity', 'science', 'playfulness', and 'professionalism' into one logo. Upon a few iterations and discussions, we were able to finalize our logo and color treatment for the brand.

Produce a Conversion-Optimized Website to Boost Marketing ROI
Phase two of the Spiro-VisualFizz partnership focused on the creation of an effective, conversion-centered online strategy to generate the highest conversion rates for the target market. After CTAs were determined for each campaign, development began on user-friendly funnels and landing pages that would ensure full website optimization.
Drive Engagement With Human-Centered Social Experience Management
Arguably, the most crucial component to the success of any full-service digital marketing campaign is a well-rounded social media strategy. That was certainly the case with the Spiro campaign.
By nurturing a community around the brand on social channels, the VisualFizz team was able to provide a branded experience that conveys the compassion, professionalism, and authority of the Spiro brand, and it's team of practitioners.
This was made possible via a balance of promotional messaging on social media that aligned
with the research and information gathered from the target audience. Important social media messaging was also "boosted" to ensure that Spiro's message was received by as many social media users as possible.
For advanced social media advertising and promotions, the VisualFizz team utilized Cost per Click campaigns, as well as boosted posts on Facebook, Instagram, and other social media channels. Retargeting strategies were also utilized to encourage those who have visited the website before to return. Branded landing pages were also shared across social media channels to encourage users to visit the Spiro website and become patients.
The Results: A New Website and the Authority to Change the Way We Access Mental Health and Therapy Support
The result of the Spiro-VisualFizz partnership is the fully-functional, conversion-focused Spiromedicine.com, enabled with a state-of-the-art, web-based platform that mimics an in-person, individual psychotherapy session without the hassle or expense of travel to an appointment.
Spiro received the support they needed in order to see their entrepreneurial efforts come to life as a real-life brand focused on helping others. This was an enormous accomplishment for the founders, as they were able to branch out of their current roles and build something from scratch with the VisualFizz team.
Most importantly, the Spiro-VisualFizz partnership enabled the Spiro brand with an image, a voice, and the authority to change the way people access specialized
mental health and therapy support.
Did you like what you read here? Contact VisualFizz today to see what our web development and design services can do for your business.
Client Quote: [VisualFizz] have been a pleasure to work with as we launch our company! They are creative, knowledgeable, responsive, and invested in understanding our vision and delivering stellar products. They have been a fantastic partner and we will definitely use them for all future services.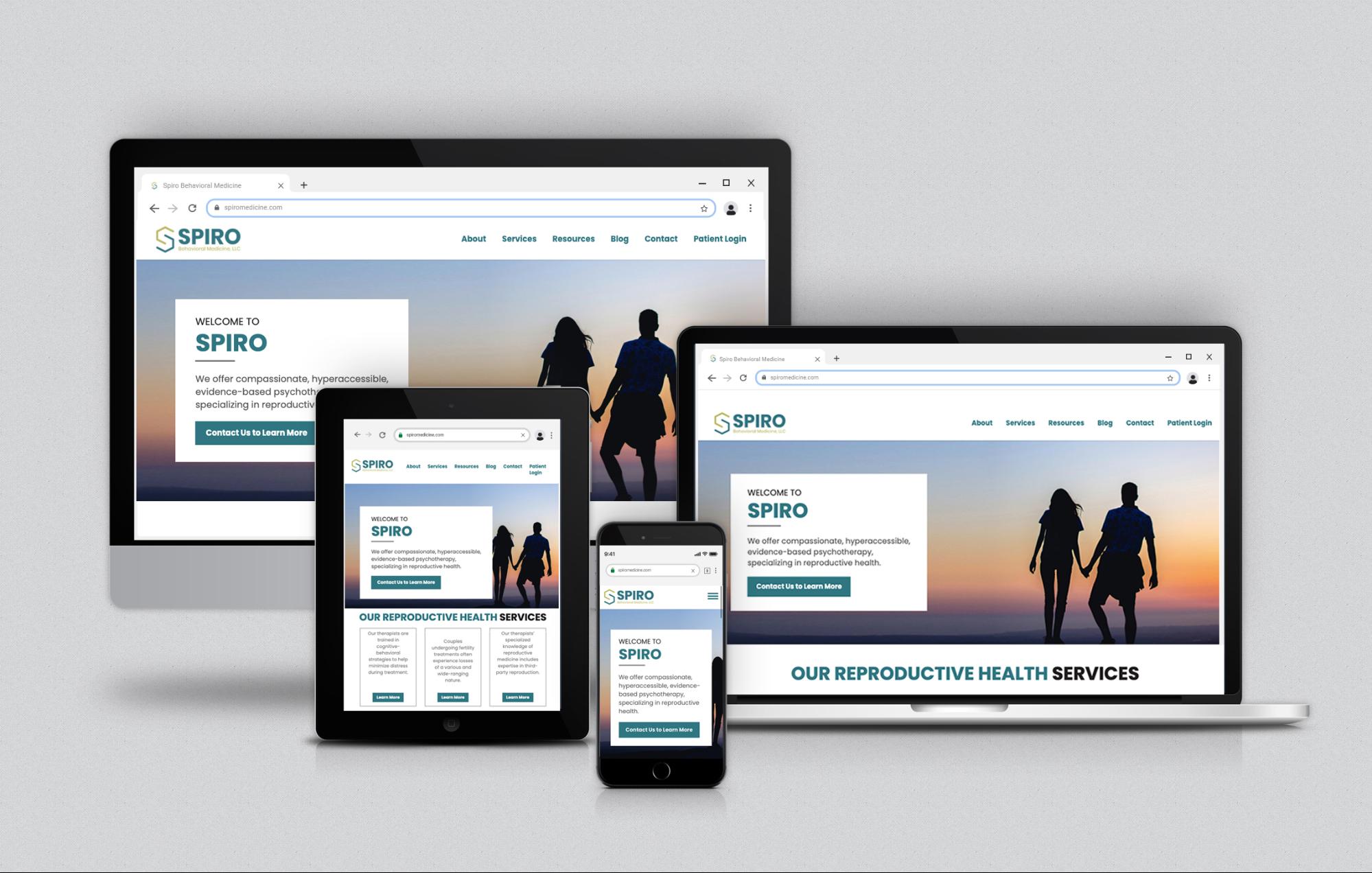 The Solution
Develop brand guidelines and branded media to better align the Spiro brand amongst all team members and stakeholders.
Produce a conversion-optimized website to boost marketing ROI and make branded strategies more effective.
Drive engagement and conversion via an informative, human-centered social media experience.
The Result
The results of the Spiro + VisualFizz partnership are twofold: 1. A fully branded, consistently scheduled, and relevant social media experience designed to drive engagement, increase conversions and provide meaningful ROI for the organization. 2. A fully functional website that enables Spiro to offer compassionate, hyperaccessible, evidence-based psychotherapy and consultation related to infertility and other reproductive concerns.