Phoenix International Publications (PI Kids) is a Chicago-based children's publisher. Their mission is to foster a lifelong pursuit of literature with engaging, and educational books for young readers. The only thing standing in the way of that mission was their outdated website.
In this case study, we discuss our web development approach to this unique web development project, and outline the digital marketing actions we took to drive engagement and provide meaningful ROI for PI Kids.
Web Development For Children's Book Publisher
As one of the leading licensed international children's publishers in the world, PI Kids creates the highest quality children's literature. Together with licensing partners Disney, Nickelodeon, and Sesame Workshop, they have worked to interlace beloved characters with charming illustrations, activities, sounds, and songs for over three decades.
Their award-winning stories and eye for digital advancement provide a unique interactive reading experience that will delight any child, and inspire a lifelong love of reading for the whole family.
To support their drive for digital advancement, PI Kids turned to VisualFizz for web development and social media management. As fellow Chicagoans, and advocates for high quality children's literature, we were happy to accept the challenge.
Phoenix International Publications Inc – VisualFizz Partnership
The PI Kids project has all of the mechanics of a standard web development build, i.e., sitemap, wireframe, content creation, visual elements, etc.. But it also highlights the importance of site categorization and the user experience in web development.
The Challenge: How to Appeal to Different Audiences
The unique challenge presented by the PI Kids web development project was how to optimize the website for different users. Young readers and their parents shop for children's books in different ways. Some shop by brand name (Disney, Nickelodeon, Sesame Workshop), others shop by the child's age, and some like to bundle categories together.
To meet and exceed PI Kids expectations for their website, VF's expert project managers outlined a multi-facet strategy focused on web development and full social media management. Additional budget was allocated to a site maintenance package, SEO improvements, content creation, and unique marketing campaigns.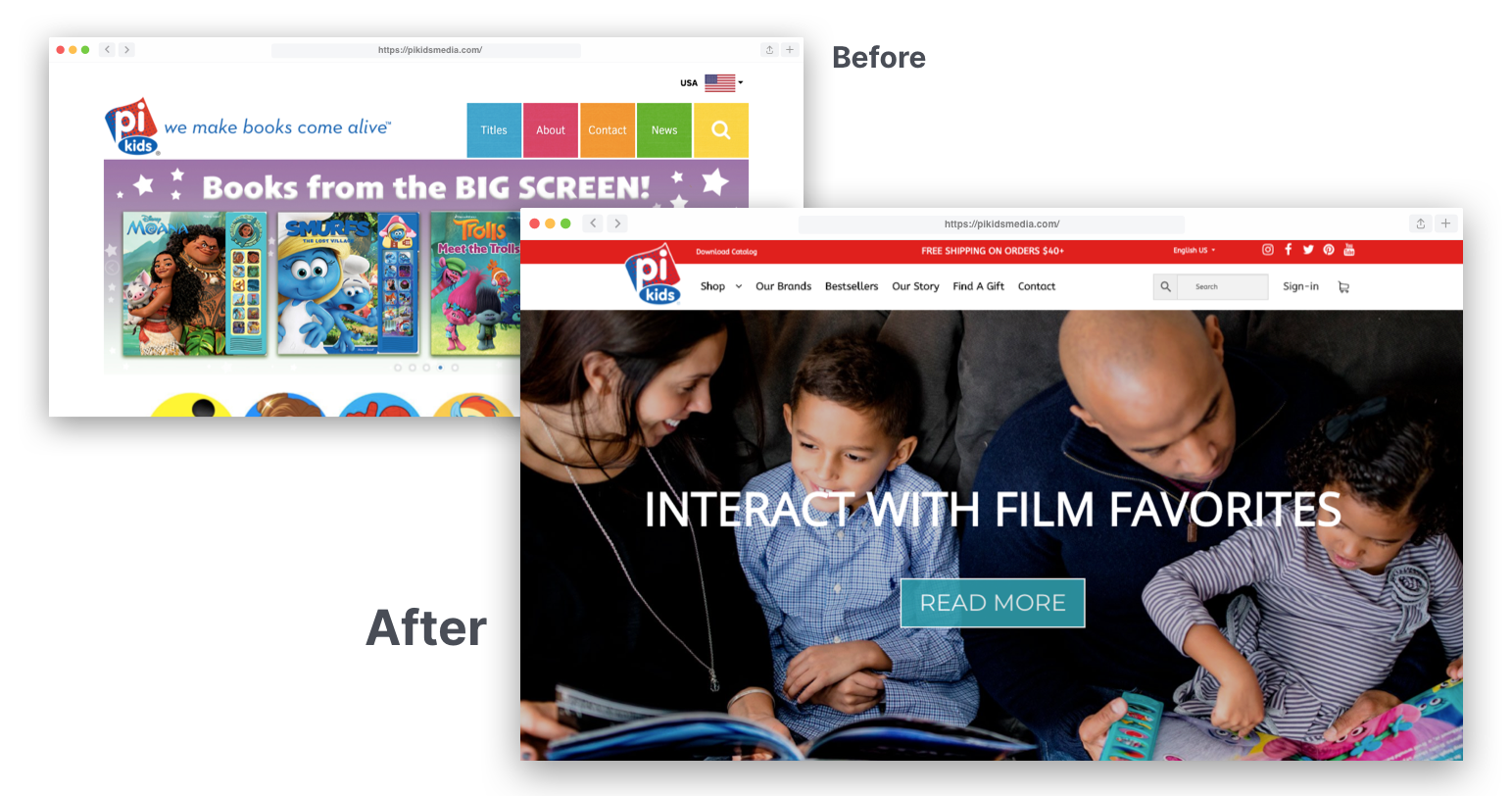 The Solution: A Conversion-Optimized Website
PI Kids already had a website. Unfortunately, the clunky user interface and category structure meant that customers often left the page before completing the transaction and making a purchase. Beyond that, the PI Kids team was ready to sell their books direct to consumers through an e-commerce platform built into their website. Though they value their relationships with their distributors, they had seen success via their Amazon channels and wanted to incorporate on-site sales as an additional revenue stream.
Fortunately, our team of skilled developers and web designers recognized the lag in the site's eCommerce functionality and fixed it with an update to ensure full functionality, including:
Custom Filters and Categories,
Informational Pages,
Dynamic Book-Experience Design,
E-Commerce Capabilities, and
Email Capture.
The next step of the custom web development project was to optimize the site design to better guide customers through checkout. Clear Call To Action buttons and CRO tactics were used to ensure customers would not get lost on their way to make a purchase.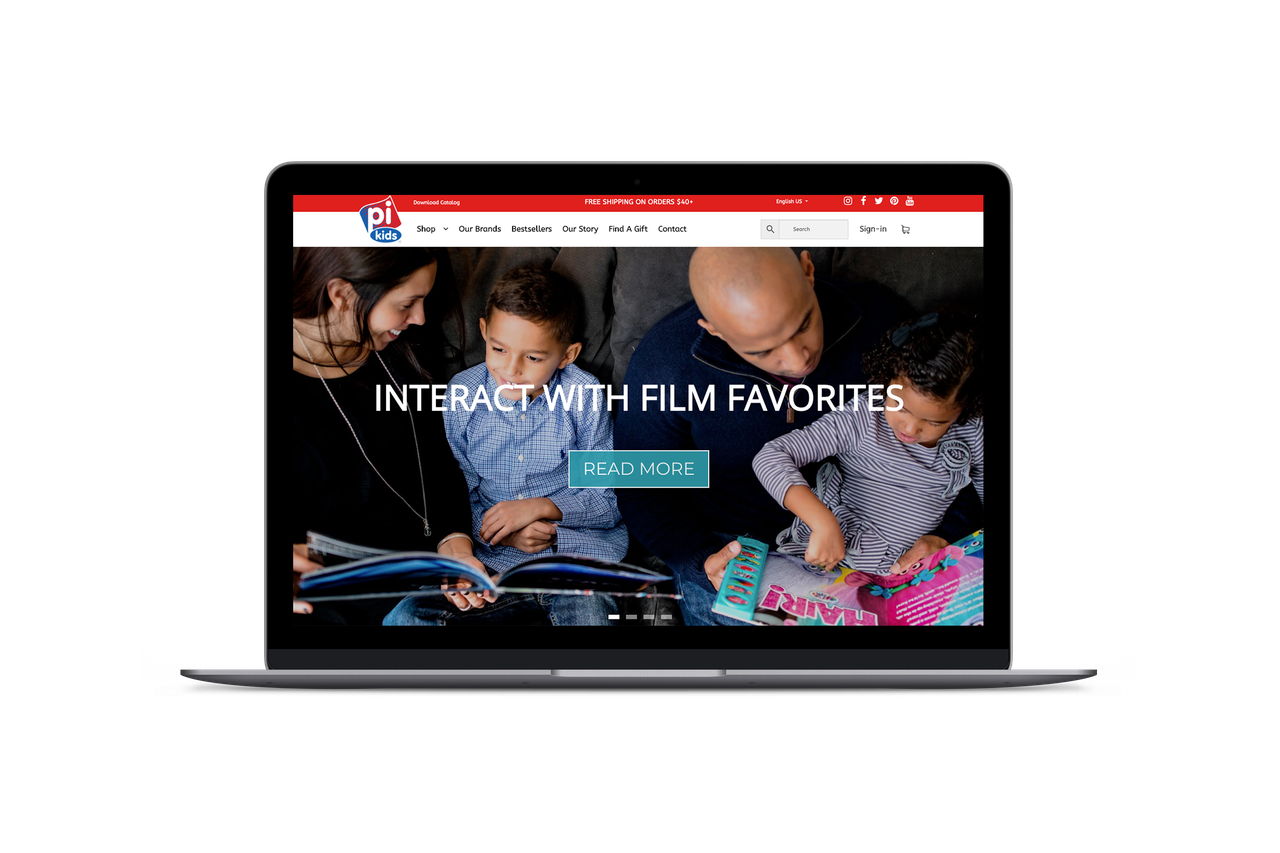 The Result: A New Website. More Sales. A Better Outlook
The result of the PI Kids – VisaulFizz partnership was a new PI Kids website that continues to support their online sales, and improve their visibility among existing and new customers; increase their brand appeal, and drive up awareness of their service offerings and products.
Most importantly, the website now functions in a manner that makes sense to its different users. Children can navigate the site as easily as their parents, and find the brand, character or story they wish to read in a matter of seconds. The new ease of use enables the PI Kids team to focus their creative efforts on the real power behind their success – their amazing literature.
We loved working with PI Kids and would love to work with you. If you like what you read here, we suggest you contact us to see what a VisualFizz partnership can do for your business.