Every company has that one seemingly endless project that everyone resents. You know the one. It's the project that goes on way past the initial deadline and elicits groans and eyerolls from your team. Be it an eBook or a website build, these endless projects eat up valuable resources and make your clients doubt the competency of your team.
Burdened by their own seemingly endless project, the Counselors of Real Estate (CRE) reached out to VisualFizz for support on a website revamp that had already defeated two development companies. As the third company to take on the project, the VisualFizz team was absolutely determined to get it right.
This case study covers how VisualFizz rescued one flailing web development project and then went on to implement strategic changes across additional sections of the CRE website. What started as an "impossible" task blossomed into a multi-phased overhaul that took the CRE's website from unwieldy to polished, professional and user-friendly.
Services provided by VisualFizz include web design, web development, SEO and project management.
VisualFizz to the Rescue: How to Save This Seemingly Endless Web Development Project
The Counselors of Real Estate (CRE) is an international consortium of credentialed real estate professionals who provide expert advice to clients on complex real estate and property-related matters.
They use their website to showcase the credentials of their counselors and pair users with experts qualified to advise on specific real property and land-related matters. Without it, the consortium would have no way of pairing qualified counselors with the right client.
Website Revamp Project Defeats Multiple Development Firms
Despite its importance to the conversion funnel, the user experience of certain portions of the CRE website was challenging, and did more to dissuade clients than it did to convert them. That's bad news considering 42% of users will leave a website if functionality is slow or clunky.
Fortunately, CRE launched a website revamp project to modernize their site and make it easier for users to search and find CRE counselor profiles via a "Find a CRE" section of the website. Their plan to outsource the project to a development firm was a great strategy, as it made sense to bring in experts.
Unfortunately, the development firm they initially chose returned the project after failing to make significant strides. Undeterred, CRE hired another development firm to complete the website revamp, but they ran into similar issues.
After defeating two development firms, the CRE website revamp project had earned a reputation for being challenging and difficult to manage. Frustrated and over budget, CRE reached out to VisualFizz to complete the project.
How to Manage Near "Impossible" Development Projects
Projects with descriptive words like "impossible" or "endless" are common in the digital marketing industry, they're also a specialty of VisualFizz. With a team of experienced developers and designers, there is no project beyond the scope of the agency. That said, it would have been foolhardy to rush into an "impossible" project without a plan.
Step One: Research Pain Points and Identify Challenges
The first step to managing any project deemed "impossible" by the client or other agencies is to research the project to determine its bottlenecks. This includes interviews with the client and the legacy agency (if permitted) to map out challenging areas, and allocate time and resources accordingly. The VisualFizz team was able to work with the previous agency to determine the issues they faced, in order to plan accordingly during the writing of the functional requirements document.
In this case, the VisualFizz team determined that the largest challenge preventing the successful completion of the CRE website revamp was the sheer number of data points (29,000) that needed to be evaluated and uploaded to the CRE database.
Step Two: Allocate Talent and Resources to Address Challenges
After diagnosing the issue as project-management related, it was easy enough to allocate project managers and developers to the project. Yet, therein lay the project's first pitfall. Unlike similar development projects, the CRE website revamp project required specialty developers with experience managing large data sets.
Fortunately, the unique makeup of the VisualFizz development team ensures that the right developer is always on hand to lend their specialty expertise to any project. VisualFizz project managers are also the best at what they do, allocating talent, time and resources to the benefit of the project and the client.
Step Three: Determine Functional Requirements and Execute on Development Plan
The next step in managing an "impossible" development project, like the "Find a CRE" section revamp, is to determine the functional requirements of the website and develop a plan to meet those requirements.
In this case, the project required changes to search and filter functionality, member profile updates, a homepage redesign and visual designs. Mobile-friendliness was must, as the client had determined that the site would be viewed regularly on multiple devices.
The project manager discussed functional and technical prerequisites with both designers and developers in order to create a unique recognizable design and a solid development plan. Once this was complete and designs were accomplished, the only thing left to do was to execute on the plan.
VisualFizz Solves "Impossible" Problem for Satisfied Client
The development plan to revamp the "Find a CRE" section was highly technical and incredibly detailed, including things like:
UI Display Changes
Very large database restructure and redevelopment
Gravity forms
Auto-pulled publications, and
Visual designs changes to the homepage.
Fortunately, VisualFizz developers are incredibly talented and able to execute on even the most challenging development plans. Ultimately, the success of the project came down to project management, i.e. the VisualFizz team's ability to juggle the technical requirements of the website with the excruciating attention to detail needed to sort and upload more than 29,000 data sets.
Turn Impossible into Accomplished with VisualFizz
Needless to say, the Counselors of Real Estate (CRE) were incredibly happy with the results of the project. Thanks to VisualFizz, the website revamp that had defeated two prior development firms was completed with little fanfare or management from the client, which is the ultimate goal of every project.
Client Testimonial
"We recently completed a huge, complex project where VisualFizz revamped the Member Search feature. VisualFizz was extremely responsive to our needs, working within our limited budget and time frame for completion of the project. They were at an extreme disadvantage as our previous vendor did not provide thorough documentation on the back end of our website. VisualFizz simultaneously built out the Search feature while creating documentation on our site for future projects. We are very happy with the end results."
The Project Scope Expands
After the VisualFizz team proved its mettle with the "Find a CRE" project, the client then asked the team to improve the Real Estate Issues® and Membership sections of the CRE website.
Streamlined News & Insights Page
Real Estate Issues® (REI) is a thought leadership forum for real estate leaders, with a primary audience of current members. CRE wanted this section of the website to function like a hybrid blog and news publication outlet, so it needed to look polished and professional and be easy to navigate.
VisualFizz created the following for the REI section of the CRE site:
REI main page – A clean, easily scannable main page that houses articles and allows users to browse by category or use the search bar to find content
Article template – A visually appealing article page with prominent images, easy-to-find key information (volume, issue, date, author, etc.), and a layout that allows for additional content blocks, such as charts or graphics
The new REI section cements the CRE website as the premier source of news, innovation and insights on all things real estate.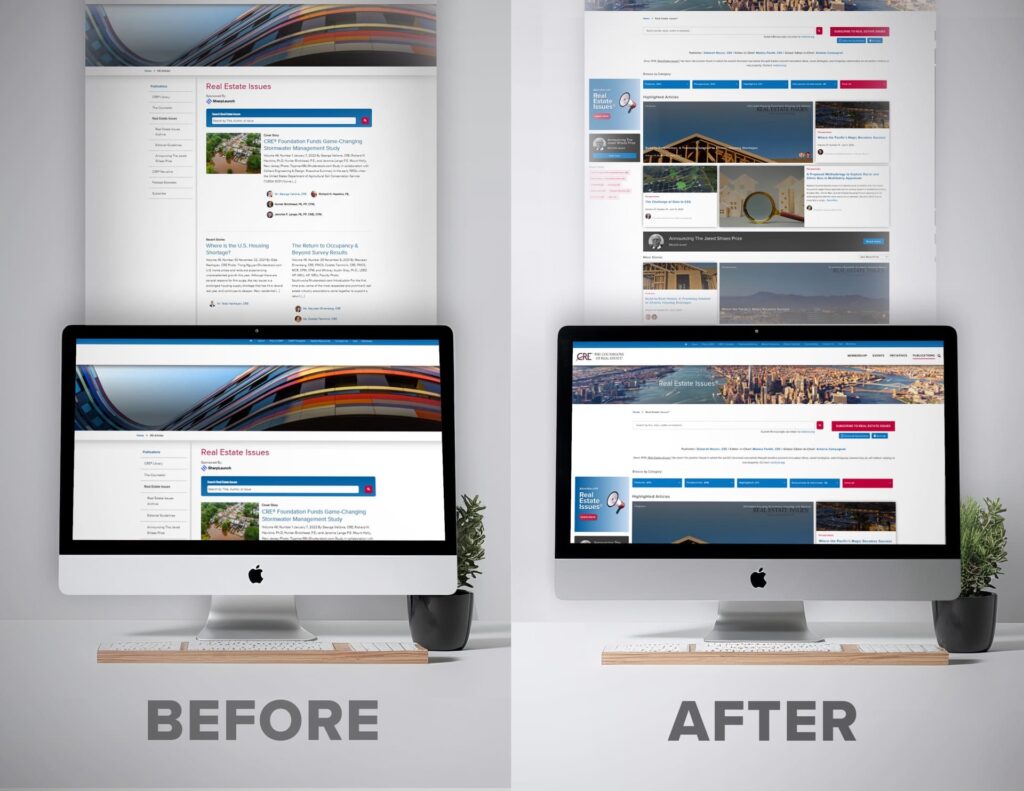 User-Friendly Membership Section
Prospective and new members are a key population for CRE. Information for this audience must be easy to find, navigate and digest.
The previous Membership page and associated sub-pages were not cohesive from an organizational or design standpoint, so CRE asked VisualFizz to help restructure and refresh these pages.
VisualFizz made the following changes to improve the user experience and functionality of the Membership section of the CRE website:
Streamlined navigation to reflect the desired user journey
Designed and developed a main page and sub-pages with a clear hierarchy to help users find exactly what they need
Audited content, combining and/or updating as needed to fit the new page structure
Optimized the content for SEO, ensuring that areas where information was combined did not have a negative impact on SEO
The new, highly visible Membership section is clear, easy to use and search-engine-friendly. It will serve as a template for future content overhauls for CRE.
Turn Impossible into Accomplished with VisualFizz
If you're struggling to manage a website development project or tired of dealing with your own "impossible" project, then contact VisualFizz today. Their talented team of developers, marketers and project managers will wrap up those troublesome projects, so you can focus on growing your business.