To keep a Non-Profit like One Hope United funded and operating smoothly takes a community. Helping would-be do-gooders seamlessly donate their time and money is an important and ongoing challenge. In previous years, during the holiday season when most people do their gift-giving and donating, One Hope United collected physical items, like clothes and toys, to distribute to the families they worked with. But a few years ago, the organization realized they had a chance to make a bigger impact by collecting funds for their year-round programs during this holiday season.
A Deeper Look Into The Project
Utilizing marketing strategies during the holiday season is a stressful undertaking for most businesses. Fundraising during the holiday season was even more challenging for One Hope United since most people prefer to give tangible gifts rather than donating cash. OHU decided that they needed to pair physical 'gifts' or benefits to each donor's monetary gift to attach the same emotional connections to the donations as traditional gift giving.
One Hope United decided to launch a virtual Wishbook, where rather than donating a lump sum, donors could visualize what their money would fund. For example, $75 bought a new interview outfit for a teen's first job. $50 purchased room decor for students in residential housing. $30 covered GED testing costs. Attaching a tangible item to each donation helped the donor create an emotional connection to their giving, and often encouraged them to give more. There was even an option to purchase the entire Wishbook for $1000, which many parishes, corporations, and individuals participated in.
Landing Page Web Design and Development
VisualFizz knew One Hope United already had a strong donor base, but the clunky user interface and outdated brand voice on the donation page meant that donors often left the page before completing the transaction and purchasing a Wishbook item. VisualFizz recognized that the bounce rate on the Wishbook landing page was very high, and decided to execute an entire redesign. The team started the project with a rapidly-approaching, strict "end date" in mind – Giving Tuesday.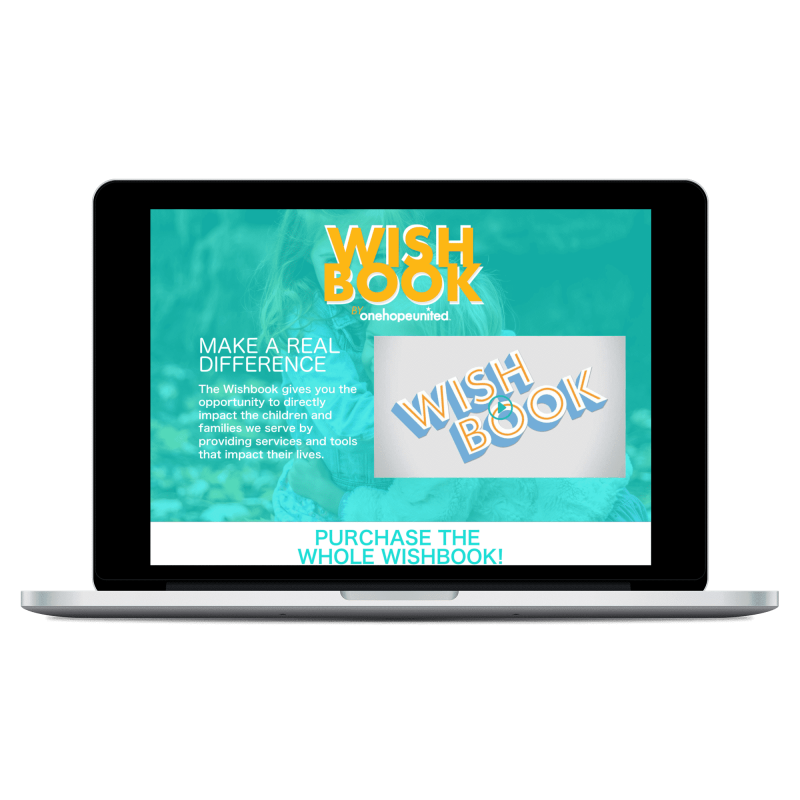 The web development team at VisualFizz started by updating the website to ensure quick load times. Then, VisualFizz optimized the brand design and transactional journey to lead customers through the checkout flow, adding in clear Call To Action buttons and CRO tactics to ensure donors did not get lost as they made their way to purchase.
The Results
300% More Funds Raised
300% more funds raised in Q4 than in the entire previous year.
200% Increase
On Giving Tuesday, One Hope United saw double the contributions than the previous year
30 Wishbooks Sold
More "Full Wishbook" sales ($1,000+ donations each) than ever before.
Summary Of Creative Design and Redevelopment
This strategic partnership was unique in that One Hope United came to VisualFizz without a clear action plan – they just knew they needed to improve their online presence in order to solicit the donations necessary to continue their life-changing work. Through a series of meetings and information sessions, VisualFizz worked with One Hope United to understand their needs and recommend a strategic action plan – all within their budget.
The Result?
More donations than ever before, and the chance to continue their invaluable work providing services for those who need help the most.
What One Hope United had to Say
In one year of using the new tool, online donations doubled and the giving season lasted months longer. VisualFizz impressed with their thorough preparation, creative ideas, and diverse technical capabilities. They were clearly committed to delivering an exceptional product.