The Raw Butcher is a premium dog food company operating out of Chicago, IL. They specialize in raw dog food and treats made from locally sourced human grade USDA inspected meats with no fillers, preservatives, dyes or glutens. Feeding raw is a return to pets' natural diet, and The Raw Butcher ensures that all its products are biologically appropriate for a balanced lifestyle.
Many dog owners do not realize how beneficial raw food is for their good boys and girls. This is the challenge of The Raw Butcher, but it's also what makes the company unique in its industry. Owners, Andy and Megan, embrace the journey of sharing their knowledge about raw dog food's unbelievable health benefits, along with making it more convenient and affordable for dog owners. Because diet is a major key to dogs living a healthy and happy life.
Why Digital Branding and Ecommerce Capability Matter
Online shopping has exploded over the last decade as technology has evolved, and the pet industry is no different. According to the Common Thread Collective, a service that studies ecommerce trends, the online pet market has nearly quadrupled since 2013. This kind of massive traffic only makes it that much more important for companies to present a strong brand identity online.
With the technological advancements, companies can now create a website, ship products and collect payments all on their own. This is a huge positive for the many entrepreneurs out there with dreams of launching their big idea.
As business begins to grow, it's important for a company's branding to evolve with it. More customers means more eyeballs. To attract and retain these new customers, a company needs to present a strong online identity. This is where branding comes into play.
Owners are often so busy with running their business that they don't have the time, nor the expertise, to develop their brand for the future. The experience of a digital branding agency can provide a much needed fresh perspective as well as expertise to ensure a business is aesthetically appealing to customers.
A simple and efficient ecommerce system is paramount for both business owners and customers.
For customers, a poor experience will turn them away and they may never come back. But a digital platform that is intuitive to navigate, easy to make a purchase and secure with payment info leads to better trust, and ultimately more sales. Business owners can sleep soundly knowing that customers are enjoying a positive online shopping experience, whenever and wherever. A streamlined ecommerce system also allows a company to reach a wider audience.
At the same time, owners will also be happy at how easy it is to fulfill orders and manage finances with an organized ecommerce system. This saves them time to do more of what they love for their business.
Partnership With VisualFizz
The Raw Butcher had a "good" business problem: it grew incredibly fast! Taking orders over the phone or via email was not a sustainable system for the long term. An online ordering process was needed to maximize efficiency. Related to this, the company recognized its website in general needed updating from its original version to reflect the evolution of the brand and its success. VisualFizz refreshed the company's website to match the brand's voice, look and feel to keep a consistent aesthetic across touchpoints.
VisualFizz also helped The Raw Butcher set up an ecommerce purchasing platform to both streamline the customer experience and improve the business process. We trained the staff on using both sides of the system to maximize its power and efficiency.
As a company, The Raw Butcher stands for premium products and service. Its website, ecommerce experience and overall brand should be no different. So with a plan in place, the VF team got to work on this exciting project.
VisualFizz provided website design, packaging design, and other creative direction to The Raw Butcher.
Website Design & Development
With the pet industry's massive increase in online shopping as mentioned, it's crucial for a company's website to read, inform, behave and function at a high level. Shoppers expect this. Companies that deliver an intentional website are in a great position to not only make sales, but turn shoppers into lifetime customers and even brand advocates.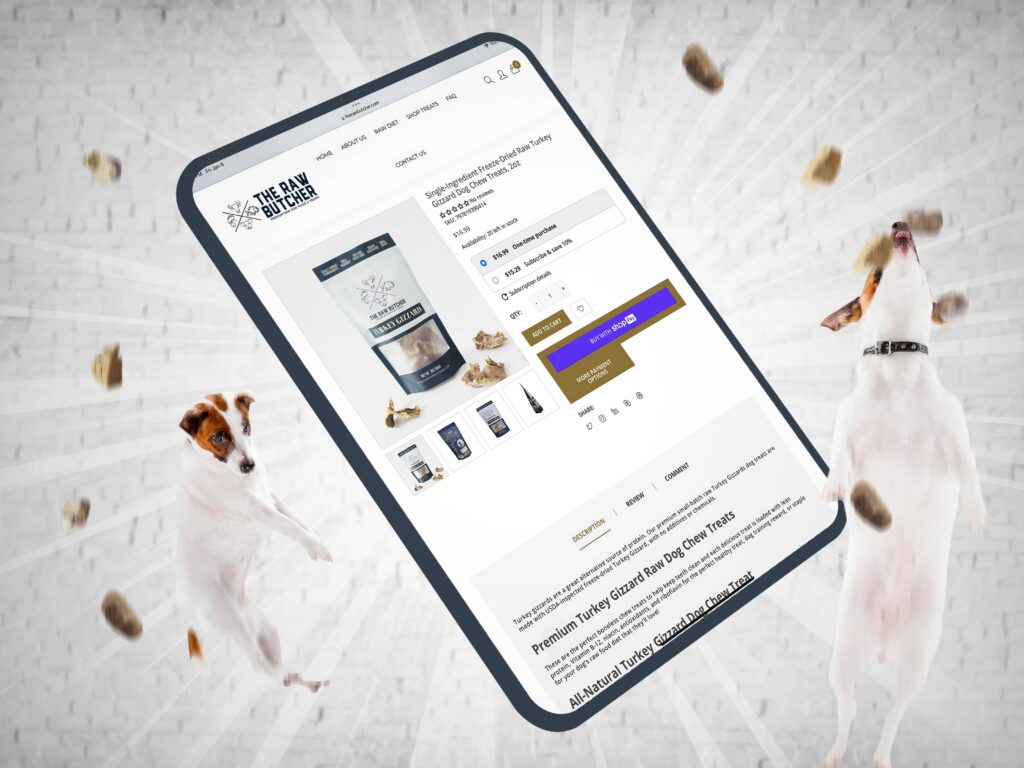 For the design phase, we laid out a plan of how the new website should look to best highlight the company's mission, vision and of course, products. The new site aimed to improve the company's online reputation and recognition with an updated brand aesthetic and consistent visual identity.
For the development phase, we built a functional Shopify platform for a smoother online ordering process, both for customers and The Raw Butcher itself. Other improvements included updating product info, adding social media channels and incorporating Google reviews from real customers. Each of these served to round out the site with common information that customers expect to see in order to learn more about a brand. This expanded written content provides a greater context for viewers, as well as improves the site's SEO score.
The last piece of this phase was updating various functional elements of the new site for a more efficient sales funnel. Email forms for lead generation, a customer database with account login, a sales tracker and auto invoicing system. As a final touch we improved the search capability of the site and included a search bar in the top menu.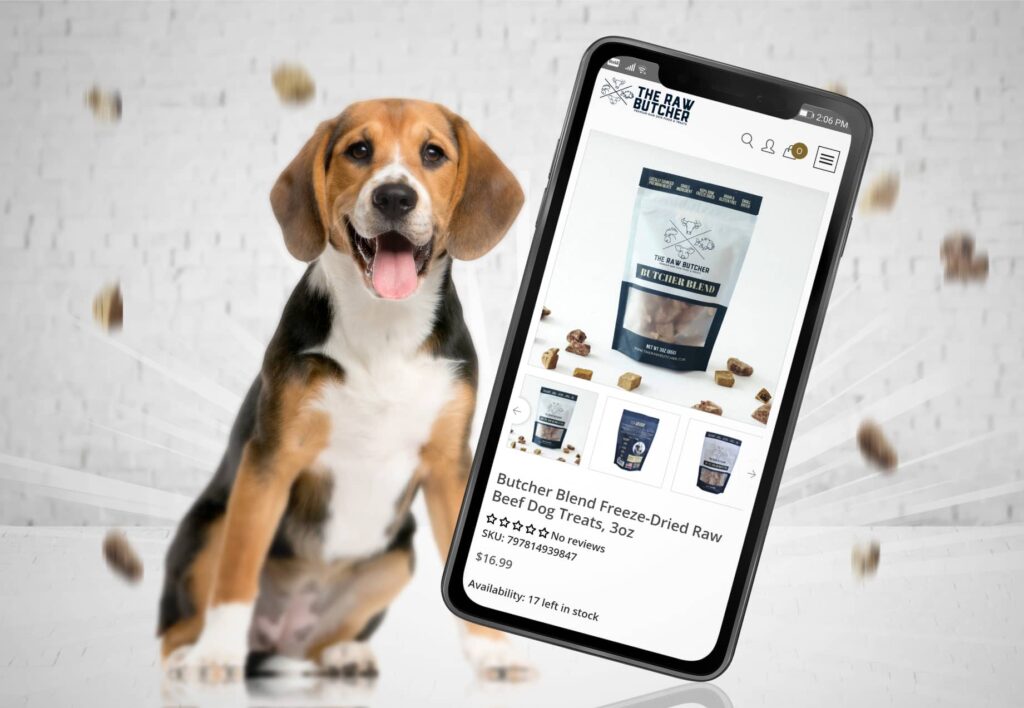 Packaging Design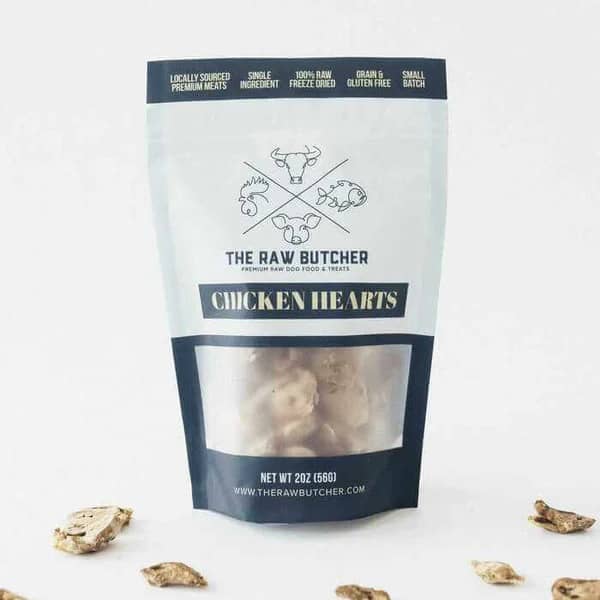 In the retail and packaged goods space, packaging design is incredibly important. The best ones can simultaneously tell customers exactly what they need to know and get them excited about what's inside, while others can leave customers displeased or even unable to notice a brand at all. VisualFizz updated The Raw Butcher's treats packaging for a modern look to match the brand's new visual identity as seen on the website. A simple layout ensures text is easily read and the clear window showcases the premium product inside the bag. The full redesign, imagery and color palette now present a clean, elevated fee that is consistent with the brand's standards of service and business.
Campaign Results
The Raw Butcher understood it was necessary to invest in itself to continue the company's exciting growth trajectory. Overall, partnering with VisualFizz allowed the brand to quickly address its areas in need of improvement, then sit back and watch the change happen as the VF team worked its magic. Andy and Megan were delighted by the speedy results of the campaign, and not just because it helped their business. These website and ecommerce updates helped their customers and the pets they love, which is always the top priority for The Raw Butcher.
By making the various changes discussed, the VF team was able to transform The Raw Butcher's brand to make its products more familiar and recognizable to customers. Now when followers see the brand's content online and across social media, they immediately know which company it's coming from. The website refresh and packaging redesign also helps distinguish the brand from competitors by highlighting its unique attributes. This overall improved branding will only get stronger over time as the connection between The Raw Butcher and its audience grows.
Key Improvements
After migrating from its previous website to the modern, ecommerce-friendly one VF developed, The Raw Butcher saw an immediate increase in online revenue and total sales
Simpler user experience and purchasing process for customers
Higher conversion rate optimization from site visitors
Easier financial and operational organization for owners
*Sales and/or website traffic data needed if possible
—