When Geltco came to VisualFizz, they didn't have a website and barely had any digital presence at all. That meant we had the exciting opportunity to conceptualize and execute a site from the ground up, defining everything from the look, feel and voice to the navigation.
This case study covers the web work we did for Geltco — and how we were able to quickly optimize the site and get some impressive results within a short span of time.
About Geltco & Why They Came to Us
Geltco is a tax preparation, planning and accounting firm that operates in Chicago and Miami. They were well-established and respected in the industry, but their challenge was clear: they had no owned web presence.
Geltco realized that their lack of a web presence put them at a severe disadvantage compared to competitors. They needed a single branded website for current and prospective customers to land on for information about their services, their team and their locations.
With VisualFizz's guidance and execution, we created, launched, and optimized a brand new site that's proved a great success in terms of impressions, clicks, and leads. Services we provided for this project include design, content writing, web development and SEO.
Building a Brand New Website From Scratch
Not all projects offer this much of a blank slate, and the VisualFizz team was thrilled to have the chance to create a website that would resonate with Geltco's customers.
Web Writing, Design & Development
Our team of digital experts worked together to craft a website that was clear, professional and visually compelling. We wrote every page on the site and designed and built it from the ground up.
Following best practices for web content, design and development for a services firm, we focused on the following aspects:
Clean, Modern Look – An accounting website doesn't have to be stuffy and boring. Our thoughtful design is professional and clean while still appealing to today's contemporary customers who expect a certain level of polish from a business's website. Highlights include:
Dynamic looping video background for the homepage
Color blocks that break up the content and add subtle visual interest
Graphic elements that echo the brand's existing logo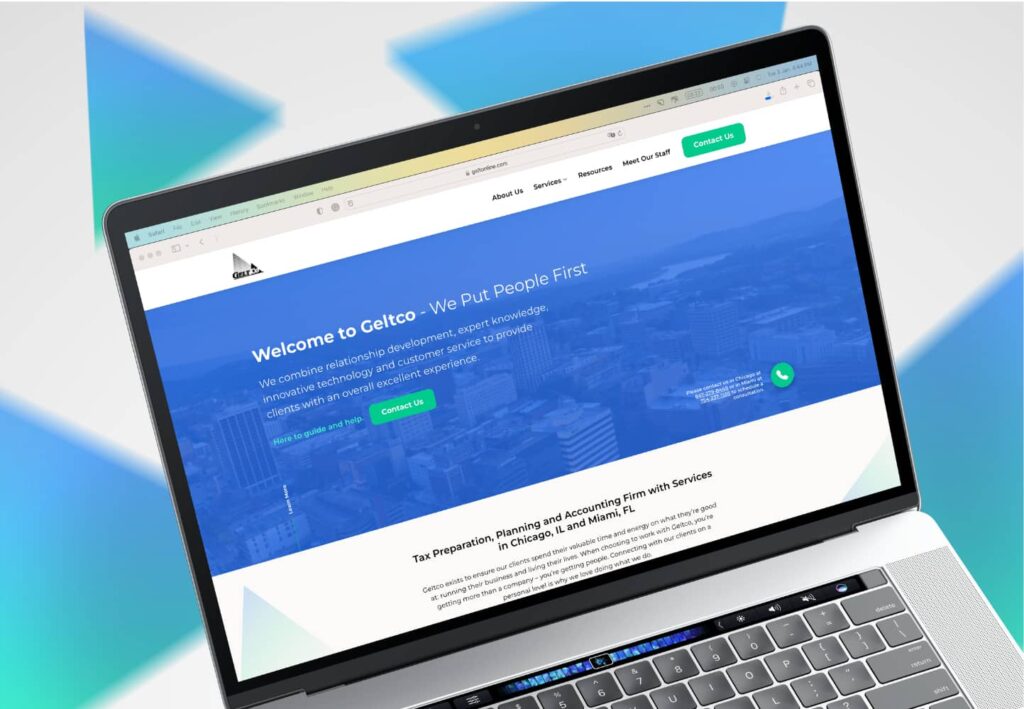 Easy Navigation – Streamlined is the key word here. With just four pages in the main navigation plus a highly visible call-to-action button ("Contact Us"), it's very easy for users to find exactly what they need on the site. Plus, the navigation bar is "sticky" (on desktop), meaning it stays with you as you scroll.
The sub-pages in the "Services" section offer valuable information that's tailored to Geltco's specific audiences: businesses, individuals, nonprofits, and new business owners looking to incorporate
Clear Calls-to-Action – Strategically placed call-to-action buttons make it easy for every user on the site to contact Geltco or get more information with ease. There is also clearly listed contact information for both of the company's two locations to avoid any confusion.
Consistent Brand Voice – The voice used throughout the copy is professional yet approachable, authoritative yet conversational. There's a reason "We Put People First" is on the homepage of the site. Geltco wants its customers to know that they're not just any old firm. Yes, they are trusted experts, but they are also warm and friendly team members who partner with their clients on matters that can sometimes be stressful.
Evergreen Content Informed by SEO – Geltco's services are relatively constant. The content on their site reflects this and is meant to be evergreen and long-lasting. Of course, we counseled Geltco on refreshing content as needed, especially pages that link out to external sites.
In terms of SEO, we wrote each page with on-page SEO in mind, ensuring that specific industry keywords were included naturally throughout to help boost organic search.
Responsiveness – This should go without saying, but any website we create is responsive on mobile. We designed this website to look just as clean on desktop as it does on a phone, from the color-blocked design to the navigation.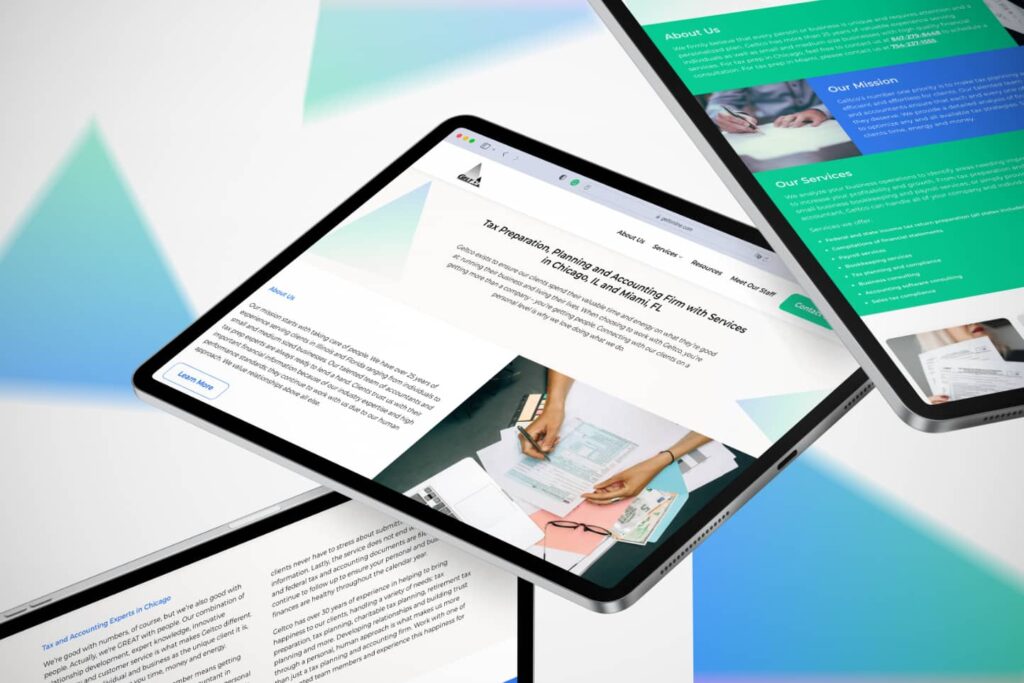 Launching & Optimizing the Site with Results in Mind
We launched the site at the end of June 2022. For search engine optimization, we made keyword recommendations for key landing pages of the site. We then implemented those recommendations by writing SEO-optimized copy specifically targeted at Geltco's most desirable customers to increase organic search traffic and website activity.
Within just a few months of being implemented, these changes garnered the following results:
Organic Search & Traffic Results: July 2022 vs. October 2022
Google Organic Search
5,907.14% increase in the number of impressions
1,500.00% increase in the number of clicks to the website
Keywords
150% increase in the number of keywords ranking in the Top 100 for Google Search
Website Activity (Google Analytics)
Sessions across all channels increased on the website by 123.53%
Pageviews on the website from organic search increased by 178.43%
Delivered a total of 11 leads between July and October
Improving Local Search Results
We also set up, verified and optimized Geltco's Google My Business profiles for both their Florida and Illinois locations. The updates we made helped them improve their rating, increase calls, and increase overall visibility.
Local Search Results: July 2022 vs. October 2022
Overall rating increased from 4.5 to 4.8
30.39% increase in the number of times found in local search results and maps (2686 vs 2060)
23.15% increase in the number of times found by brand search (2309 vs 1875)
103.78% increase in the number of times found by searchers looking for a category, service or product related to the business (377 vs 185)
106.45% increase in the number of calls from their local business profile (31 vs 64)
The client was very pleased with VisualFizz's work and the results, and we continue to work with Geltco on their marketing efforts.
Contact VisualFizz for All of Your Web Needs
Whether you need a website created from scratch like Geltco did, or if you simply need a refresh, don't hesitate to contact VisualFizz for a consultation today. We're excited to chat about how we can help your business achieve its goals!