Digital Marketing Partnership With VisualFizz
When Rose Paving connected with VisualFizz in 2018, the Asphalt and Paving company needed to revamp its digital presence. After expanding nationwide in 2002, Rose has experienced consistent sales growth, and as a result, an ever-increasing demand for streamlining and improving their digital interactions with the customer. But the rapid expansion had left Rose Paving without cohesive brand representation across the web. With so many locations across the U.S. and customers in such drastically different demographics, Rose Paving needed VisualFizz to streamline the paving company's digital marketing processes to better serve its clients.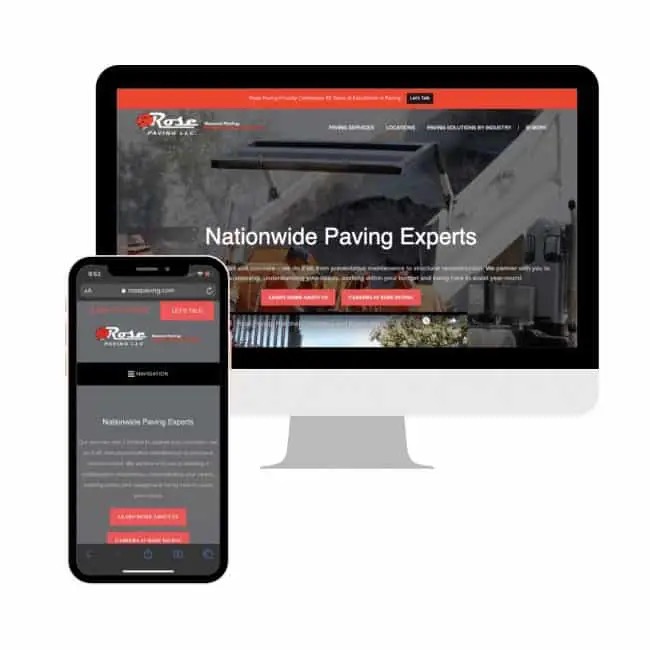 Website Development for Award-Winning Paving Company
VisualFizz began its partnership with Rose Paving with large scale web development and technical changes, which included sunsetting the website's integration with the CRM Hubspot and WordPress Multisite, neither of which were fulfilling Rose Paving's enterprise-level needs. Currently, VisualFizz is tasked with assisting Rose Paving in onboarding Microsoft Dynamics and WordPress Single Site setup with a goal of drastically improving user experience. Within 1 year of these large-scale technical changes, the Rose Paving website saw a 25 percent improvement to Site Speed and a 27 percent improvement to Average Time on Site.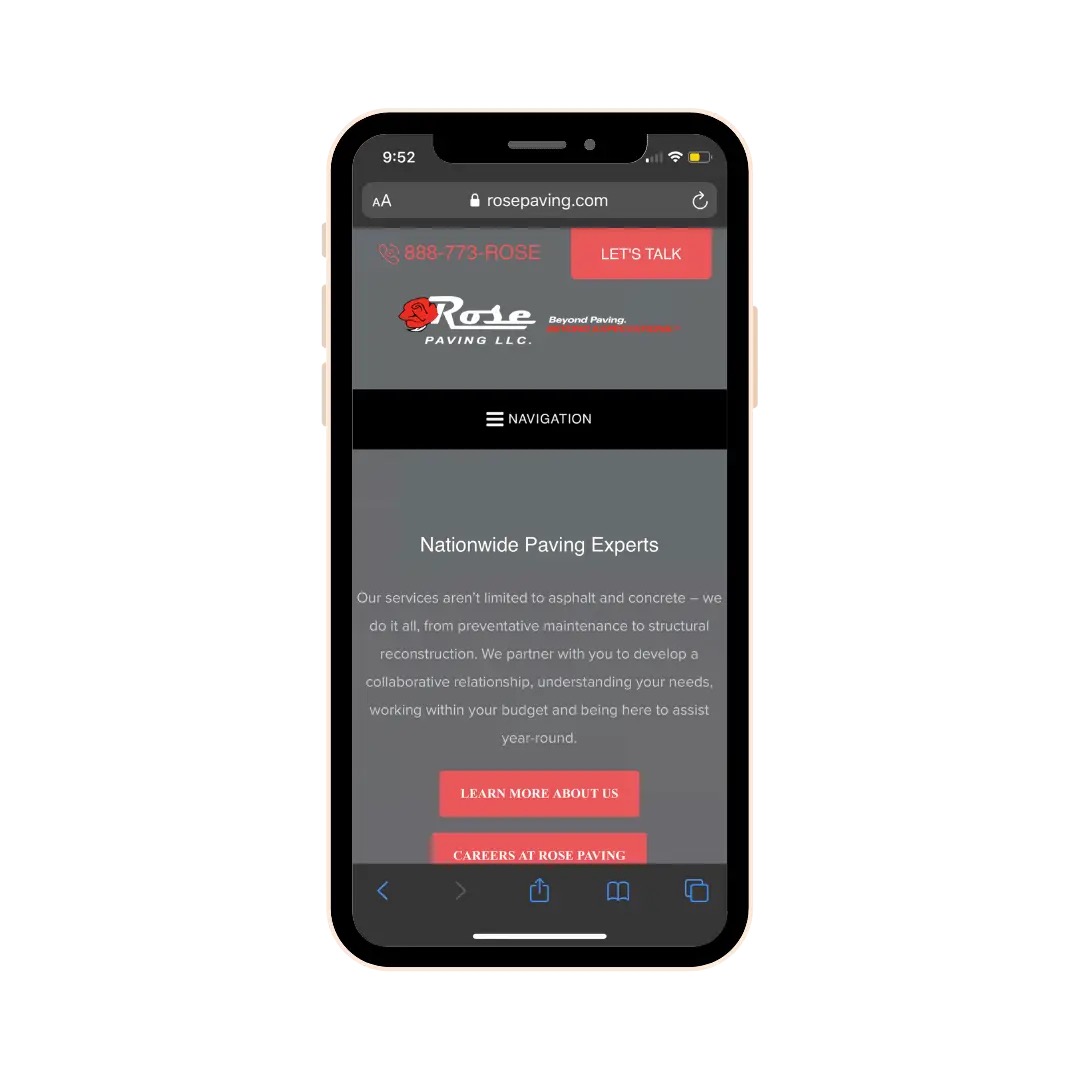 Email Marketing and Communications

In addition to a cleaner, faster, and better-performing website,  Rose Paving also needed to stay connected to and support its sprawling staff and client base directly and effectively. VisualFizz created a custom Email Marketing strategy for both internal staff across the country and for B2B customers, ensuring consistent performance across a multitude of locations and service providers.
The Rose Review
This monthly e-newsletter connects staff at 10 locations in the U.S. and Canada through company news, including: messages and leadership tips from Corporate, office updates, Asphalt and Paving project highlights, and philanthropic efforts. The company's success as a whole is dependent on unifying the Rose Paving teams across the United States. When all locations feel a part of a greater brand and act as one unified team, Rose Paving truly thrives. Since launching the Rose Review in February 2019, the open rate has averaged above 47 percent.
B2B Email Marketing
Rose Paving felt its various locations lacked a consistent brand feel and continuity. To solve this, VisualFizz created a B2B marketing email strategy that includes updates on recently-completed projects, original blog content that engages and educates the client on common paving issues and solutions, as well as regional and seasonal tips. Emails are sent to current clients and prospects, with 2019's average open rate at 18.4 percent.
PPC Advertising
In addition to email, reaching clients across multiple demographics requires a strong social media presence, and Rose Paving's social media presence needed a boost. VisualFizz continues to manage location-specific PPC accounts, specifically on Google Ads, to bolster brand recognition and development. This complex process involves analyzing smart headlines and dynamic keyword variants with a focus on contact forms as the conversion metric. VisualFizz has significant experience working with variable PPC budget amounts to implement a cost-effective bidding strategy that maximizes returns.
Year over Year, form submission increased by 263 percent.

Organic Social Media Marketing
VisualFizz's branding efforts didn't stop there. After applying congruent brand strategies to Rose Paving's Facebook, Instagram, LinkedIn, and Twitter, the brand's traffic from social media channels increased by a whopping 32.44 percent in the same period. Under VisualFizz's guidance, Rose Paving drives traffic from social to blog and website content, including featured projects and services, customer testimonials, local industry tips, and any other type of content needed for a complete and effective brand experience. The cohesive voice implemented by VisualFizz across social media channels further serves the goal of improving Rose Paving's overall branding strategy.
Search Engine Optimization
Rose Paving's brand presence continues to grow due to VisualFizz's diligent and consistent SEO tactics, including a customized mix of local and technical SEO strategies. Ongoing WordPress website maintenance for optimized landing pages is of high priority, as is a locally-focused content strategy paired with a localized web presence. Due to its large size, a one-size-fits-all approach simply wouldn't do for Rose Paving. Instead, VisualFizz employs white hat SEO techniques and content strategies for sustainable, long term SEO success.
Lasting Client Relationships
VisualFizz is honored to represent the interests of Rose Paving, both physically and digitally. Thanks to our common brand vision and dedication to achieving only the highest quality results, VisualFizz and Rose Paving work side-by-side as true partners. As a long-term business relationship, both VisualFizz and Rose Paving are committed to continuing to develop new and innovative ways to expand and improve their digital marketing success.
The Result?
From VisualFizz strategies, Rose Paving doubled its website traffic, with a 28% YoY increase in organic traffic from search engines, a 135% increase in traffic from paid search channels, and a 45% increase in new visitors to the brand website, totaling hundreds of thousands of visitors gained.
From the traffic, Rose Paving gained considerable project scope increases and increased number of customers.