In this case study, we will discuss VisualFizz's partnership with U.S. Borax in implementing a full digital marketing campaign to celebrate its milestone achievement of 150 Years of Innovation and use that momentum to drive the brand forward into the future. This project began by designing a new brand mark and producing a dynamic video for the special event. It was followed by an overall social media revamp, including an audience analysis, hashtag research, content creation and more. Lastly, VisualFizz created elevated graphics, digital icons, social media posts and more that contributed to the overall success of this full branding launch and marketing campaign.
About U.S. Borax
Surpassing 150 years of business is certainly something that should be celebrated, proudly and boldly. This is exactly what U.S. Borax wished to do ahead of its milestone achievement in 2022.
Founded in 1872 as an underground mine, the company is currently located in Boron, CA about 100 miles northeast of Los Angeles. It has grown and evolved over time as it is now the country's largest open pit mine with one of the richest borate deposits on the planet. Borates are naturally occurring minerals containing boron, the fifth element on the Periodic Table. Boron itself helps one's body to metabolize key vitamins and minerals, and plays a large role in bone health.
U.S. Borax customers rely on this valuable supply of boron and borates to create an extraordinarily diverse range of products which are essential to life and to modern living.
Supplying 30 percent of the world's need for refined borates, U.S. Borax has an identity as a leader in its field. Its legacy is a strong one of being at the cutting-edge of research, safety, sustainability and innovation within the mining industry. Pioneering breakthroughs will no doubt continue in the years to come.
Partnership With VisualFizz
VisualFizz's role in helping the brand celebrate 150 Years of Innovation was a multi-step process. The first order of business was to create a logo that established a visual identity specific to this major milestone, one that reflected the progress and accomplishments over such a period of time, but also maintained resonance with existing branding.
In conjunction with the new logo, we then set out to utilize it in a complete digital marketing campaign for various U.S. Borax channels. This included developing an interactive video, social posts and creative content, hashtag research and strategy, audience research and channel specific recommendations, a photo and video wish list and lastly, brainstorming ways to elevate the company's suite of social media.
Phase 1 – Creating a New Logo
How a Logo Can Define a Brand and Generate Impact With Customers
A logo is a key part of the story the companies tell customers to influence them to consider their brand. Logos communicate subtle messages about a brand through various visual elements like shape, colors, text and more. Once a customer is introduced to a company, consistency in a logo (or family of logos) fosters brand loyalty. A clear visual identity strengthens a brand's presence across channels, and is especially important for companies with a portfolio of sub-brands, divisions, teams, etc.
New logo creation can be a delicate process of refreshing a brand's image, yet maintaining the history, reputation and equity it has built over time. An update must look toward the future while simultaneously acknowledging and respecting the past. A logo must be visually appealing and striking, yet not overly complicated. The best logos are recognized by consumers in an instant wherever they show up and strengthen their meaning over time and touchpoints.
Existing U.S. Borax Logo
The current logo features a mule illustrated in a way that is very unique to the U.S. Borax brand. By mimicking the curves and shapes of the mule in the new logo designs, the initial options VisualFizz delivered were able to integrate even more seamlessly into the company's existing branding than if just the same fonts and color treatments were used. We agreed this was the best way to maintain equity in the new design.
New Logo Direction and Goals
The new U.S. Borax logo needed to represent the company's lofty status, demonstrating to anyone who comes across it that it's not only a recognized leader in mining, but also a reliable brand for the last 150 years and counting. The credentials behind the brand's heritage are important to come across in the design and these insights played heavily into VisualFizz's design strategy.
The U.S. Borax team wished to stay far away from traditional mining stereotypes, rather having the logo visually communicate the brand's dedication to progress and innovation in the new logo direction.
Initial Logo Designs
Our goal in this phase was to present the client with several design concepts to review and ultimately choose a direction to continue refining the logo. Each initial logo design brought forth the achievement using a banner or graphic of some sort (shown below). We played with highlighting the visual elements of the brand in different ways, with copy varying from "150 Years" to "150 Years of Innovation" to "150th Anniversary." We also played with both vertical and horizontal orientations of the logo to see if one option felt better than the other.
Designs 1-3 each feature the curve of the mule in some way in the design. Design 3 uses not just the curve, but also the shape making up the back of the mule as the arrowhead. This "shape language" ties directly to the added elements and is a unique feature when executed well in a logo.
All options were purposefully designed to show progress and forward movement, whether within the illustrated elements or how the typography is designed (such as in Design 4). Each is also created so that the original U.S. Borax logo is still the focal point of the logo.
Overall, each direction shares the intention to communicate progress and forward movement, but depict the idea in a different way: forward sweeping curvature to banner edges, progression from thicker to thinner line weights, arrow, upward strike through of type. It was important to the client to incorporate these added elements in a way that would not disrupt a visual hierarchy where the original U.S. Borax mark is read first.
VisualFizz presented these design options to the client and then implemented the feedback as we underwent the next phase.
Refined Logo Designs
Next, further refinements to the chosen logo design were explored, including different color treatments to the border and variations to the communication of the "150 years" banner. Each vertical variation was also redesigned horizontally to give the brand team the most versatile logo set possible. Multiple orientations allow for maximum impact in different use cases. The size of the banner also flexes with these options, delivering a different amount of red impression to find the right ratio of banner to existing brand mark.
Final Logo Set
The final logos provide a visually impactful emblem that can be placed on any printed piece, or can be used even at a smaller scale for social media applications. The full color and grayscale versions allow for a variety of uses and scenarios, as do the vertical and horizontal orientations. An added benefit with this concept is that it's also an easily flexible system for future milestones. The U.S. Borax team wasted no time implementing the new logo on the brand's main website—https://www.borax.com/—opting to go with the horizontal and full color version which fits perfectly at the top left of each page on the site.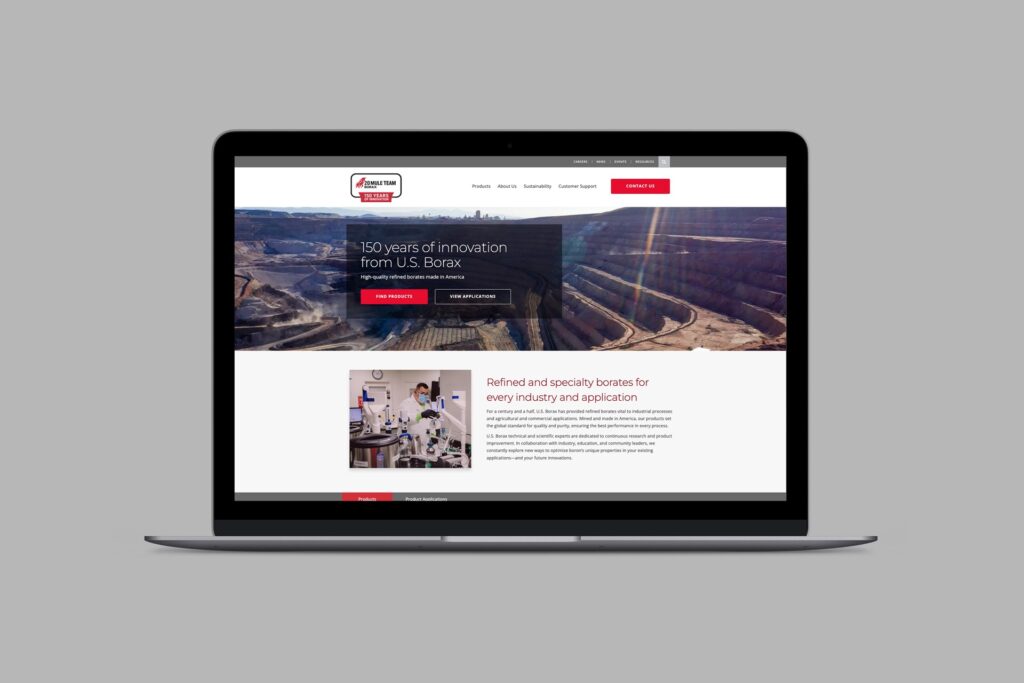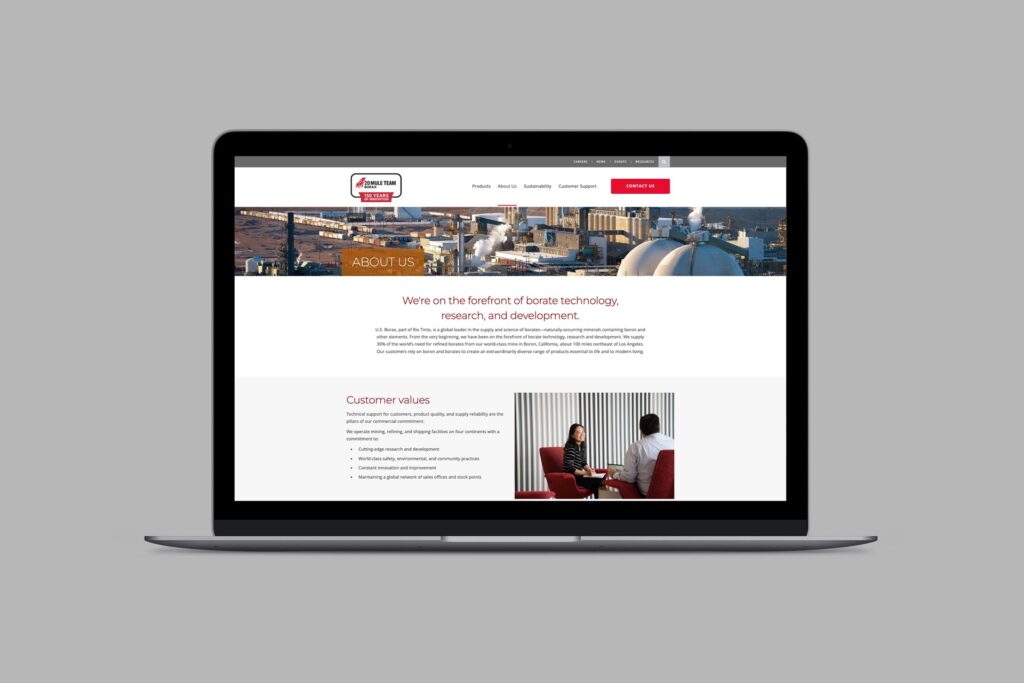 Phase 2 – Social Media and Additional Content
The Benefit of a Multichannel Digital Marketing Campaign
Simply introducing a singular piece of content such as the new logo design was not going to be enough for U.S. Borax to celebrate 150 Years of Innovation, let alone move the needle with its customers and audience. By allowing VisualFizz to create and implement a full-scale digital marketing campaign for the achievement, together we were able to maximize the impact and reach of the milestone moment.
150 Years of Innovation Video
U.S. Borax tasked VisualFizz with creating a video that highlighted the company's numerous achievements over the last 150 years. We came up with a concept that showcases the brand's most important moments on a timeline, filled with impactful visuals and set to inspirational music. The visual style utilizes the company's vibrant red brand color throughout as well. It starts with a quote: "As pioneers in mining and metals, we produce materials essential to human progress." It ends with quick cuts of U.S. Borax employees in the midst of their impactful work before fading into the new 150 Years of Innovation logo.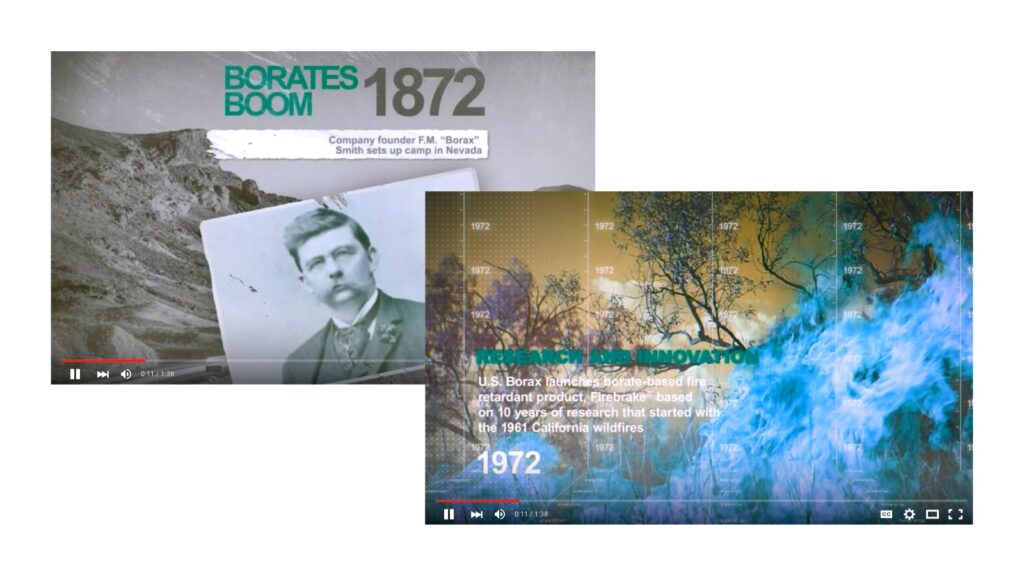 The final video came out at just over two minutes in length, perfect for today's digital consumer landscape. With the goal of the video campaign was to increase brand awareness rather than convert customers, we recommended posting as organic content on the brand's Facebook and Twitter accounts as opposed to a paid advertisement. VisualFizz also delivered the video in smaller segments for U.S. Borax to post and publish on various platforms in order to tell its story where it aligns with related content. Ultimately the video led to viewers proceeding to http://www.borax.com/landing/150-years-of-innovation, the specific landing page created for this campaign, to learn more about the storied history of U.S. Borax.
Social Media Audience Analysis and Channel Specific Recommendations
VisualFizz research focused on two of the brand's main social media channels: Facebook and Twitter. It is vital to understand the unique differences of each individual social platform's audience in order to share content that is most relatable. To do so, we analyzed the top performing past posts from U.S. Borax to identify what topics were resonating the highest. This research then went a level deeper to uncover the audience breakdown of top performing posts. These insights proved extremely beneficial as a baseline to dictate future content strategy.
In general, posts that featured U.S. Borax history, sustainability and employees have performed well and have been recommended as a continued emphasis for humanizing the company. Once we understood what type of posts produced the strongest engagement, we provided recommendations on what to place a larger focus on. We then began modeling content around each channel and its community to maximize impact going forward. We also shared new ideas to keep content fresh, channels effective and pique new audience interest as the brand continues to build a community.
Social Media Posts and Creative Content
With the new logo and video completed, we turned our attention to creating micro content for U.S. Borax and amplifying that content on the brand's social media channels. U.S. Borax entrusted VisualFizz with full control of its Facebook and Twitter accounts in March 2022. Since then we have published social media posts and implemented a content calendar for scheduling and overall organization in telling the brand's story online. Here is a look at our process for creating multimedia content for U.S. Borax.
The post templates below complement the new milestone logo, fitting in with the established brand guidelines and featuring shapes that again mimic the curves and angles of the mule logo. Additional shades of blue from the brand's secondary color palette were also introduced to provide visual impact for each post.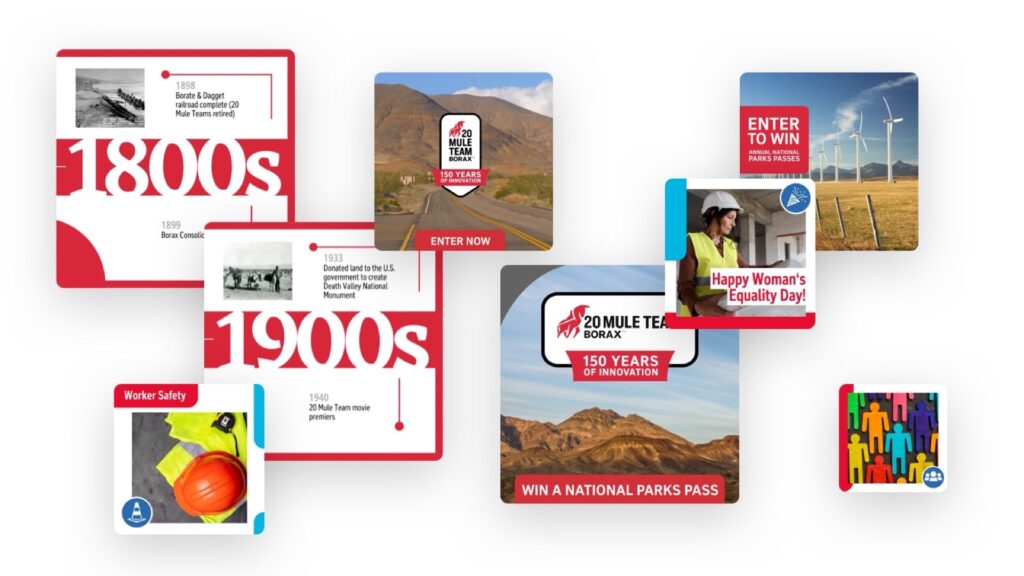 Social Icon Post Library
To help further define each type of post on social media, a full icon library was developed for the client. These icons were illustrated in such a way as to be easily recognizable to those scrolling through social feeds. Icons offer further clarity to viewers, with the understanding that in the social media atmosphere we need to communicate with our audience in a short amount of time. It was key that these icons felt like a family with consistent line weights, illustration style, scale of illustration in order to further solidify consistency and brand recognition.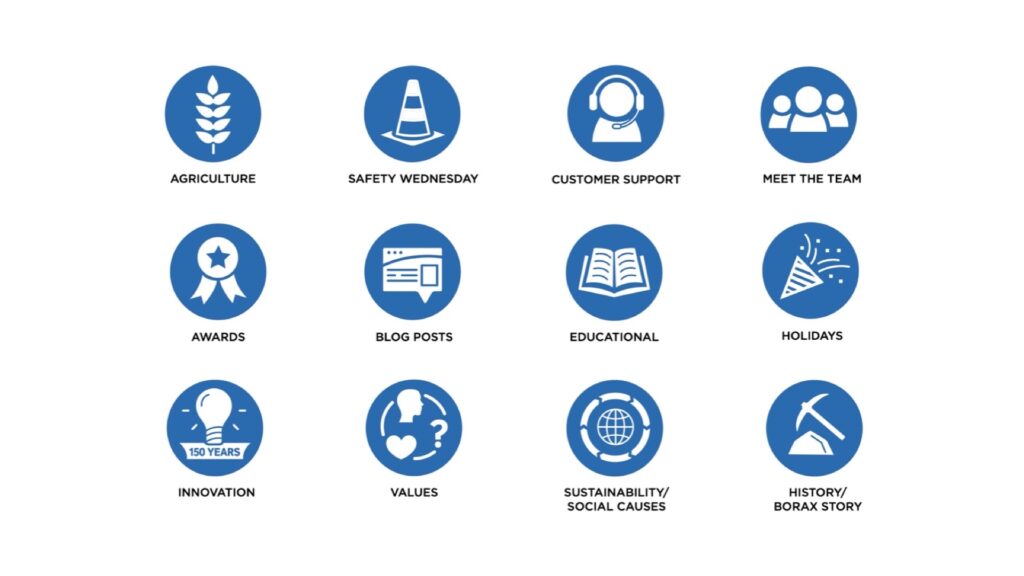 Facebook Carousel Template
In addition to the social post templates, VisualFizz created a Facebook carousel template for U.S. Borax. This carousel post was the perfect platform to highlight the long and storied history of the company. We started with black and white imagery and a gray color palette on the first timeline post, then gradually transitioned toward the full color images, bright red accents and more modern fonts seen on the final timeline post. This underscored the progress intention for the design concept as a whole.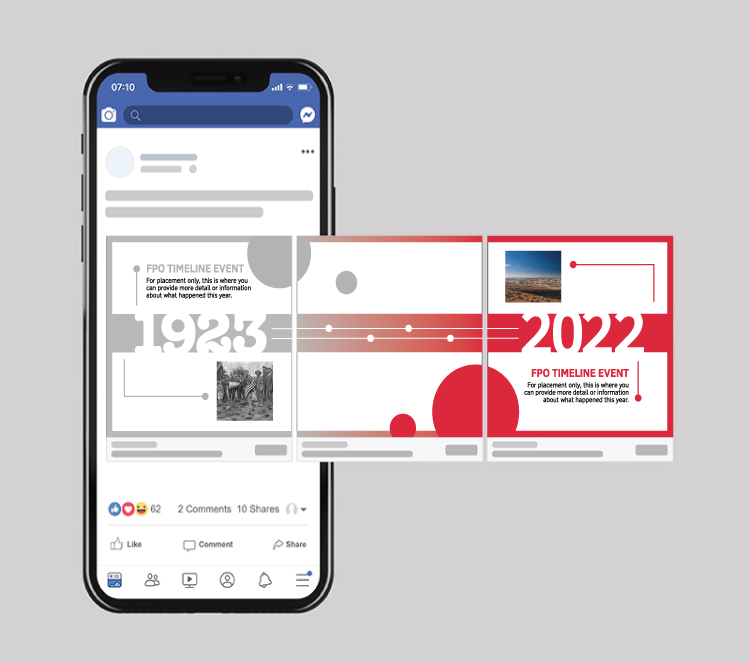 Hashtag Research and Strategy
VisualFizz conducted research into effective, impactful and resonant hashtags for U.S. Borax to utilize on social media. Hashtags are important for connecting posts of similar topics, thus making it easy and efficient for anyone to search and find information on a topic. Final suggested hashtag pillars revolved around topics of agriculture, sustainability, technology and the mining industry along with branded hashtags for the U.S. Borax company itself. The individual hashtags and subsequent pillars directly relate to the content pillars VisualFizz laid out for the brand's overall social media strategy.
Photo and Video Recommendation List
In order for U.S. Borax to continue presenting its 150 Years of Innovation campaign and tell its overall brand story, VisualFizz provided the client with a "wish" list of photo and video content that would be helpful to capture in a future shoot. These recommendations were based on our digital marketing insights and expertise from producing similar successful campaigns with previous clients. The list photo and video content suggestions included various categories such as: Mining, Agriculture, Refinery, Ceramic/Glass, Fire Retardancy and Wood Protection. In general, content featuring employees, highlighting sustainability and showcasing the value of U.S. Borax products and the process in which they are made are the key points of emphasis within each category. Capturing a versatile mix of candid and staged shots was recommended to ensure content is dynamic and engaging to audiences.
Elevating and Refreshing Social Media
Our goal with U.S. Borax's social media was to build trust and legitimacy by showcasing the organization's expertise, depth, breadth of projects, unique products and services, and more. As a leading supplier of borates worldwide, the opportunities to continue reputation-building and education across digital platforms are massive. Our team used an allotted block of brainstorming hours, along with an analysis of competitor content, to think of new ways to present the brand and its impact to audiences online. A few of the ideas for allowing social posts to stand out and catch the attention of followers included:
Animated graphics
High resolution photos
Dynamic text that moves
Added color in graphic elements
Clipping long YouTube videos to create micro content for other platforms
More videos in general
Utilize humor to have fun with scientific content
Infographics for education-based posts
More features on worker safety
Consistent employee testimonials from various departments/roles
Collaborate with other brands to cross promote content
Themed campaigns that last a week to dive deep on a subject
Higher emphasis on company blog as a piece of social media ecosystem
Leverage affiliations with industry associations to increase thought leadership
Post and comment about global events to show scale of company
By implementing these action items in the U.S. Borax social strategy we will continue to educate and inform the existing audiences of who U.S. Borax is and what it provides. Additionally, taking these steps will increase the reach and engagement of new audiences through continual education about the importance of borates in various industries and communities. These efforts will increase awareness of the brand's thought leadership in the industry. VisualFizz will continue to measure and evolve content with the ever-changing algorithms of social media.
Overall Campaign Results
Through this step by step process and consistent feedback from the client, VisualFizz was able to present a full digital marketing campaign that delivered exactly the results U.S. Borax was hoping for.
We delighted the client starting with the new 150 Years of Innovation logo. The client agreed that the perfect balance of its past legacy and future promise were depicted within the new brandmark. The classy design steeped in tradition with a modern, contemporary look was just what the company desired. With this being one of many milestones, the client was also excited that this new 150 year brandmark creates a system within which U.S. Borax can utilize for future anniversaries and celebrations in the years to come.
Next, the client was blown away by our 150 Years of Innovation video and its ability to capture so many important moments over the company's history, without feeling like a history lesson. It accomplished the goal of adding more dynamic content into the U.S. Borax portfolio, as well as modernizing the company in the eyes of followers.
These two wins led to VisualFizz earning the trust of U.S. Borax, giving our team the opportunity to take over and continue to create engaging content for the brand's social media accounts. We were onboarded in January of 2022 and have experienced a notable increase across several metrics since then.
Overall engagement up 112%
Social post link clicks up 168.2%
Total audience growth up 3,492.3%
All parties are excited by this growth and committed to elevating the U.S. Borax brand in the future!
—
​​Interested in elevating your company's logo, brand awareness, social media and creative content? Don't hesitate to reach out–contact VisualFizz for a consultation today. We're excited to chat about how we can help your business achieve its goals!