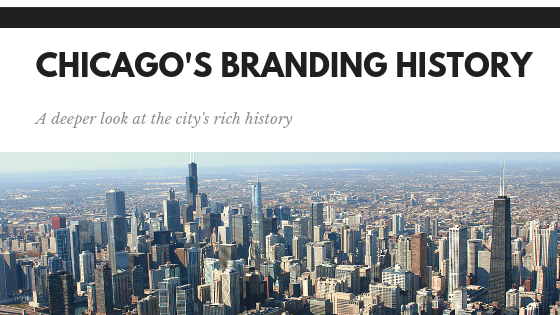 Categories for this post:
'The City of Big Shoulders. 'The Windy City'. 'Chi-Town'.
"Chicago is a town, a city that doesn't ever have to measure itself against any other city. Other places have to measure themselves against it. It's big, it's outgoing, it's tough, it's opinionated, and everybody's got a story."
– Anthony Bourdain
We couldn't have said it better ourselves. Deemed the "The Second City" by an arrogant New Yorker, Chicago is a town built and occupied by eccentric entrepreneurs and blue collared blues hounds. It's a town that demands authenticity, but for years Chicago's branding efforts could be described as lackluster at best.
In this installment we're going to explore how Chicago rebranded itself as the world's premier business, culinary, sports, and tourism destination. So break out the wayfarers, because
"It's 106 miles to Chicago, we got a full tank of gas, half a pack of cigarettes, it's dark, and we're wearing sunglasses."  
– Elwood Blues, The Blues Brothers.
Branding History of Chicago
In 2010, the Chicago Convention and Tourism Bureau announced its bold new advertising campaign for the city of Chicago. According to the Chicago Reader,
"the $6 million program would open Chicago tourism offices overseas, establish a sports commission, and be the first "true branding effort," promoting Chicago as a "global visitor destination."
Mayor Rahm Emanual's statement to the city announcing the rebranding effort described the focus of the new campaign:
"Mayor Emanuel today launched a new tourism organization for the city of Chicago… to focus all of the city's efforts to attract visitors for business, pleasure, and culture… we will show the world that Chicago is the best place to visit."
Though the stated goal of the campaign was to promote Chicago as a leading global destination, Chicagoans knew the campaigns primary objective was to secure the bid to host the 2016 Olympic Summer Games.
Unfortunately, the only effect the campaign had was eliciting a collective groan from the city's 2.7 million residents. The problem, according to the Chicago Reader, wasn't a lack of inspiration, but a disparaging lack of creativity.  
As Branding Professionals from Chicago, we heartily agree with folks over at the Chicago Reader. Chicago has so much more to offer than a centuries old slogan and a convention center, but it seems that was the best branding the city could come up with.
Chicago's 2010 branding effort was ultimately a bust. It not only failed to secure the 2016 Olympic bid, it made no effort to capture the cities voice, history, and unique cultural sentiment.
Fortunately for the great city of Chicago, the decision makers in charge of rebranding seem to have learned their lesson from 2010. Chicago is now backing the "Choose Chicago" campaign and focusing all its effort on showing the world that every day not spent in Chicago is a day spent missing out.
Chicago's Welcome Home Campaign
2017 was a big year for Chicago. In addition to breaking the Mayor's three year goal for visitation, Chicago was named Best Big City in the U.S. by Conde Nast Traveler's Readers' Choice Awards and Restaurant City of the Year by Bon Appetit magazine.
Much of this success is contributed to Choose Chicago, the official destination marketing organization for Chicago, and their "Welcome Home" campaign, honored in 2018 with the Best Marketing Campaign award at the Illinois Governor's Conference on Travel and Tourism.
Digital-First Strategy
Choose Chicago employed a digital-first strategy for the city's promotional efforts, including tailored messaging, cross-device targeting and new attribution techniques to enable the city to effectively engage with audiences at home and around the globe.
Choose Chicago wanted to reach a new audience. Specifically, those who appreciate the abundant arts, culture, architecture and cuisine of a charming Midwestern city like Chicago.
Designated Market Areas
Choose Chicago expanded their campaign to include designated market areas, finding success in both digital marketing and paid search. In doing so they were brought the Welcome Home campaign to a national audience and discovered audiences that had never been reached before.
Paid Search Campaign
Choose Chicago's  paid search campaigns blew past industry benchmarks, with over 38 million impressions from theatre campaign alone, and a click through rate nearly 6 times the benchmark.
Nationwide, the campaign made 76 million impressions, resulting in 3,100 website conversions.
Is Chicago Considered a Successful City Rebrand?
Yes! Though Chicago's rebranding efforts were off to a bumpy start, the city ultimately achieved its goals by embracing a digital-first strategy, and moving forward with authentic ideas across as much media as possible, including paid search, paid social, video, and OOH.
Choose Chicago showed that it's possible to create a successful brand that encompasses everything that your city is, was and strides to be. Chicago is definitely one of the success stories because they managed to reach a global audience, brought visitors to the city, and changed perspectives far and wide.
Contact VisualFizz to learn more about branding for cities, government bodies, and municipalities.
Publishing Date: