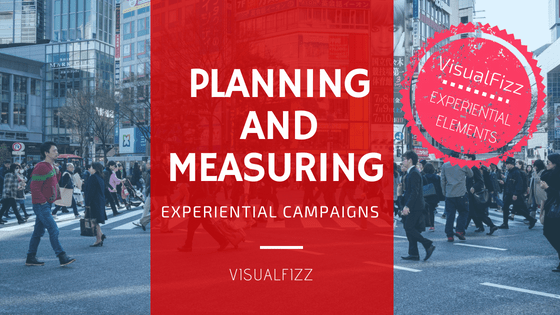 Categories for this post:
Planning and Measuring Your Experiential Campaign
One of the most difficult parts of an experiential campaign is the reporting that following. How are you supposed to track something without clear, definite numbers and Key Performance Indicators? How do you track improvements that are sporadic, don't follow any patterns, or that have data that trickles in?
We feel ya there. Humans are emotional creatures, and what influences them is much less scientific than you might expect. Much of marketing and branding comes down to brand perspective and emotional factors that are not objective. It's not a shocker that Marketing and Psychology are closely related. In fact, we think its so cool that wrote a little bit about it in How Psychology Plays Into Experiential Marketing.
We at VisualFizz have a few ways that we keep track of the progress that occurs during an Experiential Marketing Campaign. They include benchmarking, some tracking tools, and some ways that you can promote the event that you can implement for your own campaigns.
Benchmarking
The first step in any successful experiential marketing plan is determining where your brand currently stands in the progress of your goals. Some benchmarking questions might include:
How many visitors are you gaining from each channel?
How many followers does each of your social media channels have? How do these metrics look in comparison to top competitors?
How many email addresses do you currently have on your email lists?
Identify the current brand sentiment (how do people feel about the company).
Chart these starting metrics, and update your document each month to show your progress. Remember, knowing where you're starting from is the first step in figuring out where to go.
Here's a template to a somewhat-archaic but still very functional benchmarking report that you can use to get started with keeping track of your data. Open this link, click File, Make A Copy, track away. Feel free to add your own columns.
Setting A Hypothesis
After you've done some initial benchmarking, you should be able to at least begin to gather up some sort of idea of how to achieve your goals. Does your audience prefer the images you share on social over your links? Do females interact more with your brand than males? Does blogging get you more visitors to your site than just sharing existing pages? How well have your past strategies worked in connecting with your audiences?
Setting a hypothesis is the first test in running series of tests to learn about your market and what works for your brand. For example, you might have hypothesized that live videos behind the scenes of your experiential events will increase your social engagement. You came to this hypothesis because a video you posted has performed well in the past. Benchmark your starting pointing, outline the steps you'll take to carry out your test, and then, run with it! Measure your success, determine whether your hypothesis was proven right or wrong, and draw conclusions from your benchmarking data.
Tools For Tracking And Measuring
 
FREE TOOLS
Google Analytics – One of the most widely used tools that tracks and reports website traffic as well as a dozen other handy features.

 Here are a few of our favorite Google Analytics dashboard templates. Check them out and customize them to best fit your needs.
PAID TRACKING TOOLS
Geckoboard – Organizes and simplifies tracked data. They make it easy to share with the team and incorporated integration with other popular business tools.
Scoro – Allows companies to track trends over time. Keep track of all KPIs in real time with unlimited widgets and customization options.
Tableau – Collects and blends data from multiple sources to create timely insights and projections for marketing strategy planning
MANUAL (ALSO KNOWN AS THE "OLD FASHIONED WAY")
Manually tracking your data in a spreadsheet or document of your own is always great for customization. We love Excel, and there are lots of templates out there that can help you get started. You can also add custom Google Analytics dashboards to help you see your data in a snapshot.
Publishing Date: